VOTY
Published on May 26th, 2023 | by Subhash Nair
0
Mercedes-Benz EQE 350+ // Electric Luxury Sedan Of The Year VOTY 2023
Our VOTY pick for Electric Luxury Sedan for 2023 goes to the Mercedes-Benz EQE 350+.
For 2023, we've had to add a bunch of categories to accommodate the growing range of electric vehicles that have been brought in. The Malaysian government has heavily incentivised EVs by way of tax exemptions and tax rebates.The Electric Luxury Sedan is another one of those segments that aims at more affluent buyers, but it's a tough one to crack. On the one hand, sedan buyers tend to be very conservative. On the other hand, electric vehicle buyers tend to be more willing to push the envelope. One brand managed to capture a great balance.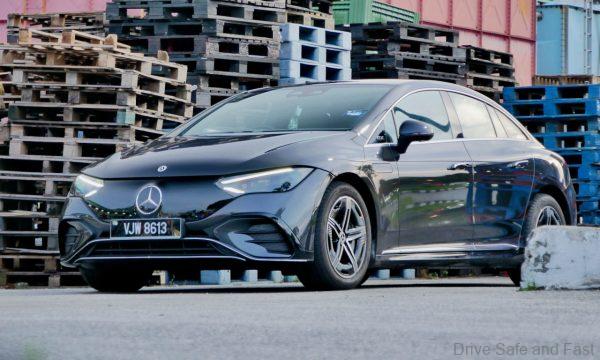 It's Mercedes-Benz with their EQE 350+! This four door luxury EV hit all the right notes in terms of design. It was sleek and slippery on the outside with a cabin experience unlike anything we've ever seen. Mercedes-Benz has upped their ambient lighting game and also taken some radical design decisions around the use of the three-pointed star motif in the cabin. What's more, the latest MBUX interface is smoother and easier to use than ever before. Even though it has less power than the EQC in this configuration, Mercedes-Benz Malaysia's decision to prioritise range was the right one.
Above all, the EQE manages to deliver an elevated experience over your typical EV. All EVs are fast, but this one is tuned to deliver power progressively. All EVs are expensive, but this one makes you feel like a million Ringgit. Definitely deserving of a VOTY award.
ABOUT VOTY 2023
The Allianz DSF.my Vehicle Of The Year (VOTY) Award ceremony is the first and only vehicle award event in Malaysia that does not hand out paid awards, nor does it charge winners or participating brands any fee whatsoever. Winners are allowed to use the VOTY event logo free of charge in all marketing materials. Event attendees are not even charged for their seat at the award presentation. All car manufacturers that operate in Malaysia are invited to participate free of charge. All they have to do is let our judges test drive their nominated vehicles.
The nominated vehicles must have been launched in Malaysia in the last 12 months and cannot be a localised minor facelift (body-kits, stickers, wheel upgrades, etc). All judging is independent and is put down to a vote before the winners are selected. Car manufacturers are not informed if they are winning or not before the event.