Cars
Published on July 23rd, 2023 | by Subhash Nair
0
Mercedes-Benz GLC 300 4MATIC Review
Our full review of the 2023 Mercedes-Benz GLC 300 4MATIC for Malaysian buyers.
Mercedes-Benz Malaysia recently launched the all-new GLC. It is now available in a single variant with a mild-hybrid powertrain. This model has huge shoes to fill as the outgoing model was a best seller for the company but faces a tougher market with its significant price increase. We took it out for a drive to discover where the new car stands.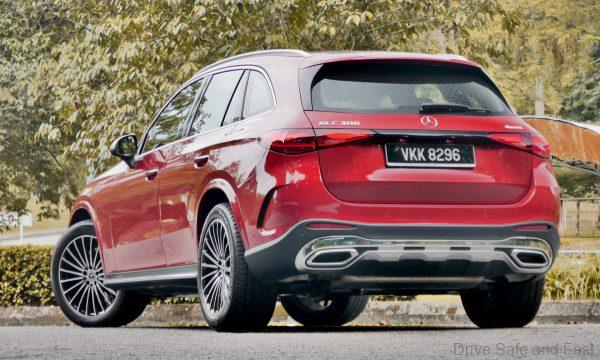 Brief History Of The GLC
The previous Mercedes-Benz GLC was a runaway success for the company. This was an SUV based on C-Class fundamentals that ended up becoming more important to the company's bottom line than the E-Class. It was the first-ever GLC to be introduced in Malaysia and it was exceedingly clear by the end of its production run that the market was hungry for such a product – 12,000 units were sold in Malaysia alone. The GLC was sold in Malaysia in a number of variants.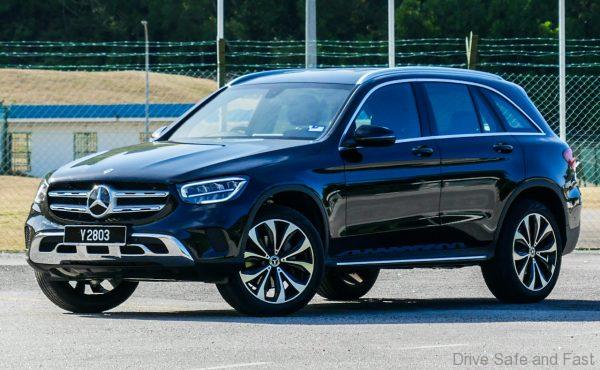 You had two body styles – SUV and SUV Coupé. You also had regular turbocharged 4-cylinder Benz models with petrol and a plug-in hybrid powertrains as well as AMG variants of the six cylinder and eight cylinder variety. All but the V8 GLC models were locally-assembled in Malaysia, making them good value for money in the premium crossover segment.
One should also keep in mind that the GLC arrived during the heyday of Mercedes-Benz. The company was breaking records locally and globally. They expanded their portfolio to an enormous degree and rationalised their nomenclature for ease of understanding. They were also dominant in F1 and were leading BMW in car sales for the first time in years.
Now we have the new generation GLC aimed at continuing the sales success in more challenging times. Today, the premium segment faces the enormous challenge of electrification, competition against untaxed electric vehicles, a challenging supply chain with semiconductor disruptions, all while operating in an economy with an uncertain future. What's more the GLC's specific market has matured over the years. Rivals have caught up and the market has taken notice.
A Better Vehicle
At the core of this generational change are objective improvements to the vehicle's dimensions and driving character.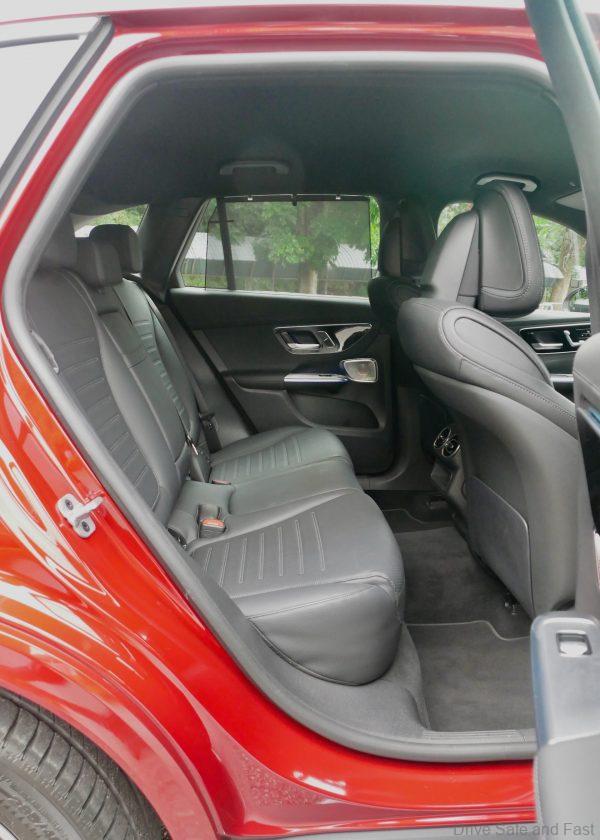 The new GLC sits on much improved 'MRA2' platform and is noticably larger especially for rear passengers and in terms of boot space – there's a huge hidden area under the boot floor large enough for 3-4 backpacks, which is not insubstantial. This is also where you find your tyre repair kit and a deployable grocery carrier.
Beyond improvements to size, the new platform is also fundamentally a lot more pliable while still improving on driving dynamics through corners. The GLC 300 feels a lot more planted through corners yet it lacks the harsh character of its predecessor. That being said it's still not the last word on comfort in this class.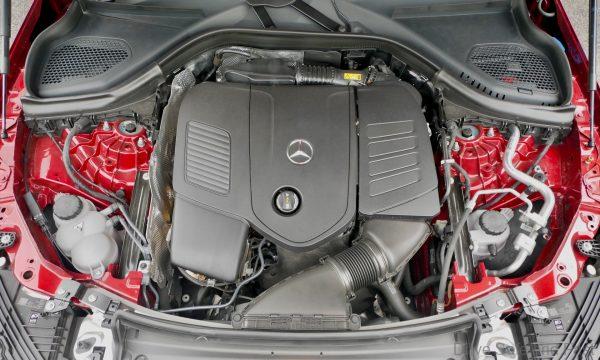 There are also improvements under the hood. The 2.0L turbocharged engine is more responsive, efficient and powerful than before. 258PS and 400Nm of torque is nothing to scoff at and the GLC 300 4MATIC is more than able to dish out sportscar-like performance figures. 0-100km/h is officially 6.2 seconds and what's more the brake feel of the GLC is now perfectly calibrated. This feels like an overall much better driving vehicle over the last one. The integrated starter-generator makes this powertrain a mild hybrid, but you'll probably never notice what it's doing. It's just there to smooth out power delivery and cut fuel consumption in the background.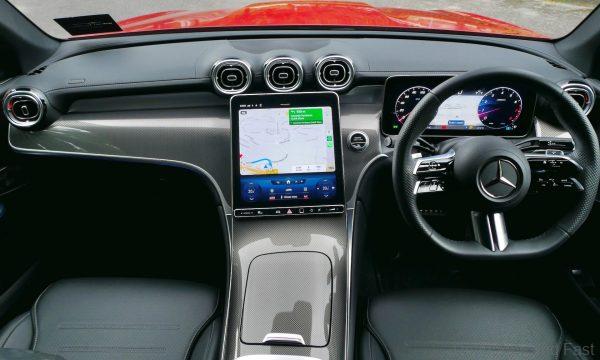 For all the improvements Mercedes-Benz have made, there is still one thing that irked us. The transmission tunnel STILL takes up so much room in front and ergonomics are still bad in the footwell for taller occupants.
Ethereal Sport-Lux Toughness
Every car maker today has to deal with creating an SUVs, which can be tough without a legacy of 'toughness' and 'off-road capability' associated with the brand. Mercedes-Benz has long had the G-Wagen to reinforce this notion and a long-enough line of mainstream SUV products now. That being said, it was only in the last few years where the brand really hit its stride with merging the trifecta of its brand's values – Benz for luxury, AMG for sportiness and 'GL' for toughness.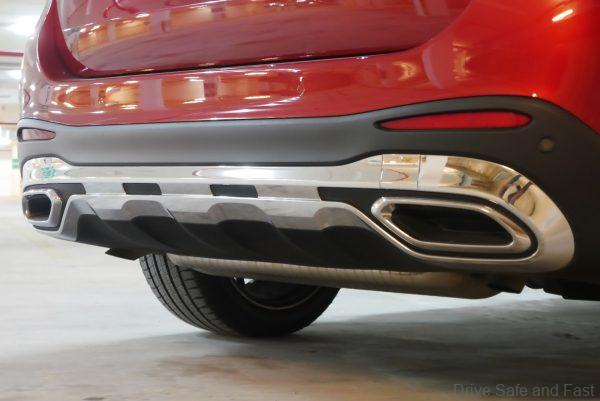 In this Mercedes-Benz GLC 300 AMG Line, we see these come together with a more high-tech and ethereal flair than ever before. This is particularly true inside.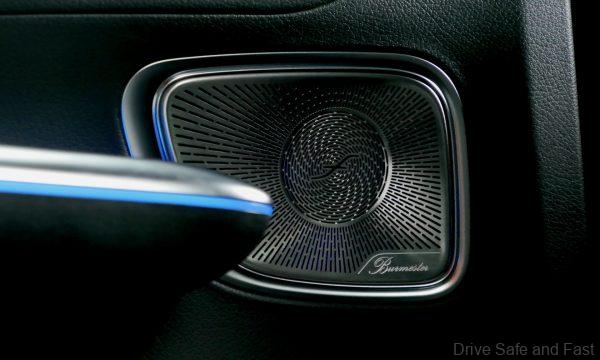 Burmester speakers, ambient lighting strips from waist to ceiling, super crispy high-resolution displays, and intricate attention to detail create a transformative cabin experience that rivals have yet to replicate.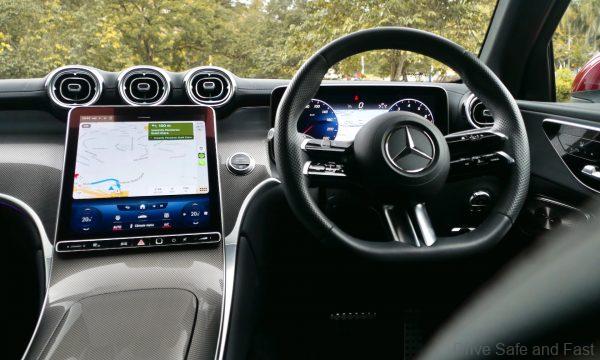 Tech-Forward Changes
Mercedes has a knack for interior design and in this generation of the GLC things are are a little more high-tech and glossy black. This will persuade some previous generation GLC buyers to upgrade as it does look like a more '2023' car, but conventional Benz buyers may not like some of the changes here. Take the door-mounted seat controls. In this generation, they completely lack tactile feel making it difficult to judge if the seat adjustment is at its final stop or if the user hasn't pushed the button hard enough.
A lot of the physical buttons on the steering and below the infotainment system are also semi 'touch capacitive' in nature. They still present some tactility, but it's definitely a new take on switch gear feel. On the upside, the interior is a lot 'cleaner' now, with almost all physical buttons clustered together in a line.
Yes, there is now a portrait oriented display, but you'll not see portrait orientation to most of the apps and menus. This is because the 11.9″ display is a shared space and the bottom third of the display is dedicated to persistent digital climate controls.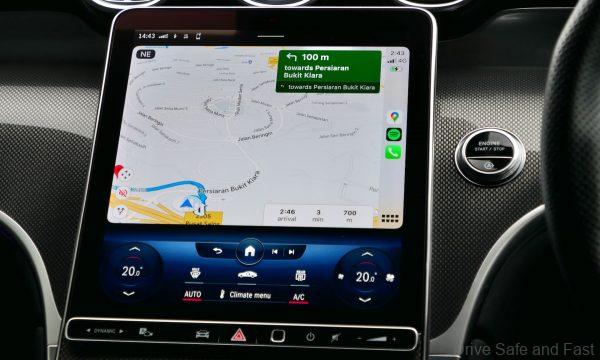 MBUX sees some real advancements here. Paired to two extremely high-res displays with slick animations, the system now has a few nice add-on features that add value. The car can (and does) warn you of navigation-related hazards such as school zones and sharp corners. It also automatically displays a live view of the front camera when stopped at junctions. This helps you keep an eye on traffic lights when stopped.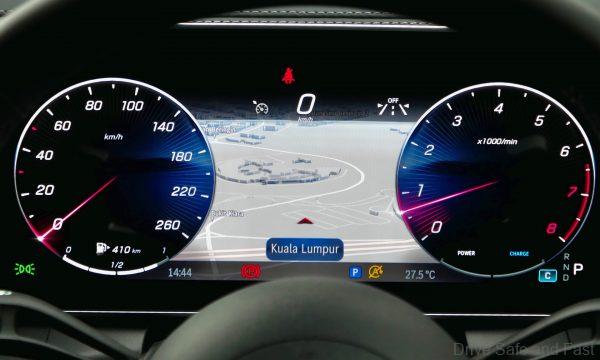 Evolving The Design Game
Few can deny that Mercedes-Benz are at the forefront of premium design and have been for at least 2 generations now. The outgoing GLC was a masterclass in sleek design that has aged beautifully. The new generation model continues the same DNA but has morphed the design to look more organic and sportier too.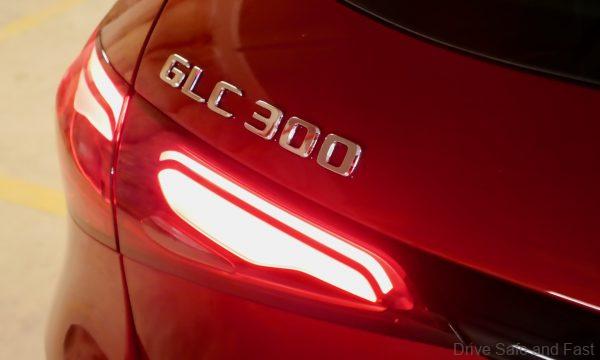 Starting at the front, the integrated daytime running lights feature a new look with two elipses running parallel to a line at the top of the enclosure. Peering closer, you'll find organic looking blue lines on the bottom and on sides of the Digital Light projector housings.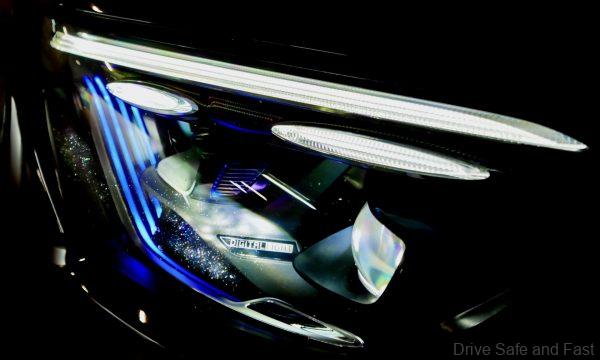 These headlights now meld into the front grille, which is still a downturned trapezoid but now with a glossy black frame filled with three-pointed stars. The extra-large Benz logo sits in the centre of a silver trim piece and neatly integrates as the car's ADAS radar sensor.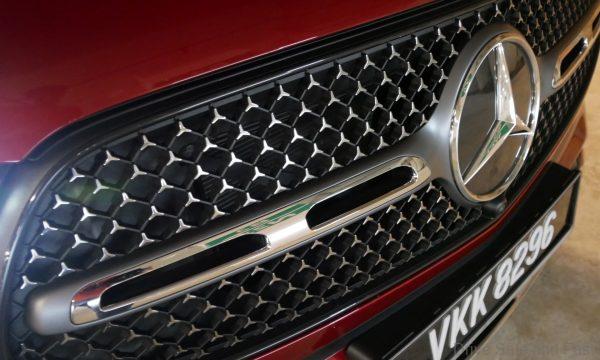 Some of these aspects are carried over from the outgoing GLC, but the front bumper design is definitely a big departure. On this AMG Line spec, it comes with a somewhat busy look that communicates the sportier intentions of this new Benz generation. There's a little bit of chrome at the bottom, but it's mostly a gloss black affair.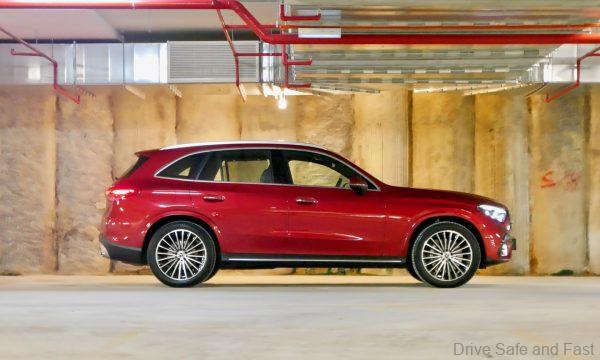 Around the side, we see Mercedes-Benz has kept the GLC's silhouette largely unchanged. If it ain't broke, don't fix it, as they say. The GLC is only in its second generation and keeping to familiar territory is the best course as it will help cement this model in the minds of customers and fans.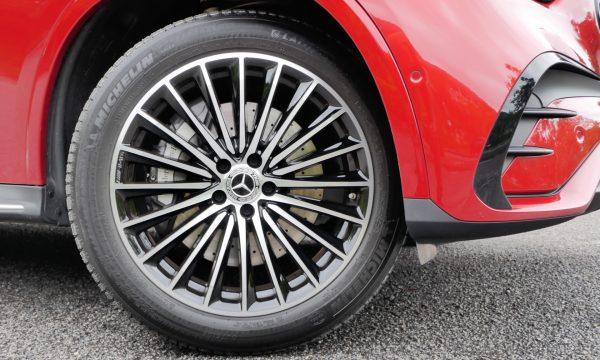 That being said there are some minor changes to note. Contrasting black cladding has been thickened slightly near the bumpers and side skirts, but eliminated over the wheel arches completely.
The shoulder line has been softened in the middle for a more organic look, while the beltline is slightly upswept this time around. Door handles are get a lot more chrome this time around while the side steps take on a more contoured look though they're not wide enough to be functional.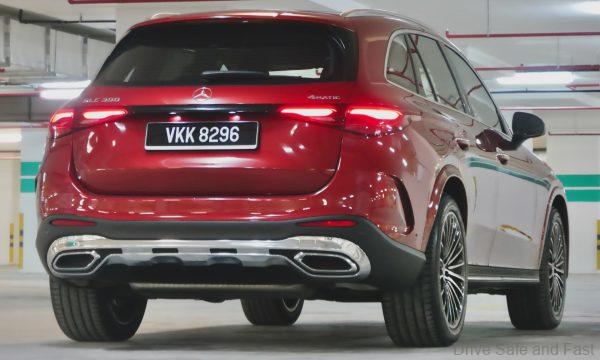 Finally, around back we see the most distinguishing design changes to the GLC. Taillights are now slim and tapered, a trend that began with the A-Class. The taillights meld into a glossy black plastic trim piece but there's no 'unibrow' lighting here. The rear windscreen is a little more constrained this time around due to a more prominent roof spoiler and connecting pieces to this new spoiler around both sides. A large contoured chrome trim piece with integrated faux exhaust pipes rounds off the changes. Overall, character lines flow a lot better on the new design, curves are more organic, and sporty aggression has been dialed up a tad while keeping to the GLC's proven shape.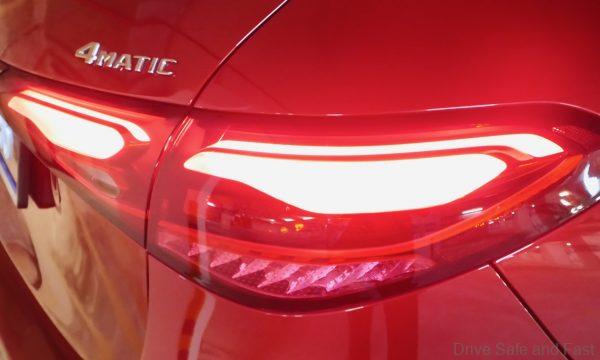 Value Is Decent, Contextually Speaking
The direct predecessor to this vehicle, also called the GLC 300 4MATIC AMG Line was locally-assembled and available for RM356,888. This new GLC 300 4MATIC AMG Line is fully-imported and available for RM429,888. That's a price difference of RM73,000 or a 20.5% increase in price – not something the buying public can ignore.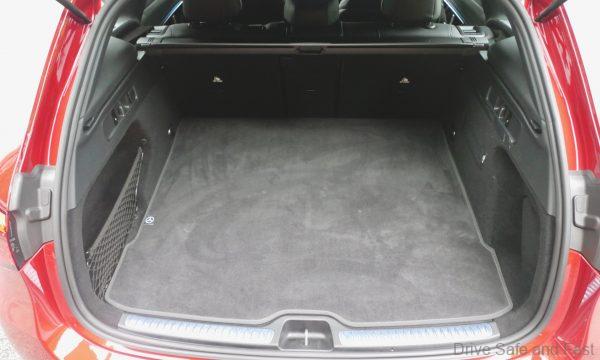 All that in mind, I don't find Mercedes-Benz Malaysia's pricing strategy to be all that bad. Their rivals from BMW and Volvo Car are selling competing SUVs that have been around since 2018. The combined effect of increased production costs, global and local inflation, and tight import taxes on CBU vehicles makes this 20% price increase easy to understand and maybe even forgive.
For those who want the absolutely latest from Mercedes-Benz, the new GLC 300 4MATIC is a handsome, tech-laden and sporty premium SUV that is sure to turn some heads. The interior is also a lot more cutting edge than before with its new driver-focused display setup.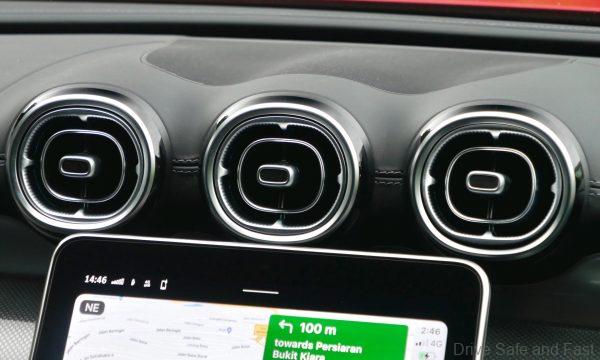 That being said there is an alternative for those who want more bang for buck from the brand. Look no further than the outgoing GLC 300 e 4MATIC Coupé AMG Line. This Plug-in Hybrid model was introduced to Malaysia just last year and sells for under RM400,000 fully-loaded – definitely a nice alternative given the previous generation GLC coupé is still a rare enough sight today.
Mercedes-Benz GLC 300 4MATIC Specifications
Engine: Inline-4, 16-Valve, DOHC, Turbocharged Petrol Mild Hybrid
Capacity: 1999cc
Gearbox: 9G-Tronic 9-speed automatic
Max power: 255hp @ 5800rpm (+23hp electric)
Max torque: 400Nm @ 2000rpm (+200Nm electric)
Top Speed: 240 km/h
0-100 km/h: 6.2 seconds
Price: RM429,888