Automotive
Published on August 11th, 2023 | by Sounder Rajen
0
Zeekr 001 FR Unveiled In China, Will It Be The Next PRO-NET In Malaysia?
The Zeekr 001 FR looks like something Geely could bring to Malaysia soon 
The Zeekr 001 FR electric liftback from Geely was officially unveiled in the brand's social media. At the same time, we have found some spy shots of the new model. It will have a new interior design, a slightly adjusted exterior styling and an optional LiDAR sensor on the roof. Will it be introduced in Malaysia under PRO-NET? 
The first official images of the Zeekr 001 FR were posted by the brand's Instagram official account and as we can see, it retains its overall design similar to the regular 001 liftback, with a few exceptions. 
The most obvious of these changes is the new front bumper of the Zeekr 001 FR. It has more aggressive air intakes, a front spoiler and the red stripe that eludes to its performance capabilities. The rear end has an adjusted bumper and a rear spoiler. It is interesting that in the actual post Zeekr also said "Plaid is dull." Clearly a jab at Tesla. 
Moreover, The Zeekr 001 FR also features an optional LiDAR sensor on the roof. The rear end of the 001 FR has also become more aggressive with a sporty diffuser, triangular-shaped reflectors and more sharp lines and angles. 
On the inside, the Zeekr 001 FR sports a new LCD instrument panel that looks like a semicircle. The regular 001 has a thinner instrument cluster. The center tunnel remained unchanged, albeit with a new color scheme. The seats also now feature a new pattern and the final change is the door card which has been redesigned. 
Dimensions, powertrain and other specs of the Zeekr 001 FR have yet to be unveiled, but we can assume it should be similar to the regular Zeekr 001which measures 4,970mm in length, 1,999mm in width and 1,560mm in height and has a wheelbase of 3,000mm. 
On top of that, as far as batteries go, the lower capacity option is 86kWh with a 546km of CLTC range and is 4WD only. The second battery option is a 100kWh pack which is good for 741km of range and can be had in either a RWD version with 656km or with 4WD. The largest battery on the Zeekr 001 is a 140kWh capacity in rear-wheel drive only and has a range of up to 1,032km.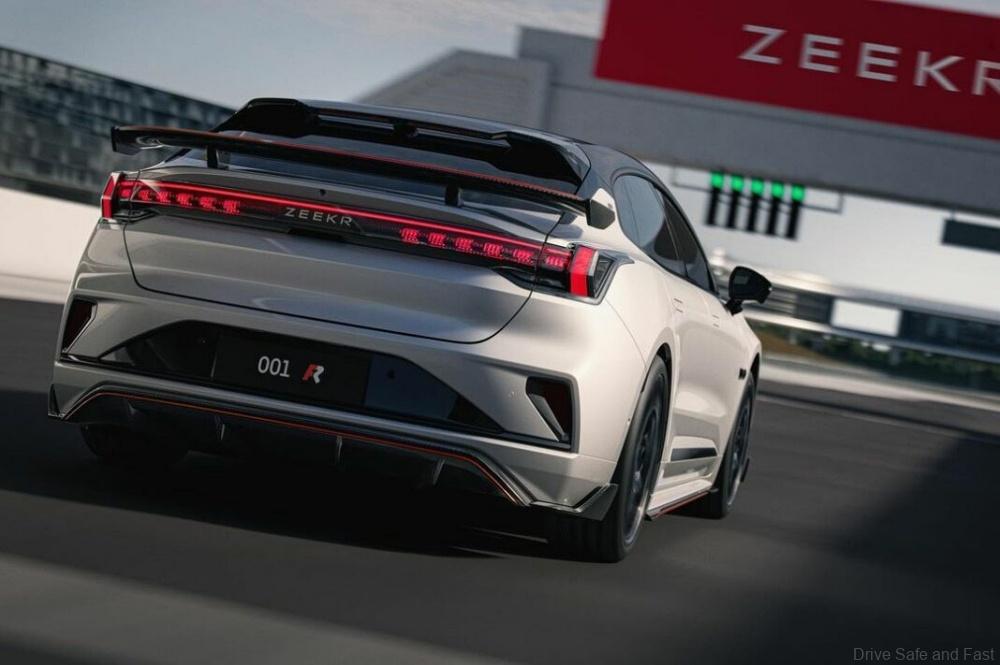 In China, the Zeekr 001 costs between 300,000 to 403,000 yuan (USD41,630 to 55,930). Recently, Zeekr also opened pre-sales of the 001 in Europe and the brand will soon start sales in Israel and Kazakhstan as well. So will this car be brought into Malaysia under PRO-NET? Let's wait and see. 
We got all this from CarNewsChina and their full article is linked here. Thank you CarNewsChina for the information and images.