Automotive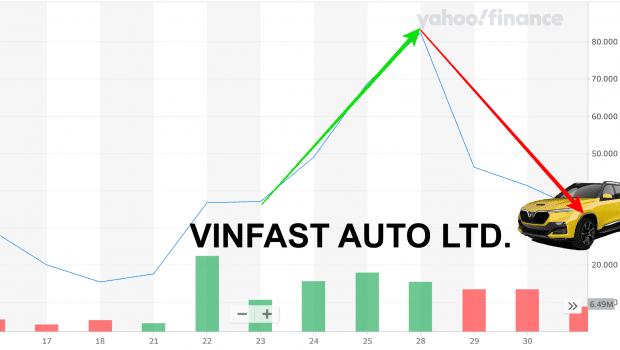 Published on September 1st, 2023 | by Subhash Nair
0
VinFast Stock Prices Dropped As Quickly As They Rose
Vietnamese automaker Vinfast has seen its stock prices plummet just as quickly as they rose.
VinFast, the Vietnamese electric vehicle (EV) manufacturer, made headlines with its recent stock-market debut, but the euphoria was short-lived as its value plummeted by a staggering US$83 billion.
VinFast's journey on the stock market began when it listed through a Special Purpose Acquisition Company (SPAC) merger on August 15. Despite being unprofitable and projecting a production volume of only 50,000 cars for the year, the stock price experienced a meteoric rise. It enjoyed a six-day winning streak, defying expectations and attracting significant attention. We even wrote an article on it earlier this week.
Pham Nhat Vuong, the Vietnamese billionaire behind VinFast, still retains an astonishing 99% control over the company's stock. A mere 1% of VinFast's 2.32 billion shares were made available to the public. This concentration of ownership is a double-edged sword, as it can lead to both rapid gains and sharp declines in stock value. Low-float stocks, such as VinFast's, are known for their susceptibility to extreme volatility. With a limited number of shares available for trading, even a small influx of buyers or sellers can trigger dramatic price swings. The 44% drop in VinFast's shares serves as a stark reminder of this inherent volatility.
Where Does Vinfast Go From Here?
Pham Nhat Vuong, previously holding paper wealth of $141 billion, saw his fortune diminish to $74 billion following VinFast's losses. Such a colossal loss is a testament to the unpredictability of the stock market and the rollercoaster ride that investors, even the most influential ones, can endure. Despite the tumultuous plunge, VinFast exhibited resilience by rebounding 8% in pre-market trading the day after its major setback.
American motoring journalists have been lampooning VinFast electric vehicles for feeling rushed to production. The Vietnamese car company made a quick transition to electric and then aggressively pushed for its US debut. Even with this reverse in its stock pricing, the market still values it above many of the traditional car brands. Does the upstart company have what it takes to rise above its detractors and use this newfound fame and capital to leapfrog its dozens of more experienced rivals?