Automotive
Published on October 10th, 2023 | by Subhash Nair
0
Edaran Tan Chong Earns Nissan Global Award For Top Performance In 2022
Edaran Tan Chong gets recognised by Nissan for its outstanding performance in 2022.
Tan Chong & Sons Motor Company Sdn Bhd, the franchise holder of Nissan in Malaysia since 1957, has achieved a remarkable milestone by earning the prestigious accolade of Nissan Global Award winner for its outstanding performance over the fiscal year of 2022. This recognition, awarded through the Nissan Global Award Program for Importers, highlights their exceptional efforts and achievements in sales and aftersales. In this article, we will delve into the remarkable achievements of Tan Chong & Sons Motor Company Sdn Bhd and its sales and marketing arm, Edaran Tan Chong Motor Sdn Bhd (ETCM), showcasing their dedication to excellence and customer satisfaction.
Top Performer in Sales
Tan Chong & Sons Motor Company Sdn Bhd, represented by Edaran Tan Chong Motor Sdn Bhd (ETCM), stood out as the top performer among 19 eligible markets in the region. Their excellence was evident in several key areas, including overall sales volume, market share, and customer service activities. Despite the challenges posed by production supply shortages and turbulent market dynamics, the dedicated team at Tan Chong Motor demonstrated their ability to excel in adversity.
Top Honors in Aftersales
In addition to their remarkable sales performance, ETCM's aftersales division also received accolades as the top performer and Grand Prize winner in the regional aftersales category. Their excellence in areas such as parts and accessory support, service performance, logistics, and customer service set them apart from their competitors.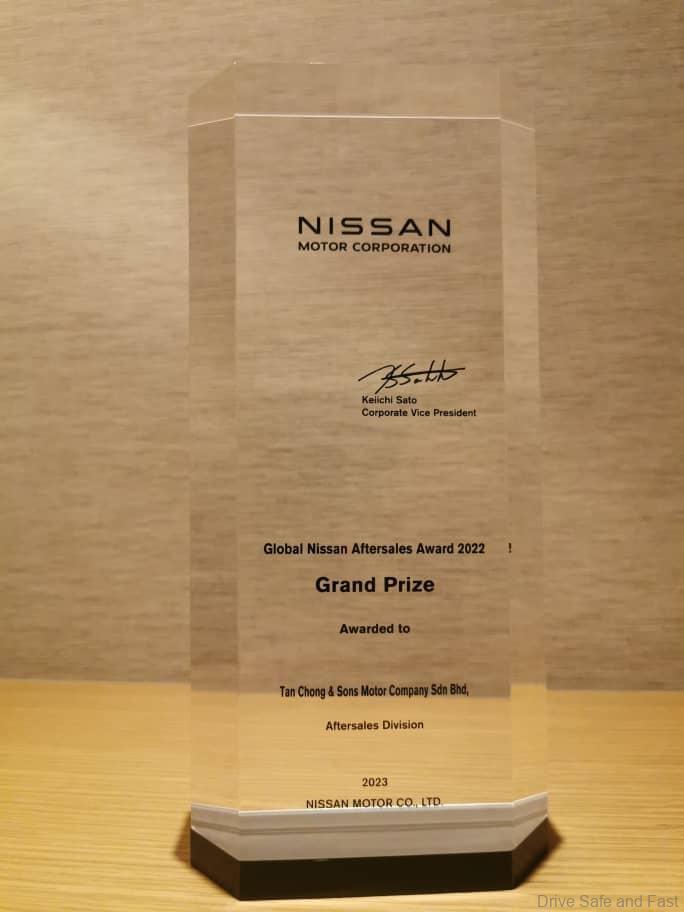 Recognition and Appreciation
Yoshinori Kanazawa, Vice President of NIBU-ASEAN, Nissan Motor Asia Pacific Co., Ltd., emphasized the significance of Tan Chong & Sons Motor Company Sdn Bhd's achievements, stating, "It is an honor to present Tan Chong Motor with the Nissan Global Award 2023 in recognition of the outstanding performance as the official importer and distributor of Nissan vehicles in Malaysia over the fiscal year of 2022." This recognition underscores the resilience and unwavering commitment of the Tan Chong Motor team.
Commitment to Excellence
Christopher Tan, the Sales & Marketing Director of Edaran Tan Chong Motor Sdn Bhd, expressed immense pride and humility, noting, "As business partners of over 60 years, we accept the Nissan Global Award 2023 with immense pride and humility. Our commitment to deliver exciting products and world-class services to our customers has never wavered." The award serves as a testament to the hard work and dedication of every member of the organization.
Investing in Customer Experience
Tan Chong & Sons Motor Company Sdn Bhd continues to align with Nissan's mission to drive innovation that enriches people's lives. They recently unveiled the Nissan 3S Flagship Store in Petaling Jaya, Selangor, to better serve their customers. Moreover, the entire ETCM network is undergoing transformation in accordance with the latest Nissan Retail Concept, emphasizing their dedication to providing an exceptional customer experience.