Automotive
Published on October 5th, 2023 | by Subhash Nair
0
Genesis Has Sold Over 1 Million Luxury Vehicles In Just 8 Years
South Korean car brand Genesis shows the world how quickly it can spread its wings.
In a remarkable achievement, Genesis has surpassed the one-millionth vehicle sold, solidifying its position as a rising star in the world of luxury automotive brands. With a total of 1,008,804 units sold worldwide, including 690,177 units in its home country, Korea, and 318,627 units overseas as of August 2023, Genesis has set a new standard for excellence in the industry. This milestone comes in less than eight years since its global debut in November 2015, with the brand's global sales skyrocketing, marking the second half-million mark in just two years and three months since May 2021.
Genesis' remarkable journey to this milestone has been fueled by a combination of competitive models and a commitment to providing customers with unparalleled experiences.
Rapid Global Sales Growth Driven by Competitive Models
Genesis has seen rapid global sales growth due to its introduction of award-winning competitive models. The brand's lineup, including the G90, G70, G80, GV70, and GV80, has consistently set new standards in the luxury automotive segment. In 2020, the brand achieved its first-ever annual global sales exceeding 100,000 units, with a total of 132,450 units sold. The momentum continued with 201,415 units sold in 2021 and 215,128 units in 2022.
One standout model that has contributed significantly to Genesis' success is the G80, which became the best-selling model in the brand's lineup since its introduction in 2016, with a total of 390,738 units sold worldwide, including Electrified G80 models.
Genesis' foray into the SUV market has been equally successful. The GV80, the brand's first SUV, and the GV70, its first mid-sized luxury SUV, have achieved cumulative sales of 173,882 and 160,965 units, respectively, across the globe.
Pioneering the Global Market with Differentiated Customer Experiences
At the heart of Genesis' extraordinary success is its unwavering commitment to delivering unique customer experiences. This commitment encompasses a comprehensive model lineup known for its exceptional quality, innovative brand experience spaces, and meticulous customer care.
Guided by the brand's distinctive design philosophy of 'Athletic Elegance,' Genesis has introduced models that stand out with audacious designs and outstanding performance. From its first vehicle, the G90, in 2015, Genesis has continued to expand its portfolio, now offering ten models, including sedans, SUVs, and electric vehicles.
Genesis has established brand experience spaces in over 50 locations worldwide, such as Genesis House, Genesis Lounge, and Genesis Studios, designed to provide luxury experiences and services. These spaces allow customers to explore various Genesis models, conveying the brand's class and value through carefully curated vehicle selections.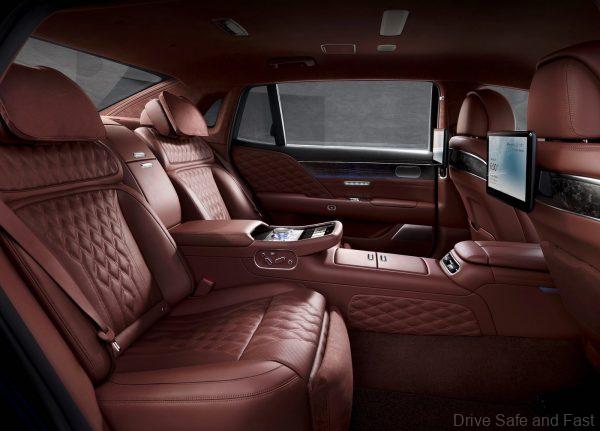 Genesis' commitment to unique customer experiences is further exemplified by the unveiling of Genesis House in Manhattan, New York, in November 2021. This cultural space offers visitors the chance to engage with displayed vehicles and immerse themselves in diverse cultural experiences that reinterpret Korean aesthetics and traditional values through a modern lens.
In January of this year, Genesis introduced Genesis Lounge, designed exclusively for Genesis G90 Long Wheel Base owners in Seoul, offering gourmet experiences and a dedicated Sound Room for music enthusiasts.
Genesis has received numerous accolades from prestigious global entities, solidifying its reputation as a reliable luxury brand. These accolades include awards like MotorTrend Car and SUV of the Year, Car and Driver 10Best, and North American Car of the Year in North America, as well as awards in the European market, such as 'German Premium Car of the Year 2023' and 'Swiss Car of the Year 2023.'
Future Growth: Electrification, Quality Lineup, and Brand Experience Spaces
Genesis is poised for further growth in the ever-evolving automotive landscape. In line with its electrification vision announced in 2021, Genesis will transition to a full EV lineup. By 2025, every new Genesis model introduced will be purely electric. This transition aligns with the increasing global demand for electrification, with plans to diversify manufacturing plants for electric cars.
Genesis aims to be a strong player in the North American EV market, with electric vehicles produced at smart factories in the U.S., beginning in 2025. The brand's dedication to carbon neutrality involves innovation in all aspects of its value chains, from raw materials and parts to production processes.
In addition to electrification, Genesis plans to add new vehicle models to its existing lineup, further emphasizing its commitment to delivering best-in-class quality. New additions include the GV80 Coupe and an updated GV80, with another new model in a distinct segment coming soon.
The brand is also expanding its brand experience spaces globally, providing original experiences for more customers to enjoy based on its unique approach to hospitality. With a focus on creating distinctive experiences for its honored guests, Genesis continues to set the standard for luxury and innovation in the automotive industry.