Automotive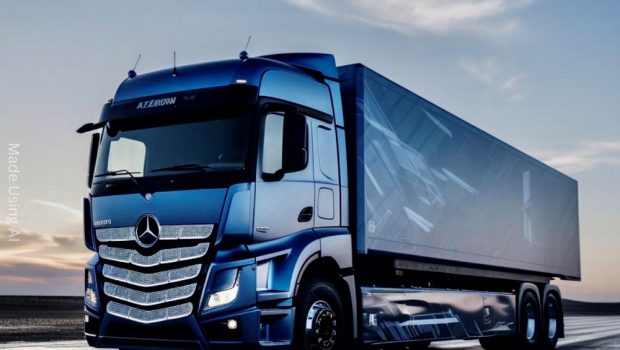 Published on October 9th, 2023 | by Sounder Rajen
0
Mercedes-Benz eActross 600 Completes 1,000KM Journey On A Single Charge
Will Mercedes-Benz ever implement this range on its commercial EVs?
Development engineers from Mercedes-Benz Trucks have successfully completed a test run across the Alps with the battery electric eActros 600 electric truck for long-distance haulage. The engineers drove the prototype, which had been loaded up to 40 tons, from Stuttgart, via the steep rise to the Swabian Jura mountain range at Aichelberg, Kufstein and the Brenner Highway, to Bolzano in South Tyrol.
Despite the demanding topography, the Mercedes-Benz e-truck managed the 530km trip completely without intermediate charging and arrived in Bolzano after a roughly seven hour journey. After a single charge, the engineers started off on the home run, once again with no intermediate charging.
Moreover, this means the fully loaded eActros 600 traveled more than 1,000 kilometers, a truly amazing distance, with only one stop for charging. This test result was made possible by the combination of an efficient driving, high battery capacity and high-performance recuperation (or regenerative braking).
The Mercedes-Benz eActros 600 will celebrate its world premiere on 10 October 2023 and series production is set to start in 2024 and a new design language for the driver's cab of the e truck breaks with the familiar appearance of the Actros series, taking design elements of the concept prototype presented at the IAA and moves them forward with clean-cut lines and an aerodynamic shape.
The interior has also been updated with three battery packs supplying the series version of the eActros 600 with a total installed capacity of more than 600kW and two electric motors, as part of the new electric axle. This generates a continuous output of 400kW and a peak output of 600kW.
On top of that, the high battery capacity allows for a range of 500km without intermediate charging. In addition to the semi trailer tractor, Mercedes-Benz Trucks will also produce rigid variants of the eActros 600 right from the market launch. This offers customers numerous further application options in all-electric transport.
The development engineers at Mercedes-Benz Trucks design the eActros 600 to meet the same requirements on the durability of the vehicle and components as a comparable conventional heavy-duty long-haul Actros. That equates to 1.2 million km in ten years of operation.
The Mercedes-Benz eActros 600 uses lithium iron phosphate batteries. These are characterized in particular by a long service life and a high level of usable energy. The series version of the e truck is designed to facilitate both CCS charging at up to 400kW and megawatt charging (MCS) as well.