Motorcycles
Published on October 12th, 2023 | by Subhash Nair
0
New 1.2L Pack For Shell Advance 4T Long Ride Motorcycle Engine Oil
Shell Advance 4T Long Ride 10W-40 motorcycle engine oil now comes in a larger 1.2L pack.
Due to popular market demand, Shell Malaysia has introduced a new, enlarged 1.2L pack for its premium Shell Advance 4T Long Ride 10W-40 motorcycle engine oil. For context, the current pack is 1.0L, but many modern motorcycle engines call for 1.2L of oil for optimum protection.
The new 1.2L Shell Advance 4T Long Ride is priced at RM68.80 in Peninsular Malaysia and RM69 in East Malaysia. This is a fully-synthetic engine oil designed for use in 4-stroke motorcycle engines. The oil itself is made of 99.5% pure base oil from natural gas through Shell's PurePlus technology.
The advantage of this particular type of motor oil is that it's engineered to provide more endurance for up to 6,000km. Thanks to Shell's unique Active Cleansing Technology, Shell Advance 4T Long Ride engine oil stays stable for longer and keeps motorcycle engines smoothly for longer journeys.
Key features include:
Oil Volatility Control– Ensures lower oil consumption due to its stronger molecular bonds and up to 79% better than industry standard.
Effective Lubrication – Performance up to 6,000 KMS without compromising engine protection and performance
Robust Formulation – 17.9% more oxidative stable than a leading fully-synthetic competitor product, keeping your engine running trouble-free during a long journey
Nyon Kam Yew, GM of Shell Lubricants Business Malaysia and Singapore, said that Shell Advance is currently the leading motorcycle engine oil in West Malaysia. He noted that many modern motorcycles now demand for 1.2 litres of engine oil, hence the change in pack size. This 1.2L pack meets the demands of modern motorcycles while also reduces the need to purchase multiple packs.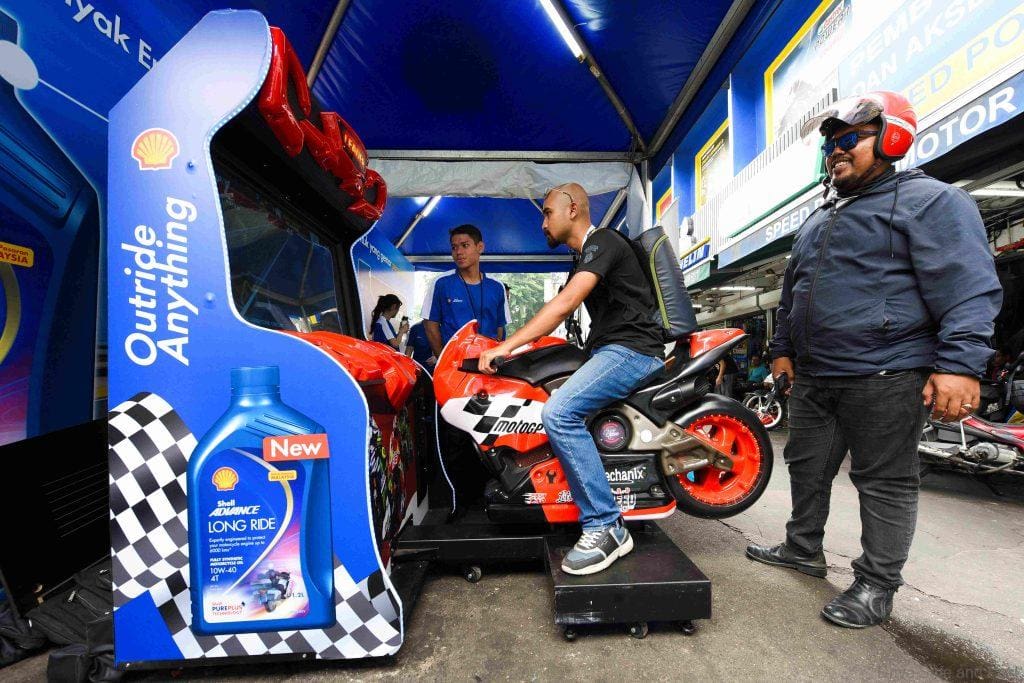 The new 1.2L pack was launched at a bike workshop in Sentul recently and is available at participating Shell-branded and independent workshops. At the launch event, every pack sold came with a free bike oil inspection. Customers also got to participate in various games and lucky draws. Some walked away with Ducati-branded jackets and tickets to the upcoming 2023 Malaysian MotoGP.