Automotive
Published on October 17th, 2023 | by Sounder Rajen
0
Catch The Alluring Peugeot 9X8 At Bahrain Winner Announcement
The winner of the Peugeot 9X8 was announced at 1 Utama Shopping Centre
Bermaz Auto Alliance Sdn Bhd announced the lucky winner of the "Catch the Alluring Peugeot 9X8 at Bahrain" campaign held from 1 May to 31 August 2023 at the BAuto Showcase event in 1 Utama Shopping Centre last week and it was an exciting as well as fun experience for everyone present.
Moreover, Mr Jason Choong Zheng Xin, the lucky winner who purchased a Peugeot 3008, won a paid trip for two to witness the 2023 8-hour Bahrain World Endurance Championship race at the Bahrain International Circuit on 4 November 2023. Congratulations to Mr Jason on this win.
Michael Chen, Head of Sales of Bermaz Auto Alliance Sdn Bhd, said, "We were delighted with the response to our 'Catch the Alluring Peugeot 9X8 at Bahrain' campaign, which ran for four months. I want to take this opportunity to congratulate the lucky winner and thank you for your support in purchasing your dream Peugeot."
"This campaign is part of our objective to share the exclusive brand experience of buying a Peugeot and its heritage in motorsports." He concluded.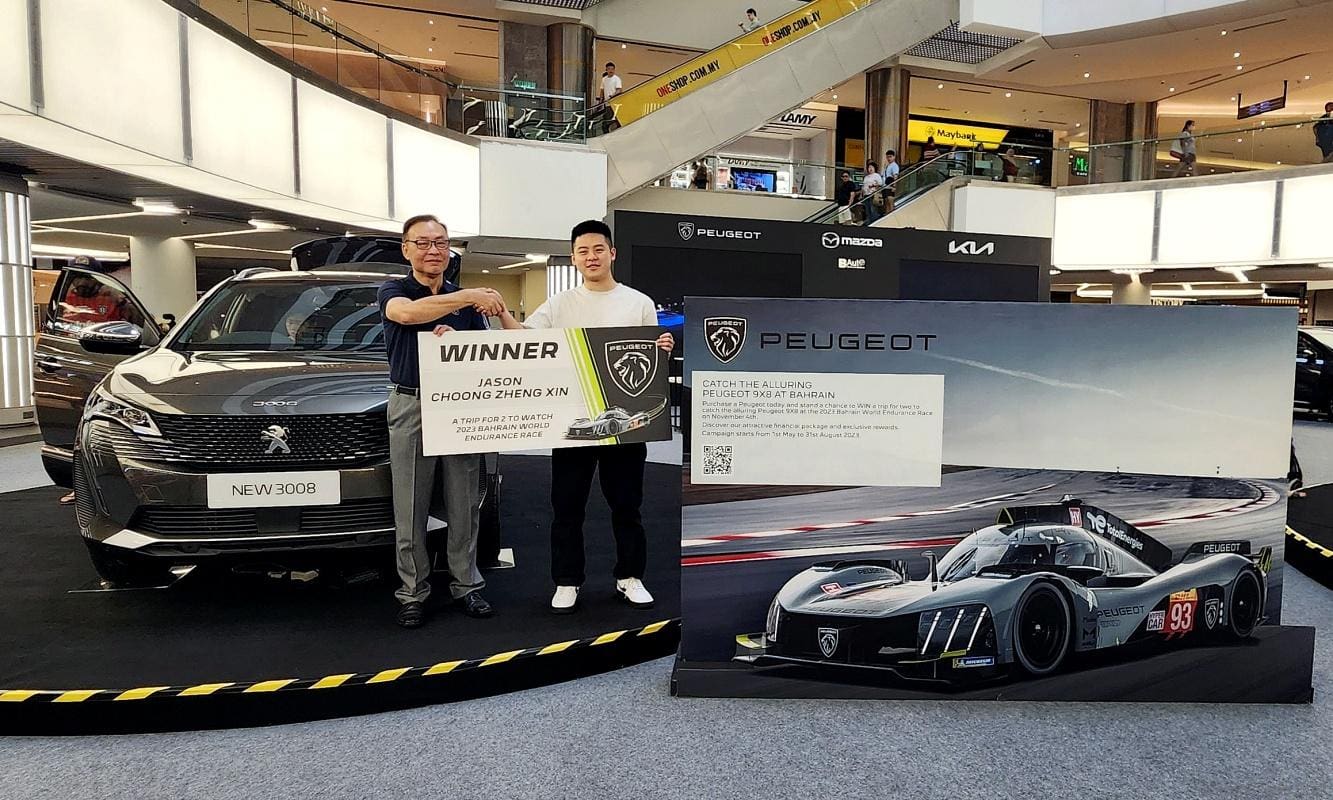 On top of that, Mr Jason who currently drives a Peugeot 3008 said, "I would like to thank Bermaz Auto Alliance for selecting me as the grand prize winner of this amazing trip to Bahrain. It's been four months since I've owned the car, and everything has been great; the exterior, interior, and every moment in the car have been a memorable driving experience."
"Every time I parked my car in the indoor area while the headlight was still on, I couldn't resist turning my head and having one last glance before I stepped into the lift. The Peugeot 3008 is definitely a head-turner." He added. This is the case with most new Peugeot models which all look unique and stylish.
During the four-month campaign, customers who purchased and registered their Peugeot were entitled to participate in this contest when they purchased any Peugeot models such as the Peugeot 2008, Peugeot 3008, Peugeot 5008 and the Peugeot Landtrek by submitting creative slogans.
It is always a great experience when carmakers work together with their customers and this kind of engagement will surely attract more customers to the brand. Plus, it is also a good way for car brands to show off how much they value the input of their customers as well and Peugeot has shown that it does value its customers.