Cars
Published on November 17th, 2023 | by Subhash Nair
0
7 Things We Learnt About The New Honda CR-V On Our Preview Drive in Thailand
We drove the new Honda CR-V e:HEV from Chiang Mai to Chiang Rai yesterday. Here's what we discovered.
Honda Malaysia has already opened the order books for the new 6th generation CR-V and we are currently test driving the SUV in Thailand to get an idea for what it offers. This all-new generation comes on a new "HA" platform architecture that shares its DNA with the latest Civic. From our time with this new SUV, it's apparent that the driving character is also largely shared as well.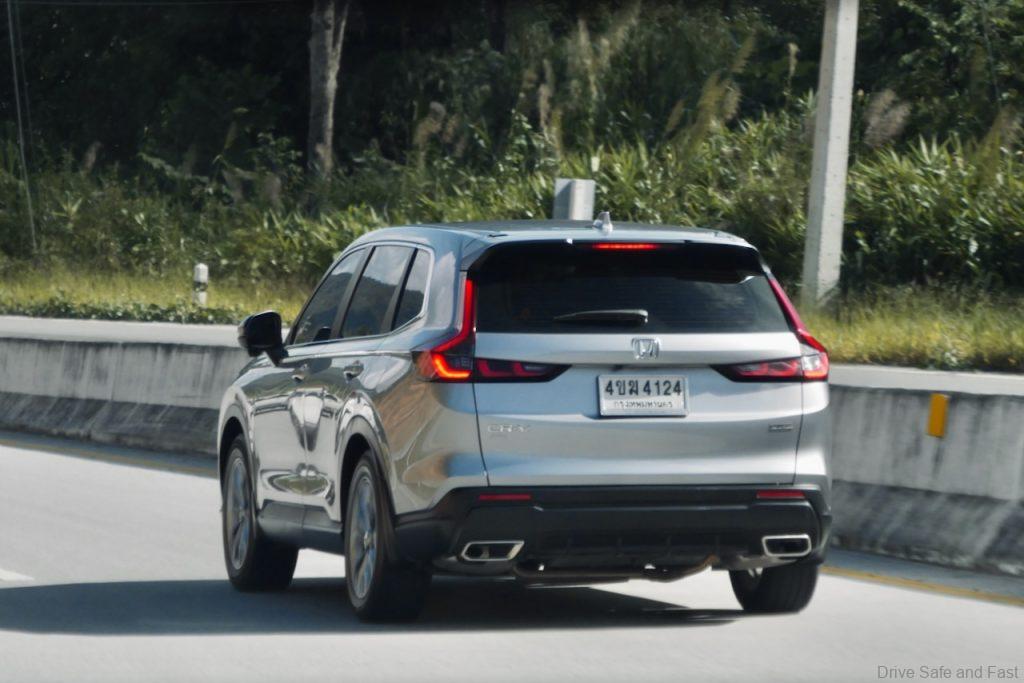 It's a more mature and sporty vehicle than the car it replaces, delivering a sophisticated suspension setup that feels close to premium with some roughness around the edges. Its biggest advantage is that it's still as large and practical as it was in the previous generation, but it has some sportier driving intentions this time around.
Just like the Civic, the new CR-V feels in every way an improvement over the last model. The only obvious weakness here is the new electric power steering, which can feel a little less natural and less consistent in its resistance for such an easy-driving car.
We'll get into further details once we complete our test drive of the Turbo model. For now, we wanted to share some things we discovered on our first day with the e:HEV model.
An e:HEV that revs up to 8000rpm
The 2.0L Atkinson-cycle 4-cylinder engine isn't turbocharged, nor does it have VTEC but it does rev up to 8,000 rpm to achieve its maximum output of 184hp! In the e:HEV powertrain, this engine can directly drive the wheels when necessary. While we did manage to spool it up pretty high on a stretch of road, it was not possible to verify the actual rpm of the engine, as there isn't a traditional tachometer in the e:HEV model. That being said, the engine sounds decent and distant enough when it's audible. We suspect some clever engineering with the in-car microphones and speakers are involved but this too is hard to verify.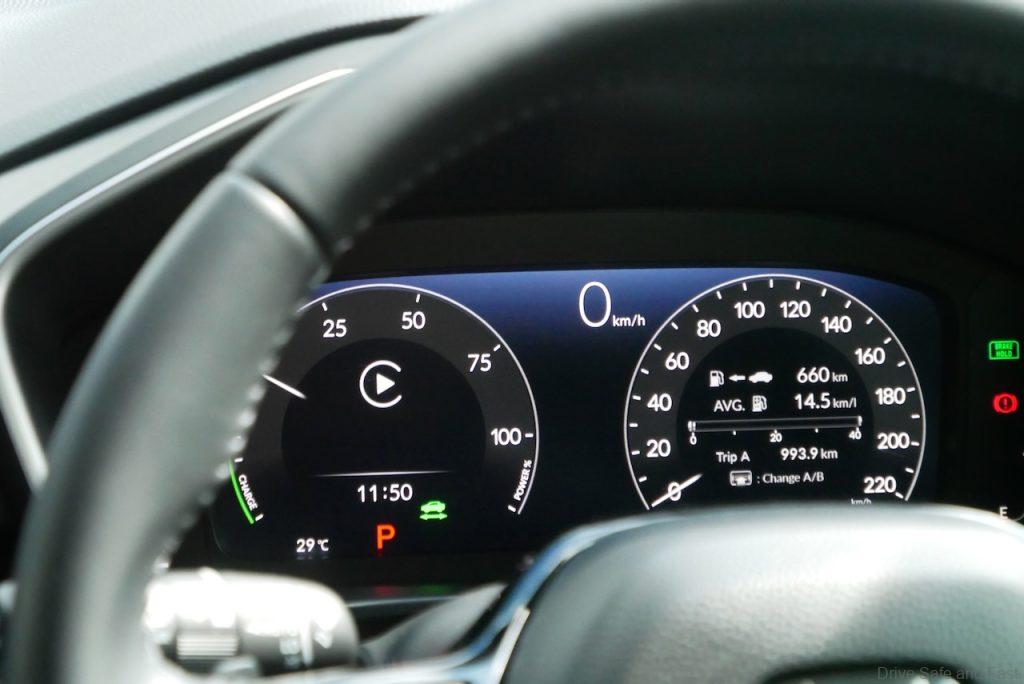 Greater attention to rear passenger ergonomics
It's pretty rare to see rear passengers being taken care of properly in this segment. It's refreshing that the CR-V excels here. The two rear occupants by each door get height-adjustable seatbelts on the C-pillars as well as seat reclining functionality, which was carried forward from the previous generation, but is more natural here. The seats themselves also feel mildly improved and feel like they're higher off the ground than the front row, which helps with thigh support.
The interior is more conventional than before
The CR-V has always innovated when it comes to cabin practicality. Even in the outgoing 5th generation model, there was a huge, expandable center storage area as the gear selector was mounted on a dashboard protrusion. Now, the CR-V is more "car-like" and conventional in its cabin design. Some will welcome this change as it is more sophisticated and sporty. Others will miss the sheer volume of spare space. There are still a couple of storage solutions though, such as a stowage space for the centre coin tray, a large glove box, space for two phones to sit side by-side with one wireless charger, as well as some additional well-designed cubby holes.
A switch to USB Type-C with one Type-A
We've long held that cars should have a mix of both USB Type-C and Type-A connectors and Honda has struck a good balance here. USB Type-C is dominant here with at least three power outlets here, while Android Auto and Apple CarPlay still gets a Type-A interface.
More Upmarket Looks
While there were no RS models on our drive, what we observed so far about the 6th generation CR-V is that it's a lot more mature in its looks. The use of chrome finishing has been reduced to almost zero on the outside.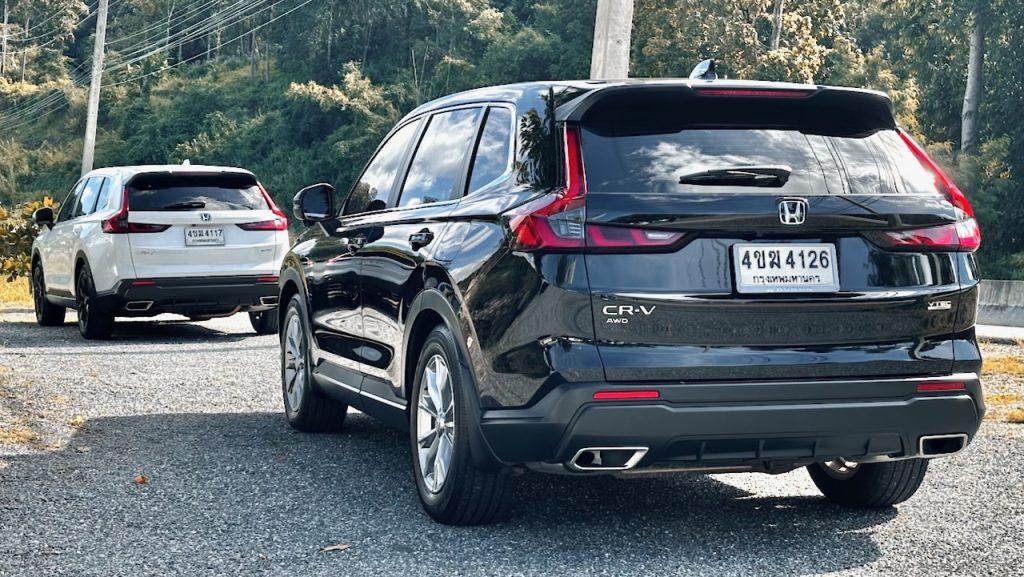 There's just a little outlining the greenhouse making for a very upmarket presence. There's no running away from the fact that the new CR-V looks like a Volvo XC60 and a BMW X3 had a baby and I don't think it's such a bad thing – it's not very original but it is undeniably handsome from every angle.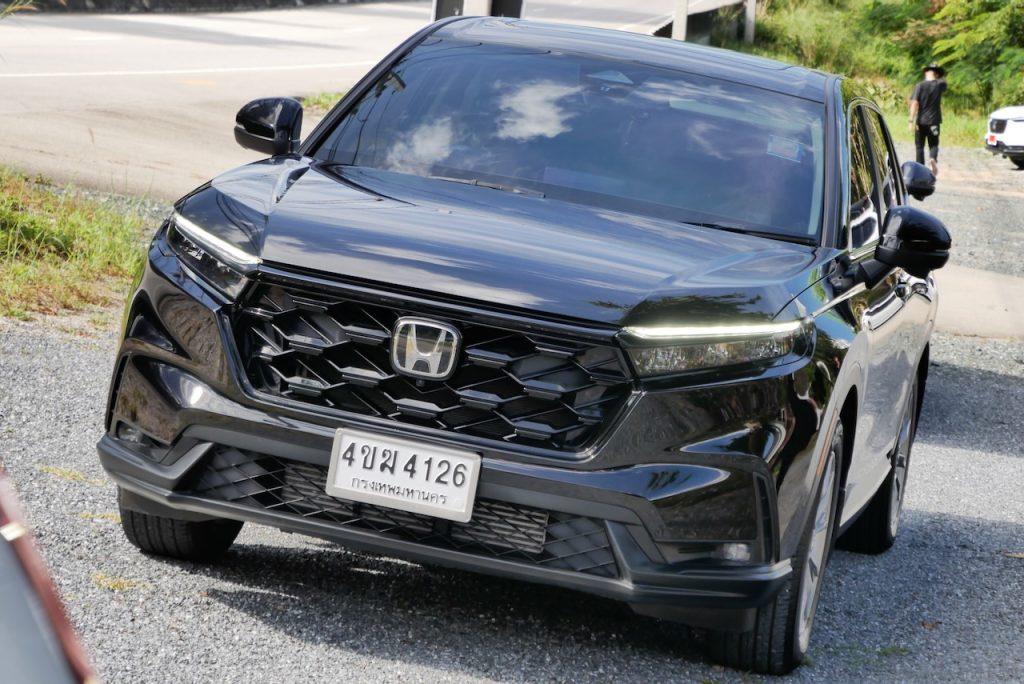 Even the interior feels much better appointed, particularly with this new darker tone of wood train.
Honda Sensing got really good
We're still grappling with the specifics of the hardware and software (particularly as at least one Sensing feature is missing on our test units here), but from what we've observed Honda Sensing is a lot better in this 6th generation CR-V. They're using a wider camera lens, radar and sonar to provide better ADAS and from our experience it feels much improved. Braking is smoother on the Adaptive Cruise Control and vehicle detection is improved too. All this while remaining very intuitive to use and with a very high-tech feeling graphical interface.
The little things are right
With a lot of Honda's products, the features are very impressive but there are sometimes weird omissions. With the CR-V e:HEV we see a very consistently specced car. There is finally auto up/down for all windows as well as passenger seat power adjustment not to mention lumbar support for the driver's seat and of course a 360-degree parking camera.