Automotive
Published on November 17th, 2023 | by Sounder Rajen
0
DHL Express Adds Electric Bikes And Vans To Its EV Delivery Vehicle Fleet
DHL Express also plans to electrify 60 percent of its entire delivery fleet by 2030
DHL Express reaffirms its commitment to sustainable mobility by adding 44 electric vans and seven electric scooters to its fleet of delivery and service vehicles in Malaysia. This latest investment builds on the company's milestone of being the first in the country to deploy electric vehicles (EVs) for logistics use in October 2022.
The Blueshark R1 smart electric scooters enhance the pick-up and delivery of documents and small shipments as well as provide ad-hoc despatch support for government correspondence. Couriers will start using their new two-wheeled drives on their operating routes in the Klang Valley, Penang, Melaka and Ipoh.
Moreover, each e-bike has a 2.88kWH dual-battery providing 110km of NEDC range on only 3.5 hours of charging from any 220 to 240V power source. With an estimated 90 percent lower annual CO2e output over conventional 150cc engines, the Blueshark R1 represents an effective solution for emission-free transport.
This announcement also sees the number of e-vans in operation jump from 10 to 54, extending coverage to other states nationwide beyond Selangor, KL, Penang and Johor. It is expected that the further roll-out of the CAM EA4 and Foton iBlue to complement the existing group of CAM EC35 will lead to a 74 percent reduction in total fuel costs and 63.5 percent increase in carbon efficiency as well.
On top of that, DHL Express also has plans in place to transition 23 percent of all last-mile delivery vehicles in Malaysia to be fully electric by end 2024. This would position DHL Express Malaysia squarely on track to achieve the Group Wide target of a 60 percent electric fleet by 2030 and so far, the brand is definitely on track.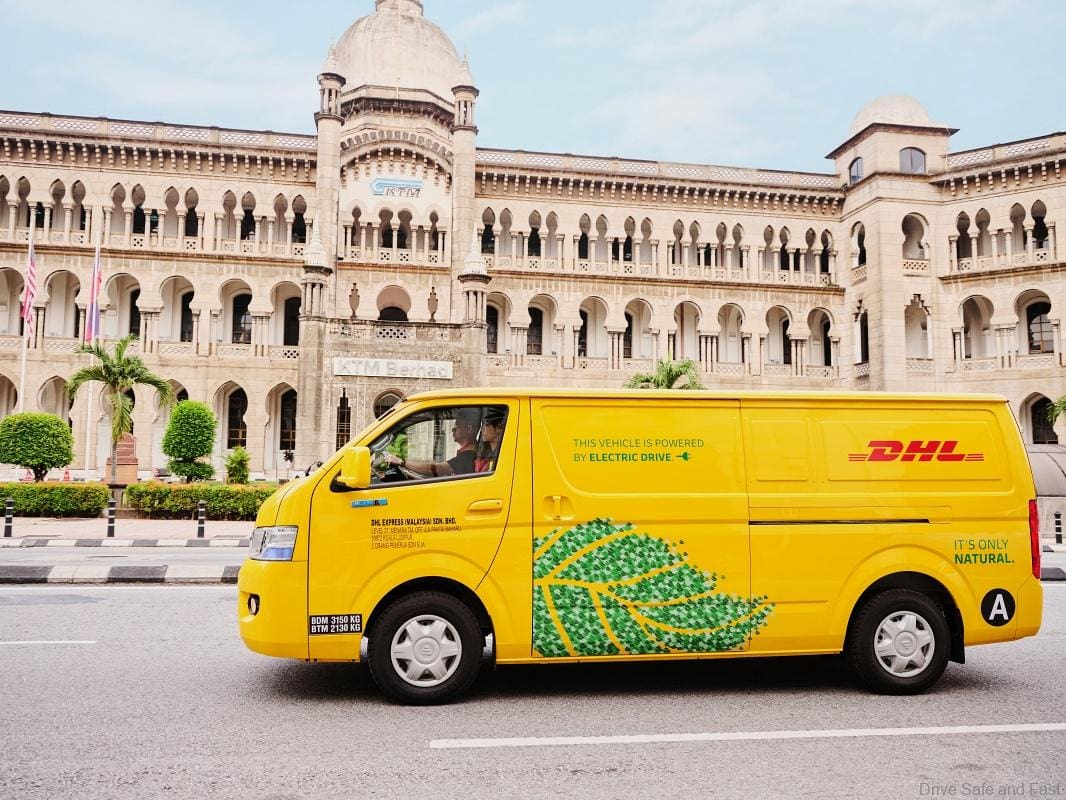 What's more, via Blueshark's Internet of Vehicles (IoV), fleet customers can monitor and track their vehicles and essential data such as performance metrics, ride history, vehicle condition, and battery range in real time, seamlessly and instantly. Essentially, this not only benefits DHL Express and the environment, but everyone in general.
Fleet electrification is a key carbon reduction measure of the DHL Group's Sustainability Roadmap as it invests €7 billion (about RM35.6 billion) in the current decade on the path to net-zero carbon emissions. The company has 29,200 EVs operating across its international network, of which 27,800 are involved in pick-up and delivery.
What do you guys think? Is this the kind of sustainable delivery that we need now and should it continue?