Motorsports
Published on September 21st, 2014 | by Daniel Sherman Fernandez
0
Porsche Carrera Cup Asia – Round 10 Qualifying, Singapore F1 Support Race
PICC Team StarChase driver Alexandre Imperatori took pole position for Round 10 of the Porsche Carrera Cup Asia today, after defending Porsche Carrera Cup Asia Champion and 2014 points leader, Earl Bamber of LKM Racing, was demoted five grid positions for exceeding track limits. Imperatori was on the limit throughout the 30-minute session, yet ensured at least two wheels stayed on track while shaving every available millimeter off the corners. Third fastest around the 5.073km track was Team Porsche Holding's Martin Ragginger after a tough session and, following Bamber's penalty, will line up alongside Imperatori on the front row for the start of Round 10. Rodolfo Avila of Team Jebsen, who came within a whisker of matching the Ragginger's time, and Budweiser Team Absolute Racing's Tung Ho-Pin of China make up the third row.
Bamber's protégé Alif Hamdan of Nexus Racing was the fastest of the Class B drivers and fifth overall, with local hero Yuey Tan of Dorr Havelock Racing putting in a brilliant drive to go second quickest in the category ahead of Modena Motorsports' Wayne Shen..
Other drivers, in addition to Bamber, who were penalised five grid positions for exceeding track limits  were Team C&D's Jason Zhang Zhi Qiang, and guest drivers Thong Wei Fung, who had been third fastest in Class B, and Keith Chan. With just a single practice session on Friday in which to get to grips with the notoriously unforgiving city street circuit, Bamber immediately shot to the top of the time sheets as qualifying got underway. As the drivers pitted mid-way, the session was red-flagged with 15 minutes left on the clock when OpenRoad Racing's Michael S. fell prey to the barriers. The remaining nine minutes at the restart were dramatic as each driver pushed to the max in a last-gasp attempt to move up the grid, the Race Stewards keeping a close eye on track limits meanwhile.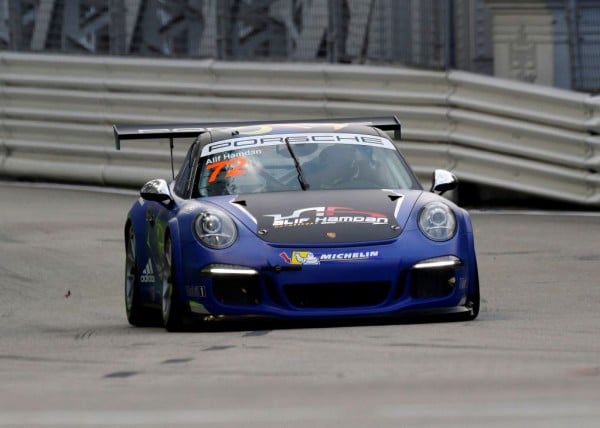 With the new Porsche 911 GT3 Cup (Type 991) making its Singapore debut this weekend, and with the ominous rain clouds holding off for the session, lap times were appreciably faster than last year. Imperatori's best lap was more than 1½ seconds quicker than last year's pole-setting time. Imperatori was keen to take the fight to Bamber, and it was clear he had pushed hard throughout: "I was quite happy with my lap. It's a street circuit – it's about attacking, getting close to the walls and going beyond what your brain tells you you can do and that means pushing it. There were no big moments though."
For Ragginger, it was a frustrating session where he struggled to find grip: "It was very difficult, especially at the beginning. Usually after one warm up lap I have a really good feeling with the car, with the grip of the new tyres. And this I missed completely today. I think I know why, it's something to do with the changes we made to the set up. But it's a long race tomorrow and I think we will be well prepared. I'm much more confident about a long run as the car feels good. For sure there are possibilities if you have the speed."
Hamdan was less than satisfied with his performance, his ambition clearly to be in amongst the seasoned professionals: "Qualifying here is always difficult, especially with 28 cars. There's not much room in 5km, so you have got to plan your way the best you can and you need a bit of luck on your side. Although I'm not 100% impressed with that performance, I guess if I'm Class B pole that's got to be good enough. With myself and my mentor and coach Earl, we never relax, always push 100% and go for gold with everything."
The Qualifying results remain provisional pending completion of scrutineering checks, and post-session Steward's penalties will be reflected on the starting grid for Round 10. As excitement mounts in the glittering city of Singapore ahead of race day, the 28 Porsche Carrera Cup Asia drivers know they have just 12 laps in which to decide who stays in the race for the 2014 overall and Class B titles ahead of next month's Shanghai finale.
Provisional Porsche Carrera Cup Asia – Round 10 Qualifying
| | | | | | |
| --- | --- | --- | --- | --- | --- |
| Pos | No | Driver/Nationality | Class | Entrant/Nationality | Time |
| 1 | 1 | Earl BAMBER (NZL) | | LKM Racing (MAS) | 2:16.736 |
| 2 | 99 | Alexandre IMPERATORI (HKG) | | PICC Team StarChase (CHN) | +1.564 |
| 3 | 86 | Martin RAGGINGER (AUT) | | Team Porsche Holding (CHN) | +2.369 |
| 4 | 20 | Rodolfo AVILA (MAC) | | Team Jebsen (HKG) | +2.374 |
| 5 | 58 | TUNG Ho-Pin (CHN) | | Budweiser Team Absolute Racing (HKG) | +3.467 |
| 6 | 72 | Alif HAMDAN (MAS) | B | Nexus Racing (MAS) | +3.812 |
| 7 | 18 | ZHANG Zhen Dong (CHN) | | Team Basetex (CHN) | +3.941 |
| 8 | 8 | Ro.C. Skyangel (SIN) | | Team Yongda Dongfang (CHN) | +4.020 |
| 9 | 55 | ZHANG Da Sheng (CHN) | | Zheng Tong Auto (CHN) | +4.164 |
| 10 | 66 | Jason ZHANG Zhi Qiang (CHN) | | Team C&D (CHN) | +4.491 |
| 11 | 11 | Ringo CHONG (SIN) | | Team Kangshun (CHN) | +4.743 |
| 12 | 5 | Yuey TAN (SIN) | B | Dorr Havelock Racing (SIN) | +5.530 |
| 13 | 6 | *THONG Wei Fung (HKG) | B | Kamlung Racing (MAS) | +5.564 |
| 14 | 16 | Wayne SHEN (HKG) | B | Modena Motorsports (HKG) | +5.616 |
| 15 | 7 | BAO Jin Long (CHN) | | Team Synsanly (CHN) | +5.641 |
| 16 | 88 | Egidio PERFETTI (SIN) | | Mentos Racing (SIN) | +5.837 |
| 17 | 21 | Francis TJIA (HKG) | B | OpenRoad Racing (HKG) | +5.887 |
| 18 | 98 | Henri RICHARD (USA) | B | Silicon Tech Racing LLP (USA) | +6.296 |
| 19 | 12 | MOK Weng Sun (SIN) | B | Clearwater Racing (SIN) | +6.482 |
| 20 | 9 | LI Chao (CHN) | | Team Betterlife (CHN) | +6.519 |
| 21 | 28 | John SHEN (HKG) | B | Modena Motorsports (HKG) | +9.387 |
| 22 | 3 | Michael S. (INA) | B | OpenRoad Racing (MAS) | +9.505 |
| 23 | 33 | Samson CHAN (HKG) | B | Samson CHAN (HKG) | +9.709 |
| 24 | 68 | MAK Hing Tak (HKG) | B | Kamlung Racing (HKG) | +9.738 |
| 25 | 2 | *Keith CHAN (HKG) | B | Kamlung Racing (MAS) | +10.583 |
| 26 | 51 | Johnson HUANG (TPE) | B | Team BC Racing Team (TPE) | +10.730 |
| 27 | 77 | Jacky YEUNG (HKG) | B | Tiger Racing Team (HKG) | +12.305 |
| 28 | 22 | SIU Yuk Lung (HKG) | B | LKM Racing (MAS) | +16.354 |
*Non series registered