Motorsports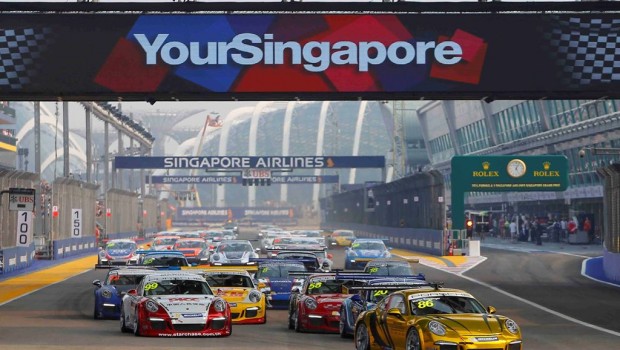 Published on September 22nd, 2014 | by Daniel Sherman Fernandez
0
Porsche Carrera Cup Asia – Round 10 Results Victory For Earl Bamber
Reigning Porsche Carrera Cup Asia champion and 2014 points leader Earl Bamber took victory for the second time on Singapore's Marina Bay street circuit today, winning Round 10 of the Porsche Carrera Cup Asia after starting the race from sixth on the grid. Bamber crossed the line in his LKM Racing Porsche 911 GT3 Cup 4.8 seconds ahead of Team Porsche Holding's Martin Ragginger and pole-sitter Alexandre Imperatori of PICC Team StarChase.
The Class B field put on a brilliant race which had the Singapore Grand Prix fans on their feet, with local hero Yuey Tan of Dorr Havelock Racing taking his first win on his home track. Although Alif Hamdan of Nexus Racing crossed the line first in the Class, he was later handed a 30 second penalty for shunting eventual second place finisher Francis Tjia of OpenRoad Racing. Taking the final podium spot was another Singapore driver, Mok Weng Sun of Clearwater Racing, making it a good day for the city state which has no permanent race track.
With just two rounds of the 2014 Porsche Carrera Cup Asia season remaining, Bamber now has a 21 point lead over Ragginger, while Imperatori and Tung Ho-Pin of Budweiser Team Absolute Racing are tied in third, 19 points behind the Austrian. In Class B, the title chase is now between Hamdan, who has a slim three point lead over Tjia, and Tan.
As the lights went out, Imperatori didn't get a good lift off from pole, almost stalling. Ragginger wasted no time capitalizing on the situation, ploughing into the lead followed by Team Jebsen's Rodolfo Avila. Bamber meanwhile was already up to third as the 28-strong field hurtled into a dramatic opening lap which saw Avila drop down to 7th in the order behind Zhang Tong Auto's Zhang Da Sheng, Team Yongda Dongfang's Ro.C. Skyangel, and Tung Ho-Pin of Budweiser Team Absolute Racing up in fourth. While Ragginger set about building a gap from Imperatori, Bamber was piling on the pressure to the Swiss ace, trying to rattle him into an error and finally finding a way past on lap 4.  From there, the New Zealander set off to hunt down Ragginger, catching and passing him on lap 7 after a furious battle.
Hamdan didn't get the best of starts away from the grid, and then came together with a rival at turn 2, which put him to the back of the field. From there, he charged back up through the pack, closing up to his Class B rivals by lap 9. In the exuberance of youth, however, the 23-year-old Hamdan clipped Tjia, tipping him into a spin. Avila made a good recovery, passing both Zhang Da Sheng and Skyangel to cross the line in fifth behind Tung.
The 2014 Porsche Carrera Cup Asia overall and Class B championships will come down to the wire at the season finale next month, where Rounds 11 and 12 will be part of the Sports Car Champions Festival at the Shanghai International Circuit from October 17 to 19.
Provisional Porsche Carrera Cup Asia – Round 10 Results
| | | | | | |
| --- | --- | --- | --- | --- | --- |
| Pos | No | Driver/Nationality | Class | Entrant/Nationality | Time |
| 1 | 1 | Earl BAMBER (NZL) | | LKM Racing (MAS) | 28:17.971 |
| 2 | 86 | Martin RAGGINGER (AUT) | | Team Porsche Holding (CHN) | +4.804 |
| 3 | 99 | Alexandre IMPERATORI (HKG) | | PICC Team StarChase (CHN) | +5.346 |
| 4 | 58 | TUNG Ho-Pin (CHN) | | Budweiser Team Absolute Racing (HKG) | +9.963 |
| 5 | 20 | Rodolfo AVILA (MAC) | | Team Jebsen (HKG) | +23.040 |
| 6 | 55 | ZHANG Da Sheng (CHN) | | Zheng Tong Auto (CHN) | +23.363 |
| 7 | 8 | Ro.C. Skyangel (SIN) | | Team Yongda Dongfang (CHN) | +24.288 |
| 8 | 18 | ZHANG Zhen Dong (CHN) | | Team Basetex (CHN) | +26.298 |
| 9 | 66 | Jason ZHANG Zhi Qiang (CHN) | | Team C&D (CHN) | +30.531 |
| 10 | 88 | Egidio PERFETTI (SIN) | | Mentos Racing (SIN) | +31.754 |
| 11 | 5 | Yuey TAN (SIN) | B | Dorr Havelock Racing (SIN) | +49.612 |
| 12 | 11 | Ringo CHONG (SIN) | | Team Kangshun (CHN) | +53.383 |
| 13 | 21 | Francis TJIA (HKG) | B | OpenRoad Racing (HKG) | +56.770 |
| 14 | 12 | MOK Weng Sun (SIN) | B | Clearwater Racing (SIN) | +65.617 |
| 15 | 16 | Wayne SHEN (HKG) | B | Modena Motorsports (HKG) | +66.105 |
| 16 | 28 | John SHEN (HKG) | B | Modena Motorsports (HKG) | +71.049 |
| 17 | 72 | Alif HAMDAN (MAS) | B | Nexus Racing (MAS) | +72.997 |
| 18 | 9 | LI Chao (CHN) | | Team Betterlife (CHN) | +98.500 |
| 19 | 68 | MAK Hing Tak (HKG) | B | Kamlung Racing (HKG) | +103.962 |
| 20 | 2 | *Keith CHAN (HKG) | B | Kamlung Racing (MAS) | +104.254 |
| 21 | 51 | Johnson HUANG (TPE) | B | Team BC Racing Team (TPE) | +104.511 |
| 22 | 98 | Henri RICHARD (USA) | B | Silicon Tech Racing LLP (USA) | +104.758 |
| 23 | 33 | Samson CHAN (HKG) | B | Samson CHAN (HKG) | +118.524 |
| 24 | 3 | Michael S. (INA) | B | OpenRoad Racing (MAS) | +120.258 |
| 25 | 77 | Jacky YEUNG (HKG) | B | Tiger Racing Team (HKG) | +132.918 |
| 26 | 22 | SIU Yuk Lung (HKG) | B | LKM Racing (MAS) | 1 Lap |
| NC | 6 | *THONG Wei Fung (HKG) | B | Kamlung Racing (MAS) | – |
| NC | 7 | BAO Jin Long (CHN) | | Team Synsanly (CHN) | – |
*Non series registered
Fastest Lap: Earl Bamber/LKM Racing/2:20.146/Lap 4/130.107kph
Overall Provisional Points after Round 10 (top 5)
Pos
Comp No
Driver
Entrant
Points
1
1
Earl Bamber
LKM Racing
158
2
86
Martin Ragginger
Team Porsche Holding
137
3
58
Tung Ho-Pin
Budweiser Team Absolute Racing
118
99
Alexandre Imperatori
PICC Team StarChase
118
5
20
Rodolfo Avila
Team Jebsen
114
Class B
| | | | | |
| --- | --- | --- | --- | --- |
| Pos | Comp No | Driver | Entrant | Points |
| 1 | 72 | Alif Hamdan | Nexus Racing | 151 |
| 2 | 21 | Francis Tjia | OpenRoad Racing | 148 |
| 3 | 5 | Yuey Tan | Dorr Havelock Racing | 146 |
| 4 | 16 | Wayne Shen | Modena Motorsport | 96 |
| 5 | 98 | Henri Richard | Silicon Tech Racing LLP | 84 |