Automotive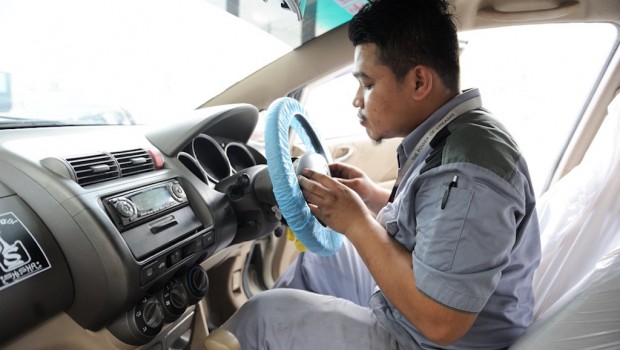 Published on February 23rd, 2017 | by Amirul Mukminin
0
Honda Malaysia Announces Takata Airbag Inflator Replacement Now Available at Petronas Stations
Honda Malaysia announced today that it will increase the locations to replace Takata front airbag inflators to provide further convenience to affected customers in its commitment to ensure the safety of customers.
To further accelerate the effort to reach affected customers, Honda Malaysia is collaborating with Petronas Dagangan Berhad (PDB) so that owners of the affected Takata front airbag inflators can replace the relevant parts at Petronas stations. With this arrangement, Honda Malaysia now carries out replacement activities at three main venues, namely:
selected Petronas stations
mobile hub in shopping malls
all 84 Honda authorized service centres
The tables below show the locations and operating hours of the replacement activities at mobile hub in shopping Malls and selected Petronas stations. (Click to enlarge)
Besides these venues, customers can also change their affected Takata front airbag inflators at the locations of Honda Family Road Trip (HFRT), an outdoor nationwide event filled with fun activities for the whole family.
It is crucial that the defective Takata front airbag inflators are replaced as they may deploy with excessive internal pressure when activated. The airbag inflator casing might rupture, which may result in injury or fatality of the driver and passenger.
Affected customers are strongly encouraged to make an appointment at any authorised Honda service centres or the selected Petronas stations to avoid any delays or setbacks. Meanwhile, replacement activities at the mobile hub in shopping malls and HFRT do not require advance appointment.
In addition to these activities, Honda Malaysia is also working closely with the Road Transport Department (Jabatan Pengangkutan Jalanraya, JPJ) to approach current owners who are affected by the Takata airbag inflator issue.
As of 21 February 2017, the stock availability for Takata driver front airbag inflators is 100%, and, with the joint efforts of dealers, authorities and Honda Malaysia, the replacement of Takata driver front airbag inflators has now reached 75%. Meanwhile, the stock availability for Takata passenger front airbag inflators is now reaching 75%.
Honda Malaysia is doing its utmost best to ensure the stock availability is further increased for Takata passenger front airbag inflators. The company is committed to taking additional measures to improve the completion ratio of driver and passenger front airbag inflators replacement.
Honda customers can check their vehicles recall status either by logging on to www.honda.com.my or www.productrecall.honda.com.my or by calling the Honda Toll Free number 1-800-88-2020.