Motorsports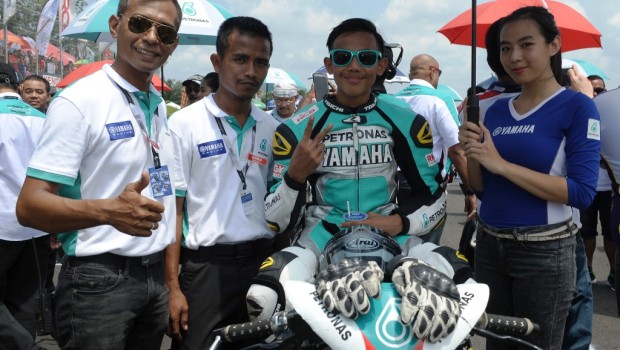 Published on May 1st, 2017 | by Amirul Mukminin
0
Cub Prix: Fuad Wants More From His Riders
Team PETRONAS Sprinta Yamaha – AFB Tech manager, Ahmad Fuad Baharuddin will be demanding more from his young Wira riders despite their recent podium successes in the first two legs of the 2017 PETRONAS AAM Malaysian Cub Prix Championship.
As the national motorcycling series head for Round 3 in Kemaman, Terengganu this weekend, the three riders in the PETRONAS Sprinta Yamaha – AFB Tech team, Mohd Aiman Tahiruddin, Mohd Danial Syahmi and Mohd Khairi Asyraf Mahmud have individually picked up podium finishes in the two previous rounds. Mohd Aiman is leading the Wira title hunt with 41 points after finishing third in Temerloh and first in Tangkak.
The AFB Tech stable look particularly threatening to defending champion team Idemitsu Kozi Yam Honda Racing this season. While Yam's Saiful Azhari Muhamad is currently second overall with 33 points, the Honda rider is in danger of being crowded out by AFB Tech riders Mohd Danial who is third with 31 points and Khairi fourth with 28 points.
For Ahmad Fuad, the recent successes is more reason to double down on their team mission to polish the race craft of his riders.
"I'm still focused on moulding their race craft as opposed to thinking about the title chase. They should not be resting on their laurels yet as they have a lot more to learn. I would like them to demonstrate progressive improvement in each round. Winning the coming race would be a bonus," said Fuad.
"Speed is not the sole determinant factor of a champion. You can't mould a champion in just one day. If they want a long and successful career as professional riders, they must all possess the full package of stamina, strategy, communications skill and technical know-how. This is what I'm here to teach them," added the three-times Cub Prix champion.