Automotive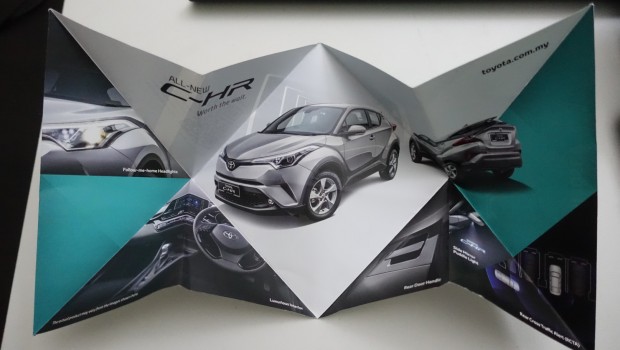 Published on November 12th, 2017 | by Subhash Nair
0
A Look at the Toyota C-HR's Funky Brochure
The C-HR is a hip, youthful crossover that Toyota hopes will ultimately change the way you think about the company. Toyota has long stood for reliability, quality and affordability. But in a market as mature and demanding as ours, they've found that a great aftersales operation isn't enough to sell cars.
But far from just throwing design flair at the problem, the company's tranformation seems to go all the way down the level of car brochures.
This one goes from an unassuming, folded up little square origami looking thing:
Into a full blown brochure:
If that wasn't enough pizzazz for you, it also comes in two colours. The one we picked up here is in 'radiant green metallic', but there's one in 'red mica' as well.
These are actual colour choices of course, as the brochure highlights:
The brochure also shows that 6 colour choices, 3 of which as dual-tone. We wonder if these will be more expensive options. Here are some of the other features:
So, will the C-HR be Toyota's big comeback car? Come 2018, they'll have an extensive number of SUVs and Crossovers, so perhaps the product line will finally be able to cater to every segment.