Automotive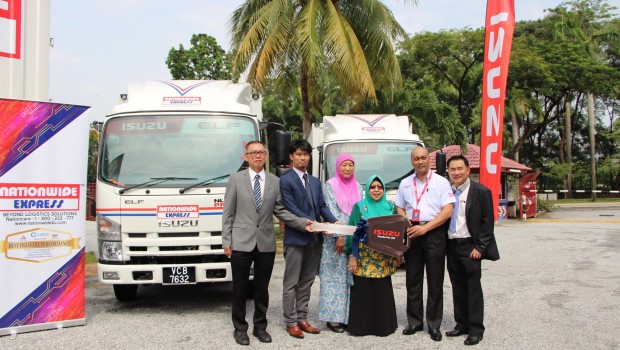 Published on October 25th, 2018 | by Subhash Nair
0
Isuzu Hands Over 29 Trucks to Nationwide Express
Recently, Isuzu Malaysia officially handed over 29 units of trucks to serve Nationwide Express Courier Services Berhad. The handover, which took place at the Nationwide Express HQ in Shah Alam, consisted of 26 units of Light duty truck and 3 units of Medium duty truck. The 29 units were procured through Isuzu-authorised dealership, Pacific Motor Sdn Bhd.
Isuzu Malaysia has been supplying Nationwide Express with their durable trucks through a long withstanding relationship, with the current procurement being in line with the business expansion of Nationwide Express. The current handover is also expected to ensure improved efficiency of day-to-day operations, and timely courier and logistics services that the company offers.
As one of the nation's leading courier and logistics services provider, Nationwide Express is committed to deliver services that exceed customer expectations. With Isuzu, the company is confident that services offered will be done in a timely, cost-effective and professional manner.
During the ceremony, Atsunori Murata, newly appointed Chief Operating Officer of Isuzu Malaysia's Commercial Vehicle Division, expressed his gratitude towards Nationwide Express, especially for their constant trust and confidence in Isuzu Malaysia as a vital transportation partner. Murata added that Isuzu Malaysia intends to fully support Nationwide Express' vision of becoming the preferred courier and logistics brand, by providing necessary training sessions for the drivers, aside from prompt and efficient after-sales services.
The newly procured Isuzu trucks will be distributed to Nationwide Express logistics centres throughout the country to ensure timely and cost-efficient courier services. During the handover ceremony, six out of the 29 procured units were also on display, allowing attendees and staff from Nationwide Express to view the Isuzu trucks up close.
For more details on Isuzu's range of vehicles, please call 1-300-88-1133 or visit www.isuzu.net.my.