Cars
Published on August 13th, 2019 | by Subhash Nair
0
MINI Countryman with the Wired Package: overview
Last year, we took the standard version of the MINI Cooper S E Countryman All4 for a spin. You can read our review of it here and find out why the car's name is so long here. Essentially we thought it drove pretty well, but was completely the opposite of what MINI once was.
But by April, MINI Malaysia had updated their locally-assembled Countrymen with a more affordable 'Pure' trim and a 'Wired' package with quite a bit more equipment. And if you're already thinking about getting a small, premium crossover SUV, here's what the Wired package adds to the mix. And yes, we'll try to go beyond the brochure specs here and talk more subjectively about the value this package adds.
new 19-inch Edged Spoke rims with run flat tyres
8.8″ infotainment display
Heads up display
12 speaker Harmon Kardon audio system
But there are also minor changes that aren't listed, such as the wireless Qi charger hidden in the armrest and the USB Type C ports at the front and rear. Let's run through each of these in greater detail.
19″ Edged Spoke Rims
The regular edition of the E Countryman comes with wheels in the same size but it's finished gunmetal grey. This style of rim is decidedly less sporty and more premium looking. Better suited to the E Countryman, in our opinion.
19″ Edged Spoke Rims

Comes with Wired Package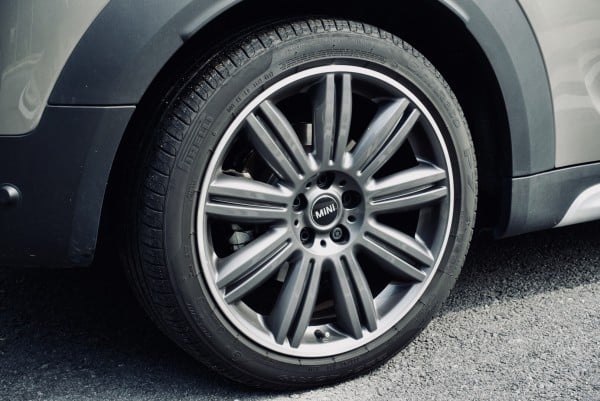 8.8″ Infotainment Display
8.8″ is larger than 6.5″ therefore this is a clear improvement. Yes? Yes.
MINI's great graphics and animations are better experienced on this wider display. It is worth noting that its' still the plastic housing that lends the 'circular' effect to this display and there's less plastic to form that effect here, so the illusion is broken from certain angles. You can check out our impressions video at the end to see what we mean.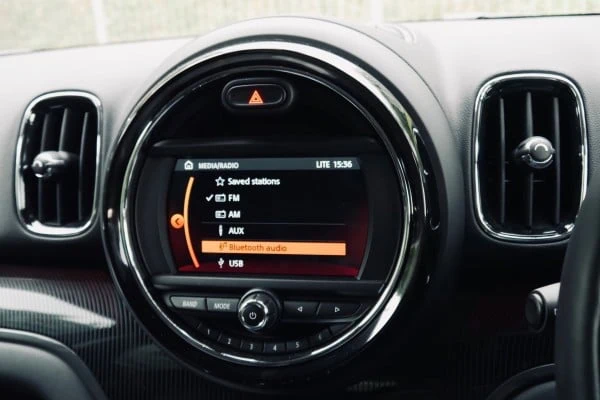 Heads Up Display
I remember once hearing that the heads-up display was one of the biggest factors returning BMW customers.
Nowadays, just about every premium manufacturer offers HUDs. Even some Mazdas come with these. Seeing it on the MINI is great, especially given how busy and small the actual instrument cluster is.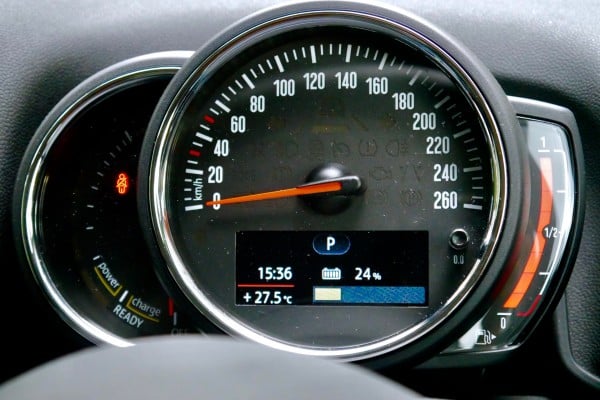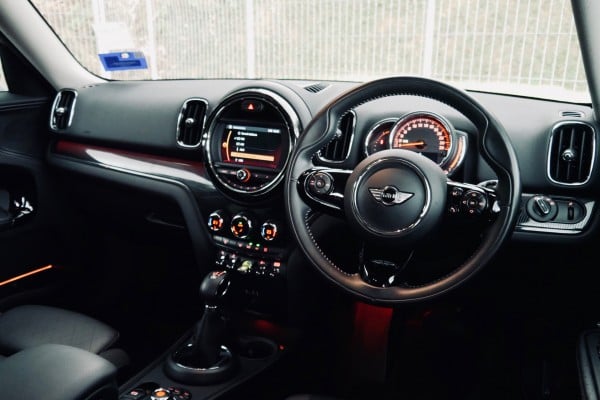 12 Speaker Harmon Kardon audio system
Nowadays, the premium car experience isn't complete without premium audio. While I doubt any manufacturer seriously skimps on audio equipment on base models, it's clear they put in the work to deliver higher-end solutions for their customers. The 12-speaker system on the Wired package comes courtesy of Harmon Kardon. They're really awesome-sounding, but it's strange that MINI of all brands have yet to really capitalise on premium looking speaker covers. Both Mercedes-Benz and Volvo Cars go all out with their Burmester and Bowers & Wilkins speaker grilles, yet BMW Group's premium audio solution don't have the same visual appeal.
USB-C Ports & Wireless Qi Charger
I appreciate that MINI are embracing the future with many USB-C ports sprinkled around the car, but it's a bit of an inconvenience for many Malaysians. While it's true that many devices are adopting USB-C, here's the problem.
iPhones and flagship Androids rarely come with USB-C to USB-C cables. Even the Samsung Note 9 comes bundled with a USB-A to USB-C cable
Most convenience stores and petrol kiosks don't yet stock these cables
Official USB-C to lightning cables are expensive, and you'll need 3 to fill each port in the car
1 USB-A

Rear gets 2 USB-C

USB-C cables are still rare

One more USB-C in the front centre box
There's also a hidden wireless Qi Charger in the centre armrest. I had trouble fitting my Samsung Note 9 in it. It's a problem better demonstrated in this video.
MINI Cooper S E Countryman All4 Wired Package Specifications
Engine: Inline 3, Turbocharged Petrol + Electric Motor
Capacity: 1499cc
Gearbox: 6-speed conventional automatic
Max power: 136hp @ 4400rpm (+88hp electric)
Max torque: 220Nm @ 1250rpm
Top Speed: 198 km/h
0-100 km/h: 6.8 seconds
Price: RM268,888