Automotive
Published on October 7th, 2019 | by Subhash Nair
0
100% Financing on Protons for Government Staff and Fresh Grads
For the rest of 2019, Proton and Bank Rakyat are collaborating to give government employees and fresh graduates special rates on some of their car models. Here are the key things you need to know about this deal.

Two Special Packages:
An-Naqlu 1: 90% financing with 2.88% per annum interest
An-Naqlu 2: 100% financing with 3.30% per annum interest
Who can apply:
New graduates aged between 20-30 years (Malaysian citizens, diploma holders may be eligible)
Malaysian government employees between aged 18 and 60 years
Proton models that are covered: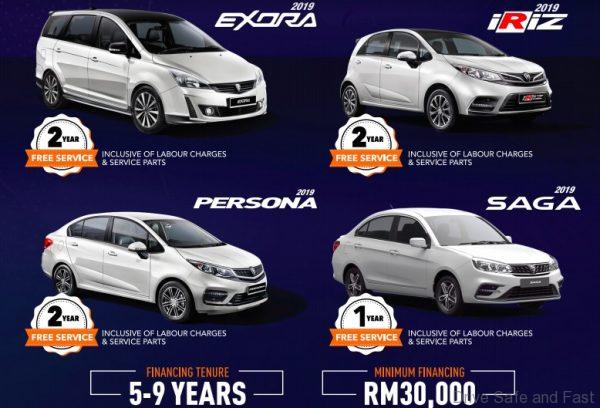 For more on this and the special service and insurance scheme Proton is also offering, check out the full press release below.
PRESS RELEASE
PROTON and Bank Rakyat are offering special financial packages for fresh graduates and government employees on specific Proton cars. This special package which runs until 31 December 2019, provides up to 100% financing for fresh graduates and government employees.
The packages consist of two special financing rates, the An-Naqlu 1 – which offers 90% financing starting at an attractive rate of 2.88% per annum and An-Naqlu 2 – which offers 100% financing starting at 3.30% per annum. The offer is limited to Malaysians who are new graduates aged between 20 to 30 years, and government employees aged between 18 to 60 years for the purchase of the Proton Persona, Iriz, Exora and Saga.
Special service and insurance scheme
According to Fazli Hisham Shukor, Director of Corporate Sales at PROTON, this is one of many special collaborations that PROTON has engineered to help easy ownership for Proton enthusiasts.
"Under this special scheme, Bank Rakyat offers customers easy financing approval, while PROTON makes it more attractive with a free service package of up to two years, depending on the models that they choose. The Saga is being offered with one year free service, while the Persona and Iriz with two years; including free labour and parts" he said.
On top of this, customers stand to benefit from an enhanced insurance package. Designed with Etiqa Takaful and Zurich Takaful, the Proton Insurance Programme provides customers special coverage which includes key care cover, flood relief allowance and also all driver coverage, including a guarantee of zero excess charges for Proton vehicles up to 10 years old.
Customers who are interested in the special financial package can do so at all PROTON outlets nationwide. Additionally, corporations who are interested in fleet programmes can send in their requests to [email protected]