Cars
Published on October 24th, 2019 | by Subhash Nair
0
What Does 'e:HEV' by Honda Mean?
At this year's Tokyo Motor Show, Honda had some interesting announcements with regards to their future branding. In stark contrast to previous Tokyo Motor Shows, the marketing was heavily skewed towards a cleaner, greener Honda rather a reminder of their racing pedigree. A key component to the company's new direction was their introduction of "e:TECHNOLOGY" as a branding term that covers mobility tech that derives energy from electricity.
Under the automotive arm of e:TECHNOLOGY sits 'e:HEV', which describes Honda's most recent development in the field of hybrid technology.
A Short History Lesson in Honda Hybrid marketing
Honda was one of those manufacturers who jumped into electrification pretty early on. Contrary to popular belief, it was Honda, and not Toyota that introduced the U.S. to hybrids with their Insight, which debuted 7 months before the first Prius. The first Insight featured the IMA (Integrated Motor Assist) technology which was used in their vehicles until 2015.
Then Honda started experimenting with different hybrid setups. They deployed three hybrid systems:
i-DCD
1.5-litre engine, 7-speed dual-clutch transmission with electric motor integrated into transmission and planetary 1st gear. Read about it here.
i-MMD (Intelligent Multi Mode Drive)
2-litre Atkinson Cycle i-VTEC engine, a lock up clutch assembly, 2 electric motors, no traditional gearbox
SH-AWD (Super Handling All-Wheel Drive)
Generally large displacement (3.5-litre) V6 engine paired to 3 electric motors and 9-speed dual-clutch transmission
So what happens now?
Well, Honda themselves haven't released much information. From what we can tell, here's what's true about e:HEV:
The electric motor is the primary motor in the hybrid system
'e:HEV' will refer to a range of different electric and internal combustion engine combinations.
Honda did not indicate what transmission would be used in the e:HEV system
The e:HEV powertrain debuted on the B-segment 2020 Honda Fit and the 2019 Honda Accord Hybrid in Japan. The Accord Hybrid uses a similar system to the i-MMD but with an e-CVT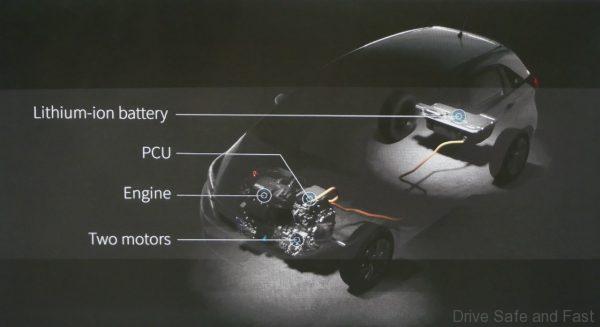 And that means…
Honda's hybrid and electrification strategy is complicated, to put it mildly. The 'e:HEV' branding is most probably meant blanket all future mass-market hybrid Hondas. The NSX will probably soldier on with the SH-AWD name, but it looks like the i-DCD and i-MMD branches are being merged under the 'e:HEV' term, with more i-MMD tech (dual electric motors and PCU) being featured. The rare-earth-free magnets you find in the i-DCD systems ought to make it into the e:HEV hybrids too.
Just as 'VTEC' came to describe a variety of Honda's variable valve timing and lift technologies (and not just their performance-leaning engines), I believe Honda intends 'e:HEV' to cover their future hybrid and electrified powertrain technologies.
You can check out some of the video and press statements we used to draw our conclusions below.
PRESS MATERIALS
e:HEV is a newly-established communication name for Honda's 2-motor hybrid system, which is positioned as Honda's core electrification technology and a hybrid system for this new era, for vehicles driven mostly with an electric motor.
Honda e:TECHNOLOGY embodies "value creation for mobility and people's daily lives," which is a direction Honda will take to fulfill its 2030 Vision. Under the umbrella of Honda e:TECHNOLOGY, Honda' technologies and products related to electrification in the areas of motorcycles, automobiles and power products will have "e:" as a common element of technology and product names, and Honda will evolve consistent communications to convey the appeal of those technologies and products.

In the area of automobiles, Honda established e:HEV as a communication name for its 2-motor hybrid system, which is positioned as Honda's core electrification technology and a hybrid system for this new era, for vehicles driven mostly with an electric motor.  Including the all-new Fit and the all-new Accord, which are scheduled to go on sale in the Japanese market in February of next year, Honda will begin evolving its communications to convey the appeal of its e:HEV models.

From here