Automotive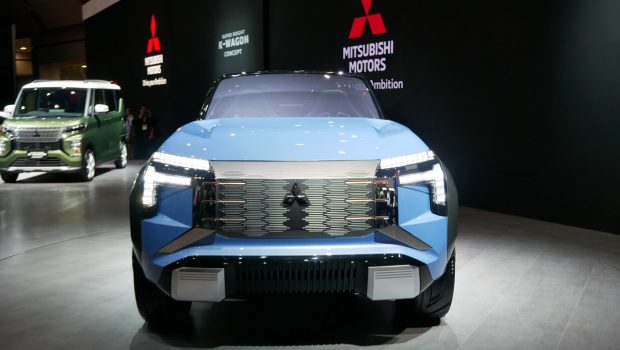 Published on October 29th, 2019 | by Subhash Nair
0
Here are the 2 Concepts Mitsubishi Motors Showed at TMS '19
Mitsubishi Motors didn't show any new production-ready or prototype vehicles at the 2019 Tokyo Motor Show, but had a couple of concepts to show the public. They were the Super Height K-Wagon Concept and the Mi-TECH concept.
SUPER HEIGHT K-WAGON CONCEPT
This vehicle is made within Japanese Kei car dimensional constraints, but as the name suggests, takes its height to new… heights.
Key highlights of the Super Height K-Wagon are its Dynamic Shield front design with a coated steel bar perpendicular to the horizontal grille layout. The wheelbase is extra long for a Kei car with blacked-out side sill garnish and wheel arch covers. The rest of the car keeps with a two-tone theme of olive green/white with silver roof rails and the black accents we mentioned before. Wheels are body-coloured.
Mitsubishi say the Super Height's interior will be exceptionally comfortable with the largest rear door opening and rear seat legroom in class. The interior is finished in brown and orange with synthetic leather and diamond quilting used throughout.
While Kei cars are limited to 660cc engines, Mitsubishi indicates that their engine have a higher output and a CVT. It will also received e-Assist preventative safety tech, MI-PILOT driver assistance as well as other safety perks.
MI-TECH Concept
The more exciting concept on the stage floor was the Mitsubishi MI-TECH. The name stands for Mitsubishi Intelligent Technology Concept and the vehicle is essentially an plug-in-hybrid electric off-roader that's made for good weather and tough terrain.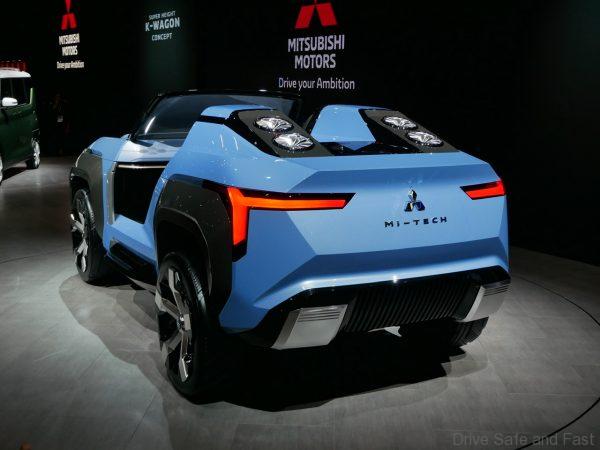 The new drivetrain that they're working on features 4 electric motors, one on each wheel, and a gas turbine engine as a range extender for the batteries.
The body is finished in light blue with copper coloured accents throughout. In the front of course is Mitsubishi's Dynamic Shield. This time it's satin plated with copper finishing as well.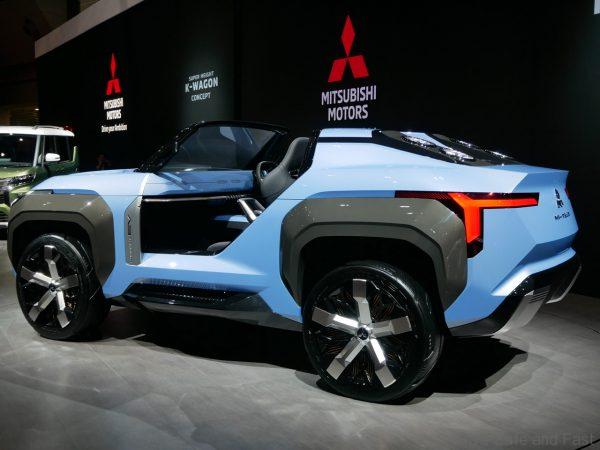 Rugged touches like an aluminium skid plate on both sides of the body, raised overfenders, and large tyres help solidify the look of an off-roader here.
Inside, you'll find a horizontal instrument panel with copper lines added throughout. Keyboard-shaped switches are positioned on top of the center console and the front handgrip also functions as a hand pad to make the switches easy to operate.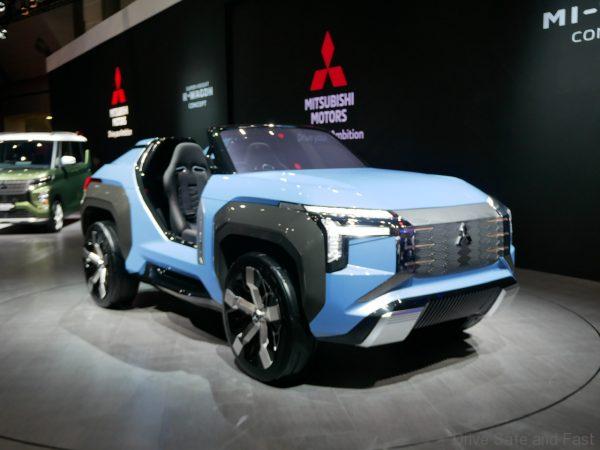 More about that new PHEV drivetrain from the press release.
PRESS RELEASE
The power generator in the new PHEV drivetrain is a lightweight, compact gas turbine engine-generator in place of the traditional gasoline engine. As environmental awareness grows and downsizing progresses, the concept explores the technological proposition to plug the PHEV drivetrain into a small SUV. The gas turbine engine-generator has a powerful output for its size and weight.
Another benefit of the gas turbine is its flexibility to run on a variety of fuels such as diesel, kerosene and alcohol which can be selected depending on the regions. Further, its exhaust is clean so it responds to environmental and energy issues.
Electric 4WD systemMMC took pride to apply its S-AWC Integrated Vehicle Dynamics Control System to a Quad Motor 4WD System with front and rear Dual-Motor Active Yaw Control (AYC) units. Making the brake calipers electric has also allowed for high response, high accuracy control of drive and braking force of the four wheels while delivering a drastic improvement in turning and traction performance.
When driving off-road and two wheels are spinning out, the ability to transmit the optimal driving force to all four wheels makes it possible to transmit force to the two wheels still on the ground and keep driving.