Automotive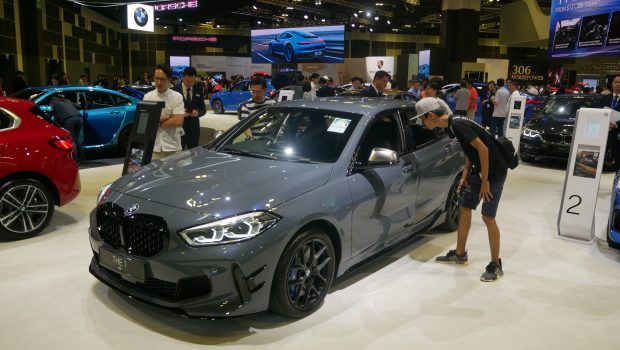 Published on January 16th, 2020 | by Subhash Nair
0
Cars From the 2020 SG Motorshow That May Come to Malaysia
Last week's Singapore Motor Show was actually quite an eventful one. We got to see a few regional premiers and almost every brand present had at least something interesting to show. We thought we'd share with you a few models that may eventually find their way to our shores this year too.
Hyundai Ioniq Facelift
Hyundai was pretty bold with their Ioniq in Malaysia. It was the first C-segment hybrid car to be locally-assembled and receive those much sought after tax incentives. The Hyundai Ioniq facelift was shown in Singapore and we couldn't help but wonder if our local CKD packs would be upgraded to this spec soon too.
2nd Generation Mercedes-Benz CLA
The compact Benz family just received a major overhaul last year. Globally, they're ready to take the offensive to smaller Bimmers and Audis. In Malaysia, we have the new A-Class already in a number of variants, including the regular hatch, saloon and even AMG 35 high-performance model.
What's missing right now is a replacement to the CLA. The 1st generation CLA was not very popular in Malaysia, as it made more sense to purchase a locally-assembled C-Class for that price. But the new CLA has some interesting looks and a new AMG 35 model. We're not sure if the new Mercedes-Benz Malaysia Vice President of Sales and Marketing is going to push a product offensive in this direction, but it would be interesting indeed.
Mitsubishi Cross Eclipse
Mitsubishi Motors Malaysia has been focusing on taking up more space in the pick-up segment, but we think maybe this year's they'll try their hands at the consumer SUV market as well. They already have a moderately successful 7-seater Outlander, but this Eclipse Cross might be the product they need to elevate the brand image after years of crossover stagnation.
Toyota RAV4
In Malaysia Toyota has not fielded a softroader in the C-segment, and that has pushed them out of the vision of many family vehicle buyers. But the rumour mill has strongly suggested a CKD RAV4 to be in the works. If this comes to Malaysia, we're sure every one of its Japanese and Korean rivals will have a hard time competing. The only issue would be the pricing and whatever Proton has in store for their CKD X70.
Toyota Corolla Altis Hybrid
There's some indication that the next NAP will heavily favour electrified vehicles. If it does, we may see a hybrid version of the Corolla Altis be offered in Malaysia. Singapore got their Hybrid version from the Thailand plant, so we may too.
Suzuki Jimny, Swift and Grand Vitara
The chances of Suzuki returning to the Malaysian market are very, very low. But if they do, it's nice to see that they've got some very, very interesting budget-oriented products ready for the South East Asian market. How many of us would go ga-ga over this new Jimny? A lot of us. That's the answer.
Alfa Romeo Giulia, Stelvio, Quadrifoglio models
Alfa Romeo has not been active in Malaysia for some years now. But if Jeep can make a resurgence (for a third time), then perhaps Alfa's second breath of life is just around the corner too. The Giulia and Stelvio are prime to give high spec Bimmer and Benz alternatives a little bit of pressure.
Nissan Serena E-Power
The Nissan Serena S-Hybrid is one of the company's better selling products at the moment. If the NAP favours further electrification, an E-Power powertrain could be a good addition to the fleet.
Honda Accord
We know Honda Malaysia are doing their best to get some product launches through. Let's hope it comes in by Q1 2020.
Mazda 3 M-Hybrid
It's strange to think that Mazda, of all brands, is finally taking steps towards electrification. At the motor show, we saw a few examples of vehicles with their M-Hybrid system. Given the 3 is fully imported, there's a chance that Bermaz might give it a shot in our market should the NAP make allowances.
BMW 1 Series
The new 1-Series hatch is a step-down in the eyes of many enthusiasts. But for the buying public, it looks like a smash hit in the making. It has greater perceived quality than ever before and more usable space. If the price is right, this could be the A-Class killer BMW have been banking on.