Motorsports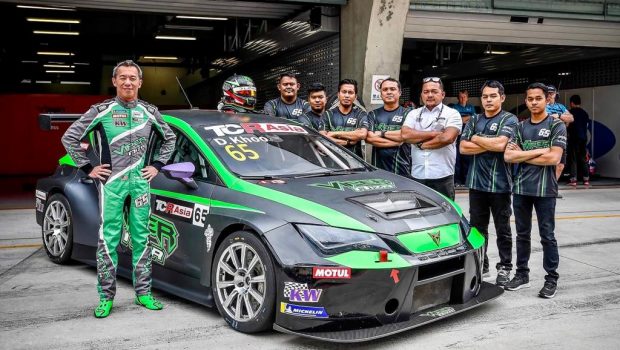 Published on January 15th, 2020 | by Amirul Mukminin
0
Three-car Viper Niza Racing entry for TCR Malaysia
Malaysian-based Viper Niza Racing will field a three-car assault on the 2020 TCR Malaysia Championship with experienced TCR campaigner and team principal Douglas Khoo joined by brothers Gilbert and Freddie Ang.
The trio will campaign three Cupra TCRs for the six round championship, looking to capitalise on the team's 2019 experience during the inaugural season of TCR Malaysia, whilst the experienced local crew will also look to put their late 2019 TCR Spa 500 success to good use, an event that netted the team fourth outright and victory in the Pro-Am division for Khoo and his Malaysian team-mates, one of which was the Ang brothers' elder sibling Dominic.
With four seasons of TCR Asia under his belt, as well as cameos in TCR Thailand and his solid results at home in TCR Malaysia last season, Khoo will be looking to gain from the data of his younger team-mates, whilst also building on his results from 12-months ago – including an incredible qualifying effort in round five that saw the Cupra TCR pilot out-pace champion-elect Luca Engstler to sit on the front row of the grid alongside fellow Malaysian Mitchell Cheah..
"With three cars this season, we are in a stronger position to put up a formidable challenge and hopefully gun for the overall championship," Khoo admitted.
24-year-old Gilbert Ang joins Viper Niza Racing with a sterling record in both karting and saloon car racing. In karting, he was the 2009 junior category champion in the Yamaha SL Class; double Asia Max Challenge and Rotax Max Malaysian Challenge junior champion (2010/2011), and 2013 Asia Max Challenge and Rotax Max Malaysian Challenge senior champion.
Transitioning into saloon car racing in 2014, Gilbert won the Touring Production category in the Malaysia Merdeka Endurance Race championship that same year. He also won the 2015 Caterham Championship (420R class) and finished fifth in the GTC class of the Sepang 12-Hours endurance race, before competing in the SP2 category of the Dubai 24 Hours in 2016.
Older brother Freddie meanwhile, is a championship contender in the current season of the Toyota Vios Challenge one-make series. The 26-year-old finished seventh in the 2013 Sepang 1000KM endurance race, third in the rookie category of the JK Asia Racing single-seater series in 2011, sixth in the 2010 Rotax Max Asia series and was third in the Yamaha SL Cup in 2010.
"This will also be my first time competing in a touring car series and I'm really looking forward to it," Freddie added.
"Competing in TCR Malaysia is definitely a steep learning curve for any driver, but I am up for the challenge and I want to see how I stack up against the other drivers in the series."
For Khoo – who comes straight into the round fresh from round two of the 2019/2020 Asian Le Mans Series in Australia where he and team-mate Dominic Ang proved competitive in the Viper Niza Racing Ligier LMP3 last weekend – his home event is a chance to really wave the Malaysian flag high, and with two rising young stars as team-mates, they are sure to present a strong challenge to reigning champions Liqui Moly Team Engstler.
The second season of TCR Malaysia will begin on Friday, January 17 with two 55-minute test sessions, ahead of qualifying and the two 30-minute races on Saturday.