Automotive
Published on April 30th, 2020 | by Subhash Nair
0
Trailer Hits Bridge, Range Rover Velar Conveartible is Born
Velar Convertible Render Becomes Reality After Trailer Crash with Bridge
Over the weekend, Greater Manchester Police Traffic Twitter account reported that a car carrier trailer loaded with several Range Rover SUVs had smashed into a bridge on the M61 highway. The incident apparently happened as the driver had forgotten to lower down the upper deck after his last delivery. The driver says he got absent minded after a woman with a pram asked him to move his truck and that cause him to miss out on his regular safety procedure. The police have proceeded to report him for driving without due care according to their Tweet.
The result of his accident was rather interesting. From the photos that were shared, it looks like a red Range Rover Velar and a grey 2nd generation Range Rover Evoque were damaged in the collision with the bridge. While the damage to the grey Evoque doesn't look too bad, the red Velar had its entire roof ripped off!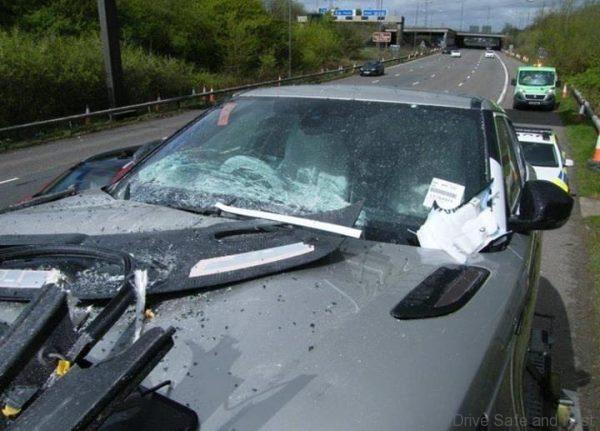 The roof flew off and landed on a recovery truck that was moving behind the trailer truck. It shattered the recovery truck's windscreen but no injuries were reported.
The damage to the unibody Velar makes the car a total write-off. Not just the roof, but every one of its pillars were completely torn off! These pillars are engineered to be structurally rigid enough to hold the weigh of the entire car should it flip over.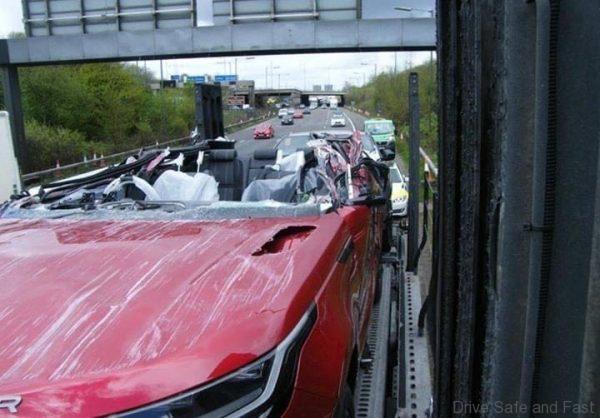 The police even had engineers come in to check if the bridge had to be repaired! Don't worry, it's still okay.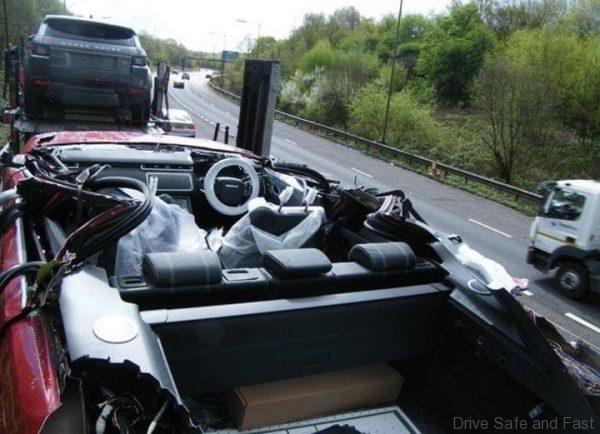 Back in 2017, X-TOMI Design rendered a pillarless convertible Range Rover Velar Convertible. And now in 2020 this careless transported has made that rendering a reality. It's worth noting that Range Rover did produce a 1st generation Evoque Convertible for some time based on the 3-door model.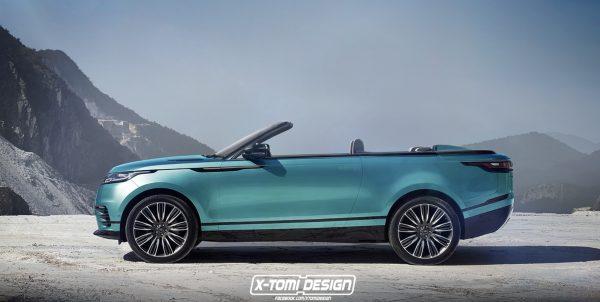 About the Range Rover Velar
The Land Rover Range Rover Velar brings a new dimension of glamour, modernity and elegance to the Range Rover family. Designed to fill the white space between Range Rover Evoque and Range Rover Sport, Velar offers levels of luxury, refinement and all-terrain capability never before seen in the mid-size SUV segment. This is a new type of Range Rover for a new type of customer.
Land Rover Range Rover Velar is defined by a visually reductive approach and meticulous attention to precision in every detail, which evolves the Range Rover DNA.
Velar's design is beautifully balanced, from its powerful proportions to its continuous waist line through to the taut tapered lines of the rear. The generous wheelbase contributes significantly to its elegance while helping to provide a spacious interior.
The large alloy wheels – in particular the range of 22-inch designs – optimise the vehicle's stunning silhouette, while further enhancing Velar's dramatic presence.