Cars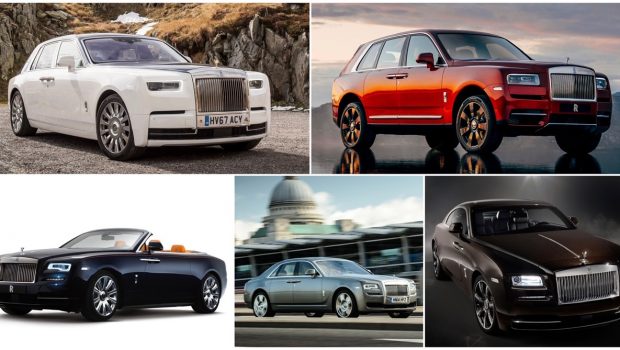 Published on April 30th, 2020 | by Subhash Nair
0
Understanding Rolls-Royce's Model Lineup
Today we arrive at the final brand. Yes, we initially listed Pagani in this series, but after some consideration, there just wasn't enough to unpack considering the brand's young age and limited production numbers. Instead, today we help deconstruct the Rolls-Royce's current model lineup under BMW Group. Of all the brands we've listed before, the closest Rolls-Royce competitor is in fact Bentley. Before these two British luxury marques were acquired by German owners, they were in fact closely related, sharing platforms and production facilities. Today, their products go head to head but they're both built on very different underpinnings.
We'll approach their model line up the same way we did with Bentley, beginning with their largest limousine, working our way to their smaller vehicles and ending with their latest SUV addition.
Phantom
This is company's flagship full-sized limousine. The 8th and current series was launched in 2017. It's the 2nd generation of Phantom to be introduced under BMW Group ownership. The previous generation spawned 2-door (Phantom Coupé) and 2-door convertible (Phantom Drophead Coupé) models, but that has yet to surface in this generation. It is powered by a 6.75L twin-turbocharged V12 engine sending power to the rear wheels via an 8-speed conventional automatic. This series of the Phantom gets all-wheel steering. Thinks of the Phantom as the ultimate luxury sedan – what royalty and plutocrats might want to be driven around in. Oh and if it's not big enough for you, there's one with a longer variant (Phantom Extended Wheelbase).
| | |
| --- | --- |
| Wheelbase | 3,552 mm |
| Length | 5,762 mm |
| Width | 2,018 mm |
| Height | 1,646 mm |
| Kerb weight | 2,560 kg |
Ghost
The Ghost was BMW Group's attempt at creating a competitor to the Bentley Flying Spur. It was introduced 4 years after the Bentley in 2009. Think of the Ghost as a large luxury sedan that has the essence of the much larger Phantom, but not quite the unwieldy size. The V12 engine has slightly smaller displacement (6.6L vs 6.75L) and also has an 8-speed automatic and rear-wheel drive. The Ghost is much more practical and slightly more affordable. The current model (1st generation, Series II) shares a platform with BMW, but the successor model that is aimed for a 2020/2021 release will be built on a new Rolls-Royce platform. A variant of the Ghost with a longer wheelbase is available (Ghost Extended Wheelbase).
| | |
| --- | --- |
| Wheelbase | 3,295 mm |
| Length | 5,399 mm |
| Width | 1,948 mm |
| Height | 1,550 mm |
| Kerb weight | 2,490 kg |
Wraith
Rolls-Royce have also adopted the Ghost to fight off the Bentley Continental GT. To that end, they created the 2-door Wraith with a unique hardtop bodystyle. Despite having just 2 doors, they're rear-hinged and all four windows can be wound down. The Wraith was debuted in 2013.
| | |
| --- | --- |
| Wheelbase | 3,112 mm |
| Length | 5,268 mm |
| Width | 1,948 mm |
| Kerb weight | 2,440 kg |
Dawn
Rolls-Royce decided to create an all new nameplate when they made a convertible version of the Wraith. The Dawn shares many core parts of the Wraith, but got an extensive redesign. This is probably because it will have to soldier on for years until the Wraith and Ghost are updated with a new chassis. The Dawn debuted in 2015.
| | |
| --- | --- |
| Wheelbase | 3,112 mm |
| Length | 5,296 mm |
| Width | 1,947 mm |
| Height | 1,502 mm |
| Kerb weight | 2,560 kg |
Cullinan
The Cullinan is Rolls-Royce's attempt at the luxury SUV market. While Bentley were quick to launch the Bentayga in 2015, BMW Group's response, the Rolls-Royce Cullinan only came in 2018. That being said, Rolls-Royce did have to develop their own chassis instead of sharing the same chassis essentials between 4 or 5 other VW Group brands like Bentley did. Just like the Phantom, the Cullinan uses a 6.75L twin turbocharged V12 but the 8-speed automatic sends power to all four wheels here. Just like in the Phantom VIII, all-wheel steering is present.
| | |
| --- | --- |
| Wheelbase | 3,295 mm |
| Length | 5,341 mm |
| Width | 2,164 mm |
| Height | 1,835 mm |
| Kerb weight | 2,660 kg |
Other brands in this series: