Automotive
Published on May 14th, 2020 | by Subhash Nair
0
Latest Audi A8 L Gets Bulletproof "Security" Model in Russia
The image of a fully blacked-out stretched luxury sedan as a Russian mob boss vehicle is just perfect isn't it? Audi seems to think so. Their latest A8 model just got its 'Security' version in Russia amidst the coronavirus pandemic.
This 4th generation of Audi A8 was launched in 2017 as a long-wheelbase model, meaning it's more accurate to refer to it as the A8 L Security.
Even though it's still technically an A8 model, under the hood it actually a motor from the Audi S8. This twin-turbocharged V8 outputs 563hp and 800Nm of torque. Some information indicates the unit has a 48V mild-hybrid system integrated. Power is sent to all four wheels via an 8-speed Tiptronic gearbox. While the standard A8 L weighs nearly 2 tons, this Security model comes in at 3,875kg, so that additional power is definitely needed. Going from 0-100km/h takes 6.3 seconds with all that weight.
The A8 L Security takes an additional 400 hours of work to be converted from the standard A8 L model and Audi have a separate facility where this is done. That lengthy turnaround time means that customers in Russia will have to wait between 3 months and up to half a year for their A8 L Security to be delivered! Quite the wait for customers willing to fork out €690,000 for one.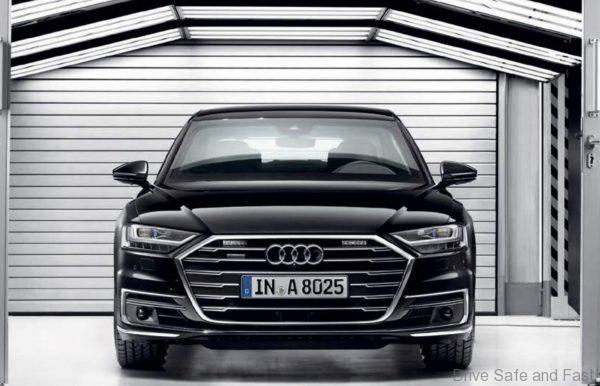 Here are some of the features added to the model:
Bulletproof passenger cell (VR9 standard) with glass areas of up to class 10 resistance.
Fire extinguishing system with underbody, wheel housing, fuel tank and engine bay nozzles
Intercom and auxiliary battery stored in boot-stored armoured box
Fresh air system that can seal off the cabin when pollutants are detected and temporarily supply clean air
Emergency system that blows the doors off their hinges if they're jammed
Run flat tyres that allow the car to be driven at 80km/h for 80km should the tyres fail
LED flashing lights on the side mirrors