Automotive
Published on May 14th, 2020 | by Subhash Nair
0
SG$330K BMW M2 Competition Crashes in Singapore
Malaysian Ford Mustang drivers aren't the only ones that have become suddenly careless during the COVID-19 pandemic. A BMW M2 Competition crashed into a sheltered pedestrian pavement in Singapore yesterday along Geyland Road. No video surveillance footage has been released, but photos were published and shared by Facebook group "SG Road Vigilante".
We're not sure how fast the car was going before the crash, but it was fast enough to rip one pillar off before the 2nd pillar brought it to a halt. This collision made part of the structure collapse. A section of the roof was seen resting on the rear of the vehicle. No pedestrians are reported to have been injured. The crash site was near a bus stop. A pole with bus routes and information is seen bent right behind the vehicle.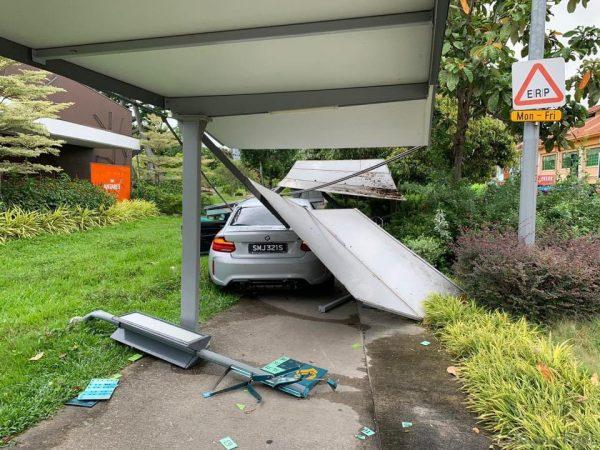 The damage to the vehicle looks like it most probably compromised the structural integrity of the M2 Competition. This makes it almost certainly a write-off. The front fender is bent out of shape on the left side, the bonnet is crumpled and the front bumper snapped off where it made contact with the pillar.
It is unclear what caused the incident to happen. In Singapore, damage to public property like this can amount to thousands of dollars in fines.
The M2 Competition is one of the most desirable modern day performance cars from BMW. It represents one of the last F87-generation M2 models and gets a 3-litre twin turbo S55 engine, an engine also found on larger models like the M3 and M4. The straight six motor sends 405hp and 550Nm of torque to the rear wheels via either a 6-speed manual or a 7-speed dual clutch transmission. It's capable of accelerating from 0-100km/h in just 4.4 seconds. The car goes for RM627K from BMW Malaysia and in Singapore, it retails for more than SG$330,000, VES and COE not included.