Automotive
Published on June 12th, 2020 | by Subhash Nair
0
Rare 3-Door JDM Isuzu Bighorn on sale in Penang
Back when the world was still a sane place to live in (February 2020), I was in Penang spectating the Batu Kawan leg of Toyota Gazoo Racing Festival. On the 2nd day of the race, I drove the long way around our hotel and something caught our eye. I was test driving the Isuzu D-Max 1.9-litre (review here) at the time, and I saw in my rear view mirror what looked like an off-white Isuzu Trooper… Only, there was something extra special about this particular Isuzu Trooper. I immediately pulled over and made a U-turn. I got a good look at the car and realised it was indeed something rather rare – a 3-door, 1st generation Isuzu Bighorn (the JDM name for Trooper) with a turbodiesel engine and a manual gearbox.
The owner was running a business nearby and I asked if I could snap some photos. I was in a hurry to get to Race 2, so I couldn't stay long or ask too many questions. But we exchanged numbers and he told me a little bit about the car.
His dad had it brought over from Japan and passed it over to him to use. He was using it as a daily as there was a bit of a family bond with the vehicle.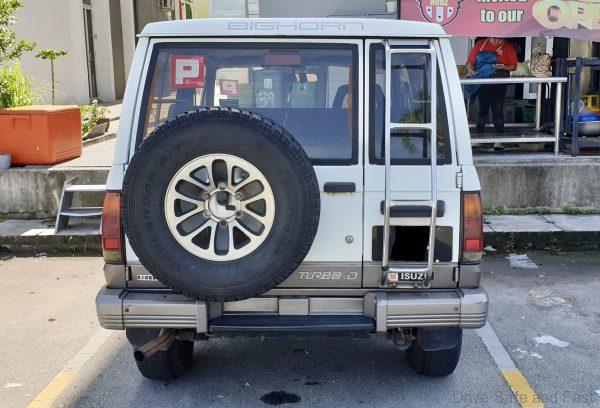 After the Race, I headed back to KL and was a little too preoccupied with testing cars back-to-back for VOTY 2020 and moving to a new house. So the photos and this interesting off-roader's story was put on hold. But just about a week ago, I was contacted by the owner's son who told me they were considering putting the car on sale.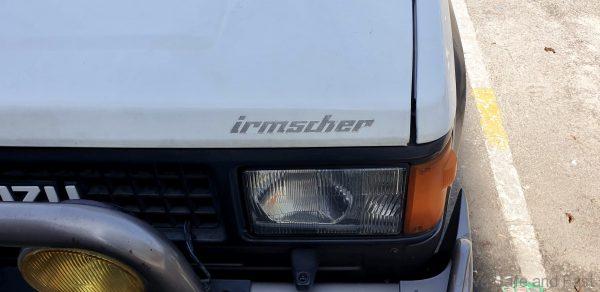 It's a little sad that the family has to let go of a car they have such a bond with. If you've got the money and think you want something like this in your garage, this may be a once-in-a-lifetime chance.
A quick search on Mudah show a few 3-door, 1st generation Isuzu Troopers on sale, but none seem to be in as good a condition as this one. Not only that, but the 'Irmscher' decals and Bighorn name are a big draw as well. We know this isn't the high-performance, Irmscher R that made its way to the American market, but it doesn't look like some aftermarket decal either. Other photos of the same white on bronze two-tone look exists but in 5-door form.
If you have more information on this car that we can share, let us know in the comments. If you're interested in seeing the car for yourself, it's in Penang. We will share the owner's contact details upon request. The asking price is RM30K. We are not getting a commission on this sale.