Reviews
Published on August 7th, 2020 | by Subhash Nair
0
Buy or Avoid?: RM15K for 15-Year Old Nissan X-Trail
Mid-sized crossovers are all the rage today. It's difficult not think about one if you're already in the market for a new car. In fact, the other day I was browsing used cars around RM15,000 looking for a utilitarian vehicle I could use for moving big objects, people and long-distance. It occurred to me that the big three Japanese SUVs that come to mind were well represented in this market in the early 2000s. Nissan had the boxy first-generation X-Trail. Honda had its 2nd-generation CR-V. Toyota too had a 2nd-generation RAV4.
Today we're looking a little closer at the 1st generation Nissan X-Trail, and here are some simple reasons why:
Nissan were one generation behind the trend and had to work extra hard to catch up to Honda and Toyota in this segment
Plenty of first-generation Nissan X-Trails assembled and purchased locally.
Many buyers were middle-income families, still on the road today
Let's go through each one of those points one by one.
Better Overall Effort than its Contemporary Rivals
In the late 1990s, Nissan was going through as bad a time as they are today, perhaps even worse. They were in the midst of being absorbed into an alliance with Renault and their product portfolio was rapidly aging. To top it off, rivals like Toyota and Honda had beaten them to the mass-market SUV punch with the RAV4 and CR-V being immensely popular among consumers around the world. Nissan had a number of great off-roading SUVs, like the Pathfinder and Patrol, but nothing that was suited to everyday urban commuters.
When they finally burst on the scene with the first X-Trail, they had to prove to consumers that they had a really appealing product. They also decided to inject some of their off-roading DNA into the X-trail.
If you take a look at a well kept Nissan X-Trail from the early 2000s, you'll notice that it's simultaneously more luxurious and more utilitarian than its direct rivals. Both the RAV4 and CR-V look smaller, less capable and less luxurious overall.
The interior is a good example of this. You get cubby holes to chill your canned drinks, a beige coloured upholstery and plastic finishing, a centrally-mounted instrument cluster and rugged, BOXY styling throughout.
And if you want to use the X-Trail to do cargo moving, you could fold down the rear seats and have access to a huge, flat luggage area. In some variants of the X-Trail, you get a hard plastic floor cover that can be easily washed, should it get dirty. I think this is a great little accessory that will come in handy for any SUV owner.
Wide local availability
Edaran Tan Chong sold a LOT of these 1st generation X-Trails back in the early-to-mid 2000s. The sheer volume of cars available makes it a little easier for you to shop around for the best deal.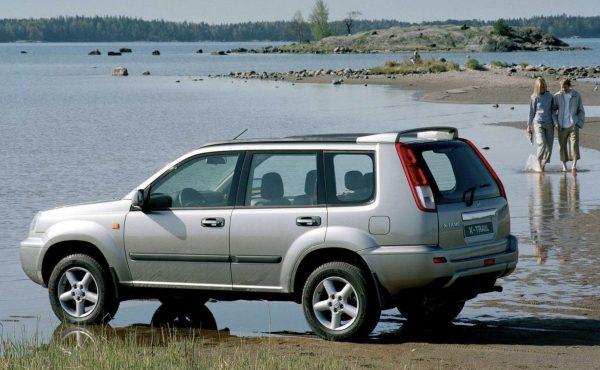 There were 2-litre and 2.5-litre variants and those QR engines are simple, smooth, and was used in many other Nissan models sold in Malaysia. You had between 142 hp and 178 hp to play with. Simple 4-speed conventional automatic gearboxes were all we got here, and 4WD was available too. I personally would go for a 2-litre without 4WD, but that's just because I prefer fewer maintenance items.
The X-Trail had a couple of trim levels too. You'll find some units with black or grey interiors and others with beige interiors. Some came with wood inlays too. Point is, you've got a wide range of choices if you're shopping around.
Buyer demographic
Most X-Trails went to good homes, with middle income families using them as dailies. Many are still being run today and are being kept in good condition.
Unlike hatchbacks and sedans, SUVs tend not to be abused or modified heavily for performance gains. The general rule is to look at modifications to the car as red flags – the closer it is to stock condition, the more likely it is that the car was not abused. Still, find a good mechanic to assess the car before buying.
If you have, had, or are thinking of buying one of these first generation Nissan X-Trails, please let us know what your thoughts are on the car.Buy or Avoid?: RM15K for 15-Year Old Nissan X-Trail