Automotive
Published on October 21st, 2020 | by Subhash Nair
0
SSC Tuatara is Now Officially the Fastest Production Car
American made hypercar shows its ability in Nevada.
It looks like the Bugatti Chiron Super Sport 300+ has lost its crown of 'Fastest Production Vehicle' to the American-made SSC Tuatara. The Tuatara managed an average speed of 508.73km/h between two runs. It's worth noting that the 2nd run had the car clocked at 532.93km/h!
In accordance with world record criteria, the Tuatara travelled in both directions, turning around for its second run within an hour. The Tuatara was driven by Oliver Webb for this record-breaking run along Pahrump, Nevada.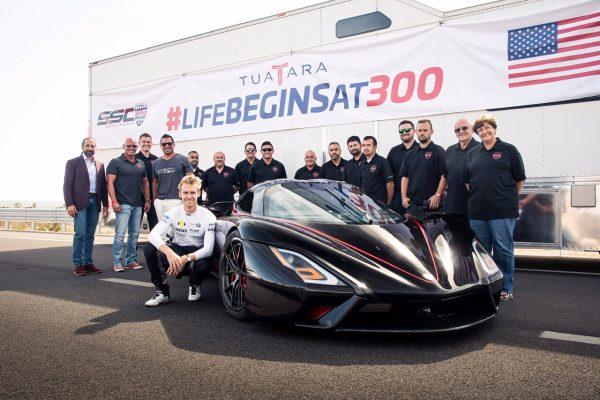 Along with the new record for Faster Production Vehicle, the SSC Tuatara also set 3 other records:
"Fastest Flying Mile on a Public Road" at 313.12 mph (503.92 km/h)
"Fastest Flying Kilometer on a Public Road" at 321.35 mph (517.16 km/h)
"Highest Speed Achieved on a Public Road" at 331.15 mph (532.93 km/h)
The SSC Tuatara runs on a 5.9-litre twin-turbo V8 that produces 1750hp while on E85 and 1350hp on 91 Octane petrol. It has a 7-speed automated manual.
Here's the press release with more.
PRESS RELEASE
SSC North America, America's first hypercar company, has reclaimed the coveted title of world's "Fastest Production Vehicle," this time with its 1,750hp Tuatara.
With internationally acclaimed professional racing driver, Oliver Webb, at the Tuatara's wheel, the record-breaking drive took place on the morning of Saturday, October 10, outside of Las Vegas near Pahrump, Nevada along a seven-mile stretch of State Route 160.
Webb pushed the SSC Tuatara to an average speed of 316.11 mph (508.73 km/h) following two consecutive high-speed test runs of 301.07 mph (484.53 km/h) and 331.15 mph (532.93 km/h). In accordance with record criteria, the Tuatara traveled in opposite directions, clocking its speeds within one hour, to break the world record for "Fastest Production Vehicle."
Officials were on site to verify all world record criteria was met — including review of Dewetron GPS measurements, which tracked the speed runs using an average of 15 satellites — and to confirm the new record.
In addition to the "Fastest Production Vehicle" record, the SSC Tuatara broke the world records for:
"Fastest Flying Mile on a Public Road" at 313.12 mph (503.92 km/h)
"Fastest Flying Kilometer on a Public Road" at 321.35 mph (517.16 km/h)
"Highest Speed Achieved on a Public Road" at 331.15 mph (532.93 km/h)
In order to claim a world record, the Tuatara had to:
Be a production vehicle; it must be identical to the same vehicle a customer might purchase.
Drive the same route in opposite directions, and average the two speeds. This accounts for winds and road grade that may have favored the vehicle as traveling in only one direction.
Achieve this feat on a public road; this ensures 'real world' driving conditions that a race track or runway might not offer.
Have its speed tracked by a certified GPS measurement system, and have two world-record sanctioned witnesses on site for verification.
Run on street tires and non-race fuel.
Tuatara achieved its dominant speeds thanks to a host of features working in harmony, including:
Peerless Aerodynamics: Designed in partnership with world-renowned designer Jason Castriota of Castriota Design, the Tuatara's design achieved an all-time production-hypercar best coefficient of drag of 0.279. From 150–330 mph, the car maintained a perfect aerodynamic balance of 37% front and 63% rear, ensuring precision downforce across all four wheels.
Unprecedented Drivetrain: SSC's V8 powerplant was developed and built in collaboration with Tom Nelson of Nelson Racing Engines. The bespoke 5.9L twin-turbo, flat-plane crank engine produces 1,750 horsepower while using E85, and 1,350 horsepower on 91 Octane. That power is transferred to a CIMA 7-Speed computerized manual transmission working in unison with a state-of-the-art Automac AMT system that operates the engagement and selection of movement in the gearbox.
Safety: The Tuatara's robust carbon-fiber monocoque provides vital safety to the driver, and lightweight enough to ensure peak performance. Crash structures across the car generate superior shock-absorbing protection.
An Automotive Legacy
The SSC team has worked tirelessly to prove one point: nothing is impossible if you believe in yourself and your dreams. Once again, a team of American innovators has given inspiration to those who seek to move the bar higher. SSC enjoys competition and mutual respect between other automakers, and the opportunity to innovate and push the needle in the common pursuit of performance.