Used Cars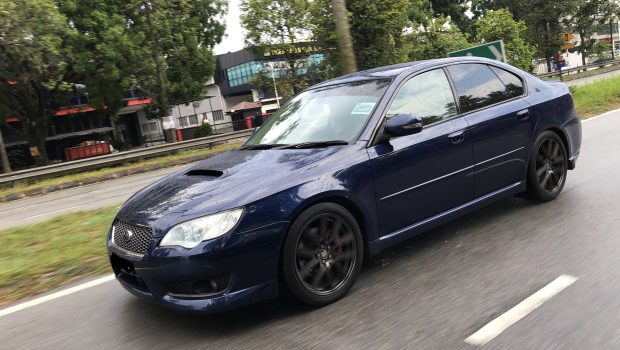 Published on October 20th, 2020 | by Daniel Sherman Fernandez
0
Subaru Legacy GT B4 AWD Used Car Buy Review
Why did we move from an EVO4 To A Legacy GT B4
Early last year we found a neglected Mitsubishi EVO4 and used our available resources to restore the car to almost 90 per cent of its potential. Parts were easy to source, but prices were high as many Proton Wira owners had invested heavily in upgrading their Mitsubishi based, Malaysian assembled Protons to be EVO like driving machines.
Once restored, this EVO4 was a real joy to drive and with every corner negotiated, we grew to love its handling and its ability to surprise some road users who pushed us from the rear.
Sadly, the EVO4 was a car that we could not enjoy to the fullest. Why? Parking and leaving it in a mall, public car park and even hotel car park left us constantly worried about theft as during our first two months of ownership, there were two attempts to steal it. Theft is high with any original EVO3 and EVO4 as the parts sell fast in the black market and prices are rising.
So, with a heavy heart we sold our restored EVO4 after 10 months and as time progressed we were missing its drive dynamics despite us having tested so many new and exciting cars being launched in Malaysia.
Then 2 months ago, right after Covid-19 lockdown we were visiting a new car dealership and we spotted this rare gem. A 2007 Subaru Legacy GT B4 AWD. A real sleeper sports sedan.
The sports wagon version of this model can be spotted on occasion, but a sedan, a final model from 2007, is super rare. The first Malaysian owner had traded-in this car after 10 years of ownership (it was a 3-year-old used unit from Japan) for a brand new Subaru Impreza WRX.
Exterior
The exterior feature is very important for any type of car because this is what gives you a reason to look back at it after parking it. The Subaru Legacy B4 is a not flamboyant in its design like the Impreza. It's an evergreen design that comes with a couple of eye catchy exterior features that grab your attention. Its exterior features include Twin Multi-Reflector Halogen Headlights, Front Halogen Fog lights, Automatic Off Headlights, Front Air Dam, 18-inch Aluminum Alloy Wheels and an Air Intake on the bonnet. We had a cracked fog light which was replaced with a used unit for RM200.00. Our paint finish was already good, so all we did was to send it to our regular car coating specialist, Shine and Shield who we have been using for 10 years now. Cost was just RM1,300.00 with a 5-year warranty.
Interior
The interior of Subaru Legacy B4 is spacious and luxurious with space for five passengers. The front electric powered seats are very comfortable and the rear space is surprisingly good. Our car still had its original Japanese audio system and we got it working for Malaysian radio stations after a short visit to an audio technician. Cost was just RM350.00.
So, what is under the hood?
This is a 4 door sedan with a front mounted engine supplying power to all four wheels. The 4 cylinder turbocharged engine has 4 valves per cylinder and a displacement of 2 litres. This Boxer engine delivers 280 PS at 6400 rpm and 343 Nm of torque at 2400 rpm. A simple and reliable 5 speed automatic gearbox transfers the power to the wheels. There are also paddle shifters if needed.
The stated weight is 1410 kg which is about the same weight as its immediate rival which is an Audi A4 Quattro B7 model which weighs in at 1490kg. This Audi's 1984cc engine delivers just 200 PS at 5100rpm and 280 Nm of torque from 1800-5000rpm. Its 0-100km/h acceleration time is done in 7.2 seconds with a top speed of 240km/h.
Added spice
This version of the Legacy comes equipped with 3 drive modes from the Subaru Intelligent Drive (SI-Drive) system. We get Intelligent, Sport, and Sport Sharp for that added spice behind the wheel.
Added Repairs
Now this car was already in decent condition during our test drive, however, there were some small leaks, some small noises from the front suspension and the radiator was also leaking. A trip to a Subaru specialist was needed.
Like any used car we buy, we want it back to at least 90 per cent and so work started. The radiator was replaced with an aluminum unit which will last much longer. The steering rack was serviced. The suspension bushes all around were changed, exhaust mounting replaced, some hoses needed to be changed (there were already slightly cracked) to silicone hoses, timing belt and bearings changed, water pump replaced, driveshaft's and lower arm bushes replaced.
Also the headlamps were polished, power steering pump was replaced and all lubricants were changed and we used Millers 5W 50. Even the coolant that was replaced was high quality Japanese brand. Total cost was just about RM7,900.00.
General rule, when buying a used car that you intend to keep and enjoy, be prepared to spend about 10-20 percent of its purchase price on repairs and replacements to get the best from it.
Driving The Classy BOXER Engine
The Legacy GT is powered by a 2.0-liter turbocharged 4-cylinder BOXER engine that produces 280PS at 6,400 rpm and 343Nm of peak torque at a low 2,400 rpm. Despite its added all wheel drive weight, it responds to our throttle demands with vigour, more so when we click the rotary knob for the powertrain management system into Sport Sharp.
The Subaru Intelligent Drive (SI-DRIVE) powertrain management system allows the driver to tailor the car's driving characteristics by choosing from among three selectable modes – "Intelligent," "Sport" and "Sport Sharp" – using a rotary dial on the center console. SI-DRIVE alters vehicle performance characteristics by regulating the engine control module and by fine-tuning the electronic throttle control system.
It certainly feels wonderfully composed on fast, sweeping roads. The turn-in is crisp, however it will occasionally make its presence felt when you push beyond the limits of YOUR driving ability. This Legacy GT is not worried about damp or bumpy roads, offering grip that is little short of sensational. The brakes are also sensational with plenty of bite.
Get on to an open road, bring up to legal limits (110km/h) keep the gear in 3rd, feel the BOXER working and slam the throttle and this sedan will lurch forward without any hesitation. The run up the engine range is quick, very quick and you need to be ready for 4th gear as the engine pushes forward with urgency. There is no hesitation in sight as we move into 5th. After all, with a top speed of more than 200km/h where allowed, only an EVO 10 driven by the local law enforcement officers will be able to keep up.
No question, this 13-year old Legacy GT is a complete all-rounder where its great as a family transporter and when needed it can be used as a pure fun machine. It is quick on a straight line, safe yet smile-inducing around corners, makes a nice rumbling sound as you hit the throttle, is very comfortable to sit inside and is even convincingly practical as an everyday car…even in our city traffic.
Subaru Legacy GT B4 AWD Specifications
Engine: 4-cylinder Boxer, Flat-4. All Wheel Drive
Capacity: 1994cc
Gearbox: 5-Speed Automatic With Paddle Shift
Horsepower: 280PS @ 6400
Torque: 343Nm @ 2400
0-100km/h: 6.9 seconds
Top speed: 225km/h
Price: From RM55,000 onwards after 13 years.