Automotive
Published on February 18th, 2021 | by Subhash Nair
0
All-New Honda HR-V Debuts, Only Hybrid Powertrain Available
Honda reinvents the HR-V once again.
When the current Honda HR-V debuted in late 2013, it took the world by storm. Honda had long since abandoned the 'HR-V' nameplate – the first-generation model was an experimental futuristic crossover that disappeared around 2006. In those 7 years, Honda started from scratch and produced a vehicle with the cost benefits of a B-segment hatch and the utility of an SUV. But all good things must come to an end and now we have a totally reimagined 3rd generation Honda HR-V revealed. Turns out the patent leaks were accurate once again!
There are a few fundamental aspects that have been completely reconsidered with this generation.
A New Look for the HR-V
The first is the design. It's a lot more angular and upmarket. From some angles, this looks almost nothing like Honda's current lineup, though this design language was hinted at with the new Fit/Jazz. The front grille is body-coloured, and the overhangs seem much longer than on the current model, hinting at a longer wheelbase. Indeed, the wheelbase and length have gone up by 2cm and 12cm respectively, while the width gets bumped up by just 1cm.
The upmarket look is underscored by the car's optional rose gold trim pieces, which look very premium on a white body. There appear to be sportier exterior packs as well, perhaps previewing an RS body kit for the HR-V with glossy black exterior trim pieces, body-coloured side skirts and lower bumper trim, a D-pillar garnish piece and clear rear taillight lenses.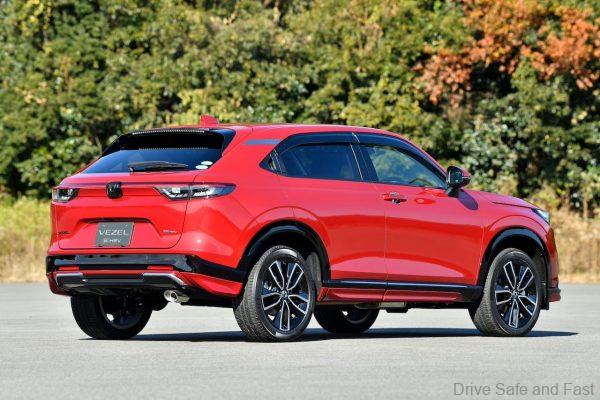 The rear of the new HR-V also ditches those familiar tooth-like taillights for something more angular, subtle and modern looking. The large stretch of empty space on the rear end shows confidence and is reminiscent of Mazda's CX-30's look.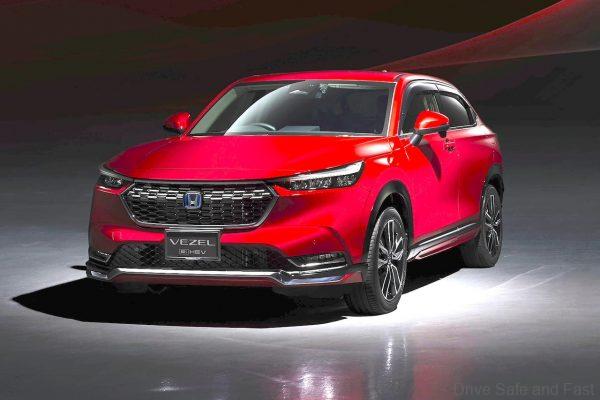 The look is also more high-tech, with LED headlights and DRLs that also serve as sequential turn indicators. Active cornering lights and taillights also make use of LEDs. The one familiar element on the HR-V are the hidden rear door handles.
Colour selection includes the following:
Premium Sunlight White Pearl
Crystal Black Pearl
Platinum White Pearl
Meteoroid Gray Metallic
Sand Khaki Pearl
Premium Crystal Red Metallic
Midnight Blue Beam Metallic
Some models will be configured with a dual tone look, either with a matching Black or silver roof.
HR-V Goes Hybrid… Exclusively?
Right now there are rumours pointing in both directions. On the one hand, Autoblog reports that only 1 powertrain has been confirmed for the new HR-V in Japan and it's derived from the new City RS and the Japan market Fit.
This is an "E:HEV" hybrid powertrain featuring a 1.5-litre 4-cylinder petrol engine and an electric motor producing 108PS and 253Nm of torque. Just as in the other E:HEV models, the engine doesn't directly drive the wheels unless you're coasting at a certain speed. Most of the time, the engine's energy is converted to electricity for the electric motor, as the engine can be more fuel-efficient in this arrangement.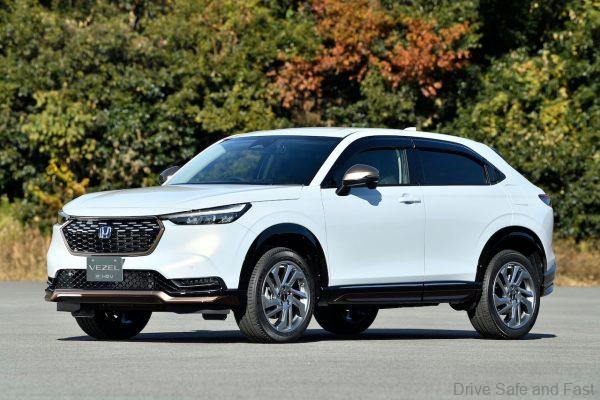 On the other hand, there are also indications that a standard petrol model and an AWD powertrain are being planned. In fact, another website says that Japanese HR-Vs will come in 4 trim levels:
Petrol
E:HEV
X FWD
X AWD
Z FWD
Z AWD
Play FWD
The fact that the US market will get a specialised version of this HR-V or Vezel (that will replace many other models, like the Jazz/Fit there) might hint that the HR-V will be flexible in its powertrain options.
Upmarket Interior
Inside, the upmarket trend continues. Honda are offering a panoramic sunroof, a 9″ infotainment system, Wireless Qi charging, but its instrument cluster is not fully digital. A 4.2″ or 7″ display is available, depending on spec.
The arrival of a new HR-V could be just what Honda Malaysia needs to get back on top. Proton's recent launch of the X50 and an ageing HR-V has severely hit sales for the company.