Automotive
Published on August 30th, 2021 | by Subhash Nair
0
Renewing Driving License With JPJ In Malaysia Has Become A Nightmare During This MCO
JPJ has a booking system for this MCO but it does not work at all.
By now, you're all probably aware that the 'moratorium' on Road Tax and Driving Licenses that have not been renewed will be over by the end of September. Personally, I don't mind paying for a new road tax sticker and a new driving license. I think it makes a lot of other things a lot easier. I can take a GoCar or a Socar to JB with a valid driving license. I don't have to worry about carrying around my insurance cover letter in the car in case of a police roadblock. I don't have to wonder whether the insurance company will give me coverage should I get involved in an accident without a valid license and road tax. I mean, legally, they should give me coverage, but I'd rather not have that worry.
So, being fully vaccinated, I've tried on multiple occasions to renew my driver's license, which expired in early August.
Renewal Through MYEG's online service
The logical thing to do would be to renew my license through MYEG. I have no problem with this. In fact, I've used MYEG to renew the road tax on a car before. Besides the delivery being a little late, it was actually quite an OK process.
So I tried renewing my license through MYEG only to get this error:
It instructed me to go to JPJ counter but then also told me that I wouldn't be allowed to until after the never-ending PKP 3.0.
But then I found out that JPJ offices had been reopened to the public, so I thought I'd try to book an appointment.
Trying to book a JPJ appointment
The first thing you'll notice when you try to book an appointment with JPJ is that its a system designed without any common sense. The initial setup gave every state and branch a different website to carry out bookings. Some were even done with Google Forms…
To even get to the new unified website for JPJ bookings takes about 2-3 link clicks if you start at the given links above.
And once you get there, it's not like it gets better. You tell them which state you're in and you get blasted with a wall of text warning you about which individual branch is doing what when.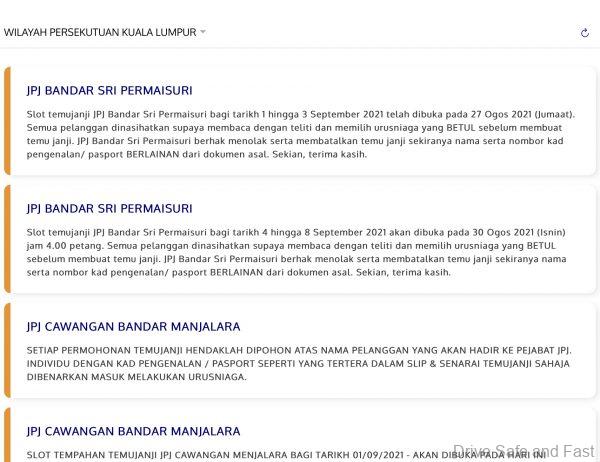 And then when you finally navigate to the actual booking page, this is what you'll typically find. One or two days open and no time slots available. Good luck, try again some other day.
Throughout the weekend I was checking and it was always the same. Even on Monday morning, I got the same problem. Every slot for the next week was just filled up. It's a bureaucratic nightmare. To even book a slot would require you to wait in line.
Trying Out Pos Malaysia Offices
I remember reading that Pos Malaysia counters would be reopened to handle JPJ transactions once again. For well over a decade, I'd been using Pos Malaysia to renew my driver's license, so I had faith that they would be able to deliver.
I headed over to the nearby post office. Took a number and waited outside in the sun for half an hour to comply with their SOPs on social distancing. When I got in, I was told that
they couldn't process me unless I had JPJ booking… Which was ridiculous because post offices weren't on the list of places that could be booked for JPJ transactions.
they were out of stock for the cards needed to print driving licences on
I couldn't get mad at her for doing her job. But this was insane.
What Has Happened To Government Efficiency In The Last Year?
A few years ago a friend told me of his experiences living in Chile. He said living there for a few years taught him to be appreciative of the efficiency of Malaysia's government offices. At the time I fully agreed with him. I never had a bad experience with passport, driving license, insurance or road tax renewals at all. At worst, it would be tedious, with a bit of back and forth.
However, things are no longer the same.
Now the wheels of the bureaucracy have ground the whole system to a halt. And you may think that I'm being overdramatic, but it is affecting me.
Because of this current system, I'm unable to rent a car to go home to my parents who I haven't seen in 9 months in a different state. They are fully vaccinated too and I'm trying to ready myself for when interstate travel is allowed. All indications are that this will happen in September. I don't want to be caught in the floodgates when that does happen, but it looks like that might be how it goes.
Truly, YB Anthony Loke is missed in his spot as Transport Minister by this Malaysian.
Suggestions for JPJ
Allow walk-ins for fully vaccinated individuals
Build a functioning website that can take care of all these bureaucratic, pencil-pushing tasks
And now, let me leave you with some of the complaints netizens have been leaving on JPJ's page: