Automotive
Published on August 10th, 2021 | by Daniel Sherman Fernandez
0
Toyota Agya GR Sport Launch In Indonesia Priced From RM45k
The Toyota Agya is the cousin to the Perodua Axia which is a compact class favorite.
Toyota Motor Corporation and Toyota Astra Motor who is its sales subsidiary in Indonesia, launched the Toyota Agya in Indonesia in September 2013 which was and still is an affordable compact car.
The Agya was planned and developed by the Toyota Group company Daihatsu Motor Co., Ltd. (Daihatsu) and was produced by PT Astra Daihatsu Motor (ADM), Daihatsu's subsidiary in Indonesia. Look closely and you will notice its similarities to a best selling compact car in Malaysia.
Over the years the Toyota Agya has been well received by Indonesian compact car buyers just like how its sibling has been selling well in Malaysia with its high resale value and good reliability. Lets not forget the fuel efficient engine and decent safety features included at its price point.
A few years ago, Toyota Astra Motor launched a sporty variant of the Agya, which was this TRD Sportivo version pictured below here.
Just like Toyota in Malaysia, the TRD Sportivo range was shared from the popular Vios to the Fortuner 4×4 SUV and also Hilux TRD Sportivo.
Then came a decision from Toyota management to use the 'Gazoo Racing' or 'GR' branding for all its 'tuned' models. It was in 2015 when Toyota decided to unify all Toyota Racing, Lexus Racing and other related racing activities under the Gazoo Racing banner. Before this, the three entities were all entered under separate banners, with Gazoo Racing only bursting onto the scene in 2007 at the 24 Hours Nürburgring event.
So, this is why you see in Malaysia 'Gazoo Racing' tuned Toyota's in recent years and this is now being followed in Indonesia.
This means that every TRD Sportivo model in Indonesia will now be sold as a GR Sport and this includes this compact popular Agya with a prices that starts from RM45k.
The Gazoo Racing influence are all aesthetic on the Toyota Agya. GR Sport stickers replace the outgoing TRD stickers and the sporty lines on its front bumper is now finished in black instead of red. Apart from that, everything else remains the same as before.
Indonesian buyers can choose to buy the Agya 1.2 GR Sport manual for Rs 154.5 million (which is about RM45,000) or the 1.2 GR Sport auto, which are priced at Rs 170.4 million (which is about RM50,000). Seven colors are available: red, metallic orange, yellow, white, black, metallic silver and metallic gray.
The Agya GR Sport models use the same 1.2-liter in-line four-cylinder petrol engine that produces 88PS at 6,000rpm and 108Nm of torque at 4,200rpm. Power is sent to the front wheels via a five-speed manual or a four-speed automatic.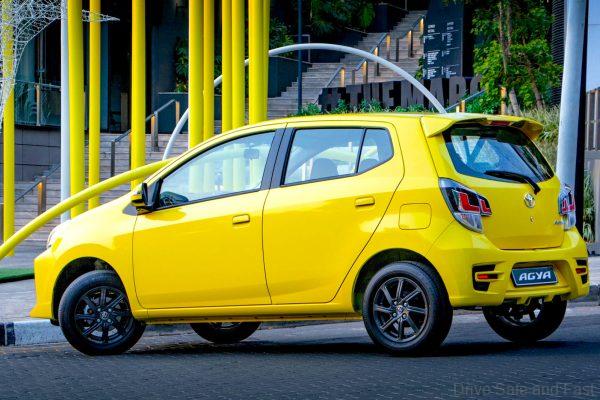 Please note that its Malaysian sibling is not badged as a Toyota or a Daihatsu and so this sporty GR Sport version will not be coming to Malaysia any time soon.