Automotive
Published on September 6th, 2021 | by Amirul Mukminin
0
2004 Acura NSX-T 6-Speed Manual Sold For A Whopping RM600k
Would you pay that kind of money?
In the realm of JDM (Japanese Domestic Market) cars, few have aged as well as the Honda/Acura NSX. It's hard to believe that it has been more than 30 years since the Ferrari killer first graced the earth, yet every unit you see (if you're lucky enough, that is) on the road looks like it just rolled off the production line. Could this be the reason why they are fetching insane prices at auction?
It's one of many, that's for sure. Apart from timeless design, you can thank Hollywood and the seemingly never-ending Fast & Furious saga for the sky high prices. On top of that, the dwindling number of good examples left means JDM sports cars, in general, are becoming even rarer and therefore pricing is not coming down any soon.
A perfect case in point is this mint 2004 Acura NSX-T we stumbled upon on popular American car auction website Bring A Trailer, which was sold for a staggering USD145,000 or RM600,000 thereabouts. To put it in perspective, the person could have gotten himself a brand-new BMW M8, an Audi R8 coupe or a base Mercedes-AMG GT for that kind of money.
Of course, those cars pale in comparison to the NSX as none of it were designed with input from a legendary F1 driver. That alone should be enough to justify the crazy price it commands but there is more to the NSX than that. According to the auction site, this particular unit is one of 197 examples produced for the US market for the model year. Out of the number, only 23 were delivered in Silverstone Metallic with Silver leather interior and a six-speed manual transmission.
That's not all. This targa top Japanese sports car is owned by a single owner, who has clocked just under 21,000 miles (33,800 km) since it was bought. It also comes with the manufacturer's literature, a service summary, a clean Carfax report that shows no accidents or other damages, and a clean title in the seller's name.
Appearance-wise, the car retains its original paint and appears to be in perfect condition, save for a scratch on the passenger side of the rear bumper. It even rides on the original 17-inch forged aluminium wheels, which have been refinished a few years ago. Inside, there is slight wear on the seat bolsters but other than that, everything looks fairly new.
As for the mechanicals, this NSX-T has been given some minor upgrades. For instance, the 3.2-litre VTEC V6 engine, which sits mid-ship behind the seats, is fitted with an aftermarket air intake and filter, while the six-speed manual transmission has a short shifter that makes driving all the more engaging. There is no mention of suspension upgrades but the car is equipped with a forged-aluminium control arms from the factory.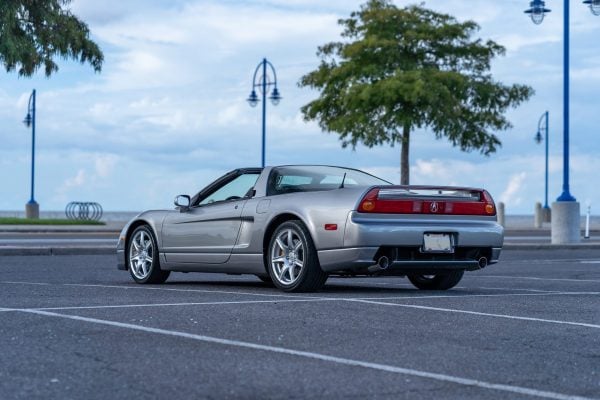 No matter how you look at it, USD145,000 is a lot of money for a Japanese car that's almost 20 years old but we're sure the new owner is happy with the purchase, which, in our book, is the only thing really matters when it comes to buying things. Plus, the NSX is one of the most sought-after JDM cars, so there's a guarantee that he'll be making a handsome profit should he decide to put in on the auction block in the future.