Automotive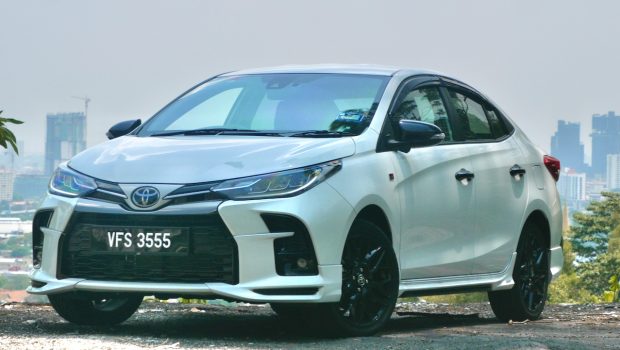 Published on February 16th, 2022 | by Amirul Mukminin
0
UMW Toyota Motor Sold 7,528 Cars In January
The momentum continues for Malaysia's newly crowned No.1 non-national car brand
If you remember, UMW Toyota Motor ended 2021 on a high note with 72,394 vehicles sold, putting them at the top of the non-national car brand leaderboard for the first time in six years. For 2022, things are looking good so far as it posted a total of 7,528 combined sales for Toyota and Lexus in January.
The figure represents a massive 96% increase from the 3,845 units recorded in the same month last year. The Hilux and Vios contributed the most to Toyota's performance in January, making up for 38% and 28%, respectively, of its total sales.
Ravindran K, President of UMW Toyota Motor said the exemption of the Sales and Service Tax (SST), which was extended to June 2022, has helped car companies to recover from the devastating impact of the pandemic.
In addition to the exemption of SST, Ravindran said customers looking to buy a new Toyota should also take advantage of the ongoing Stay Ahead sales campaign, which savings up to RM4,500.
Check out the following press release for more information:
PRESS RELEASE
UMW Toyota Motor is off to a good start in 2022, achieving a combined sales results of 7,528 for Toyota and Lexus in January 2022. This is a significant increase of 96% compared to the same period last year of 3,845 units. With Toyota reclaiming its No.1 non-national brand title after six years last year, the global automaker is off to an excellent start.
Among the passenger cars, Vios reigns as the bestselling Toyota model, accounting for 28% of total sales this month, while the Hilux is the best-selling pick-up truck with 38% of total sales.
"We are thankful for the government's decision to extend the Sales and Service Tax (SST) exemption incentives for passenger vehicles until 30 June 2022. This has greatly helped automotive players like us to recover from the impact of the pandemic during the last two years. We also encourage Toyota fans to take advantage of the extended tax exemption to purchase their dream car, coupled with the value for money deals UMW Toyota Motor is offering such as the ongoing Stay Ahead sales campaign to enjoy the best savings during this period," said Ravindran K, President of UMW Toyota Motor.
The UMW Toyota Motor 'Stay Ahead' campaign is offering savings up to RM4,500. The promotion features Malaysian-favourite model Vios at installments from RM540 with RM2,216 sales tax savings, as well as the lifestyle hatchback Yaris at installments from RM493 on top of RM2,192 sales tax savings.
In addition to the positive sales results, January has been an eventful month for UMW Toyota Motor. Earlier in the month, the mobility leader partnered with Yayasan Raja Muda Selangor to extend a hand to Malaysians affected by the flood. Through its 'Back On Your Feet' Programme, the company contributed RM10,000 to Sekolah Kebangsaan Sungai Lui for the school's repairs of its partially damaged premise from the flood. UMW Toyota Motor also donated essential home appliances to the affected community in Sungai Lui such as rice cookers, kettles and gas stoves.
"UMW Toyota Motor endeavours to propel society forward by empowering people beyond the road. We are glad to have been given the opportunity to partner with Yayasan Raja Muda Selangor to give back to the community we operate in and help them get back on their feet during these trying times," he added.
FULL SPEED AHEAD FOR SUSTAINABLE MOBILITY IN MALAYSIA
In light of Toyota's global agenda to achieve carbon neutrality by 2050, the automaker has initiated Malaysia's transition to sustainable mobility with the launch of the Corolla Cross Hybrid on 14 January 2022. This marks an incredible milestone for UMW Toyota Motor as its first locally assembled hybrid vehicle with Toyota New Global Architecture (TNGA) platform.
"Since it was made available for booking in October last year, the Corolla Cross Hybrid was met with positive response, accounting for more than 40% of the total sales of the Corolla Cross. This shows that Malaysians are in support of environmental sustainability and are taking their first step towards going green through hybrid electric vehicles. We urge our customers to place their bookings early in order to avoid missing out on the SST exemption for better savings", added Ravindran K.
The all-new Corolla Cross Hybrid is equipped with the 4th generation Toyota Hybrid Electric System battery designed to last throughout the vehicle's life while satisfying five critical parameters – safety, long life service, high level of quality, affordable high quality products and high level performance.
Available at a starting price of RM136,550 (without insurance), the Corolla Cross Hybrid also comes with a 5-year/unlimited mileage factory warranty on top of a separate 8-year/unlimited mileage warranty covering the hybrid battery pack, inverter and Power Management Control Unit. Customers can also extend their warranty by two years for a total coverage of 10 years, the first such warranty in the local industry.
Visit the nearest authorized Toyota dealer or UMW Motor branch showroom now to make a booking or to find out more about the new Corolla Cross Hybrid.
For more information, visit toyota.com.my or call the Toyota freephone line at 1-800-8-TOYOTA (869682).