Motorsports

Published on September 26th, 2022 | by Sounder Rajen
0
Every Point Matters In The Vios Challenge Finale
The race was even more exciting than anyone expected
The penultimate race of the Toyota Gazoo Racing (TGR) Vios Challenge series was held in Sepang International Circuit and it was every bit as close as fans had hoped for. This means that literally ever single point could mean the difference between first and second place in the overall championship.
The most adrenaline pumping moments were from the Super Sporting Class for professionals which saw Laser Motor Racing's Eddie Lew winning. Trailing behind him in second place was Axle Sports' Hayden Haikal and in third place was another fellow racer from Laser Motor Racing, Mark Darwin.
Eddie Lew blasted off from the pole to gain a 3.3 second advantage over Hayden Haikal while no less than five drivers were trading spots for third place right up until they reached the chequered flag and Mark Darwin ultimately won that position.
For the Sporting Class of the Vios Challenge, Axle Sports' Naquib Azlan won the race, being ahead of the pack from start to finish on this 20-lap course. Meanwhile 23 Motors' Abdul Miqai, who surprised everyone by posting the fastest lap from pole position but fumbled his start which led to the 16-year old being pushed behind.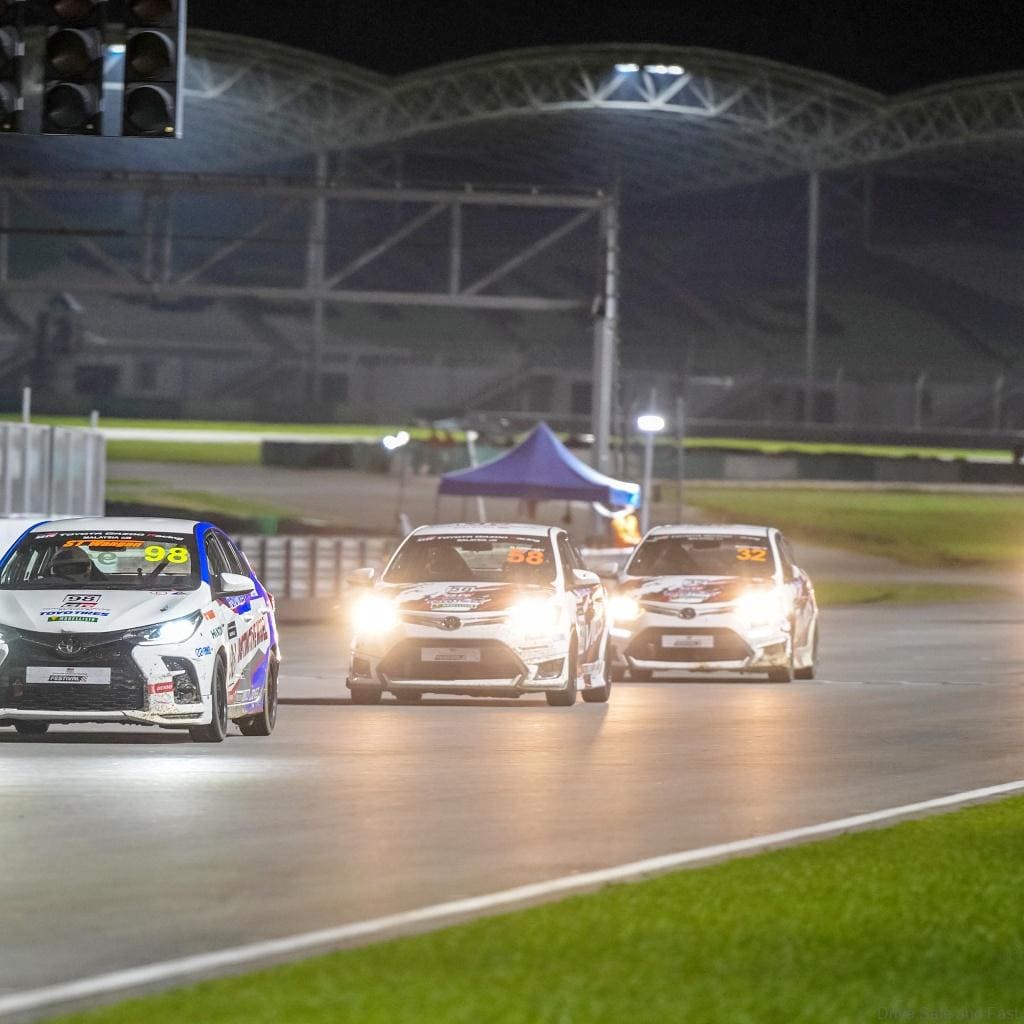 In second place was S&D Tama Motorsports' Tom Goh who was just 0.3 seconds behind the winner while in Third place was Mohd Shafiq Samsudin who just barely staved off the fourth place driver Crestmax Motorsport's Bradley Benedict Anthony and Carroof Motorsport's Mirza Syahmi Mazlan who finished in fifth place.
Moreover, in the Rookie Class of the Vios Challenge for young drivers, the winner, Nabil Azlan had a dominant race while Muhammad Hamdany took the second place finish and Muizzuddin Musyaffa ended the race in third.
On top of that, in the Promotional Class which saw celebrities duke it out on the track, Actors Zizan Razak and Shukri Yahaya were in a fierce neck-and-neck in the first position until three laps from the finish when both drivers collided which forced Shukri to retire from the race.
Zizan, in a damaged car won the race followed by singer, Nabila Razali a mere 4.2 seconds behind and in third place was presenter, Nabil Ahamd. However, a penalty was imposed on Zizan for causing the aforementioned collision pushing him down to third place with Nabil moving to second place and Nabila winning her first race this season.
Well it truly does look like the race was filled with upsets, exciting moments and juggernauts dominating the arena, a race as exciting as all fans had hoped for, indeed. To keep up to date with all this action and more check out the live stream of the races at www.Toyota.com.my and remember, leave the racing to the professionals.