Cars
Published on September 14th, 2022 | by Subhash Nair
0
Tesla Model Y Versus Volvo C40 Recharge: EV Coupé Crossover Comparison
Would you buy a Tesla Model Y or a Volvo C40 Recharge in Malaysia?
If you're in the market for a Tesla Model 3 or Model Y in Malaysia, you can't get it through Tesla's official channel. This is particularly problematic since Tesla's entire business model is built on buying cars directly from them. Their cars are built differently and require very specialised knowledge and tools to be worked on. However, their uniqueness is also part of their appeal. Many Malaysians want to be seen in a Tesla, no matter what the cost. This is why you find so many parallel importers bringing them in.
In 2022, there are actually quite a number of alternative electric vehicles on the market. And in the near future there will be even more coming. Today we thought of pitting the upcoming Volvo C40 against the Tesla Model Y. These are both fully-electric coupé crossovers that cater to the lower end of the premium segment. We are unsure of how much the C40 will cost when it arrives in Malaysia and if Volvo Car Malaysia will attempt a lease/subscription only sales model for the vehicle.
Both of these vehicles are sold for about GBP58,000 in the UK.
For now, let's assume that the C40 will be more expensive than the XC40 Recharge Pure Electric, which goes for RM262,460. According to listings, the Tesla Model Y Long Range starts at around RM305,000-RM330,000. Bear in mind, these are usually reconditioned vehicles from the UK or Japan. Technically speaking, they are still 'under warranty' but how will Malaysian customers claim a warranty with no authorised representative of the Tesla brand here? For the sake of argument, let's assume that the C40 at RM305,000 with a 5-year manufacturer-backed warranty on the vehicle and an 8-year warranty on the high-voltage battery.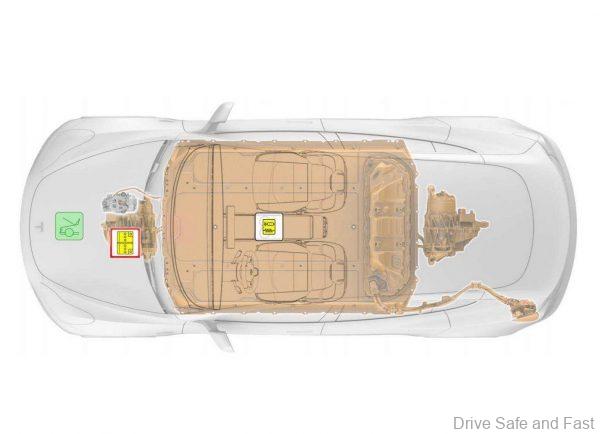 Powertrain
Both the Volvo C40 and the Tesla Model Y are available as all-wheel drive vehicles with dual-motor setups – one electric motor on each axle. There were talks of a rear-wheel drive Model Y that only materialised in Hong Kong and China and for some reason the Volvo Cars UK website lists the C40 as a front-wheel drive vehicle. Most other official specs on the Model Y and C40 say that it is strictly a dual motor vehicle, so we're going to go with that.
| | | |
| --- | --- | --- |
| | Tesla Model Y | Volvo C40 Recharge |
| Total output | 378 kW | 300 kW |
| Torque | 493 Nm | 660 Nm |
| 0-100km/h | 5 seconds | 4.7 seconds |
| Top speed | 217 km/h | 180 km/h |
| Electric range | 435 km | 350 km |
| Usable battery capacity | 75 kWh | 75 kWh |
| Charge speed | 11 kW AC / 250 kW DC | 11 kW AC / 149 kW DC |
| Charging port | Type 2 / CCS | Type 2 / CCS |
| Front suspension | Double Wishbone | MacPherson Struts |
| Rear suspension | Multi-Link | Multi-Link |
As you can see, the two electric crossovers trade blows in terms of all-out performance. The Tesla has more power and a higher top speed, but the Volvo's higher torque gives it a slightly faster century sprint time. It also gives the Volvo a larger towing capacity, but we don't feel this is a specification that Malaysians will care about.
What's more, both vehicles have access to 75kWh of battery capacity, but the Tesla is able to ring out 85 additional kilometres of range and does faster DC charging. It's also worth noting that the Tesla's battery is actually larger than the Volvo's. The additional buffer may be helpful after years of battery degradation.
Overall, the Tesla is the clear winner because of its range and charging speed. However, in the Malaysian context, there aren't that many DC Fast chargers around and the ones that ARE around usually output far lower than 250kW, so this advantage may only save Tesla owners a few minutes in situations where fast charging is required.
Dimensions
| | | |
| --- | --- | --- |
| | Tesla Model Y | Volvo C40 Recharge |
| Length | 4751 mm | 4440 mm |
| Width | 1921 mm | 1873 mm |
| Height | 1624 mm | 1596 mm |
| Wheelbase | 2890 mm | 2702 mm |
| Unladen Weight | 2054 kg | 2185 kg |
| Cargo Volume Rear | 854 L | 419 L |
| Cargo Volume Rear Seats Down | 2158 L | 1205 L |
| Cargo Volume Frunk | 117 L | 31 L |
Again, here's another clear win for the Tesla Model Y. It's simply a much larger vehicle that is built on a dedicated EV platform. The C40 on the other hand is a smaller vehicle that's built on the flexible Compact Modular Platform (CMA) shared with the XC40. Not only does the Model Y offer more space for passengers and cargo, it also weighs less.
Infotainment
The Tesla Model Y comes with a space age, minimalist interior with just one 15″ touch display for the driver and occupants to share. It's unclear what the default sound system is, but the optional Premium Audio System has 13 speakers and a subwoofer totalling an output of roughly 605W. The Model Y also benefits from over-the-air updates, though without official Tesla support, many Malaysians will be left 'hanging' with whatever version the car was shipped with.
On the Volvo C40, there's a 12″ digital instrument cluster for the driver and a 9″ portrait-oriented infotainment display. The standard audio system has an output of 250W, 8-speakers, and 7 channels. An optional upgrade puts a 600W system with 13 speakers, 12 channels and a subwoofer. With official Volvo Car Malaysia support and Google integration, this would be the ideal system to go with for Malaysian buyers despite some of the Tesla's advantages.
Conclusion
I think it's easy to see the appeal of a Tesla. Even non-car people are fascinated with this brand. And when you look at the specifications, the Model Y is extremely impressive. If both these cars were sold side-by-side for the same price and with similar warranty and manufacturer backing, I have no doubt Volvo would have an uphill battle on their hands.
However, in Malaysia this might not be the case. In Malaysia, buying a Tesla is an enormous risk and the buyer takes on almost all of this risk the moment the deal is signed. There's a 'dealer warranty' in most cases, but will Tesla Singapore honour the warranty of a vehicle they did not sell? Will the dealer bear the cost of having the car towed to Singapore? Will safety-related recalls be issued to Malaysian customers? What happens if you have an accident? These are the questions you will have to ask as a Tesla Model Y buyer in this country.
The Volvo C40 Recharge is a much smaller vehicle with a shorter range. However we think that if priced right, these disadvantages will be easily overlooked by Malaysian customers as Volvo Car Malaysia can offer peace-of-mind. It also opens the possibility of some owners treating their Electric Vehicle as their ONLY vehicle once the infrastructure is set up. This is not something most Tesla owners in Malaysia can do.