Automotive
Published on October 7th, 2022 | by Subhash Nair
0
Honda Logos Will Be Back On Red Bull's F1 Cars Until End Of 2022 Season
It looks like Red Bull Group and Honda Motor Company are strengthening their alliance again.
When Honda re-entered Formula 1 for the fourth time in 2015 as an engine supplier for McLaren, it suffered some teething issues. Eventually, the relationship with McLaren's F1 team soured and Honda became the power unit supplier to Red Bull Racing and Toro Rosso (now AlphaTauri). Last year, Honda became the first engine manufacturer to beat Mercedes-Benz in the turbo-hybrid era and Red Bull driver Max Verstappen won the Driver's Championship. They then withdrew from Formula 1, but gave Red Bull the right to use their intellectual property and allowed both teams to continue using Honda-designed power units through Red Bull Powertrains until 2025.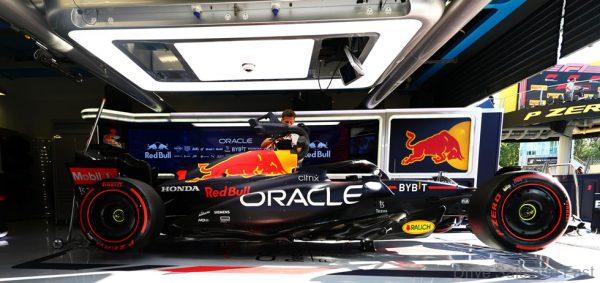 This year, Red Bull Racing seems to be going essentially unchallenged for the Championship and may even swing a 1-2. Honda probably realises this is probably a good time to remind the people watching that it's still their powertrain design that is winning these races. As such, they've come to an agreement with Red Bull Group to display the Honda logo and the Honda Racing Corporation (HRC) logo on the Red Bull Racing and AlphaTauri cars once again.
Starting this weekend at the Japanese Grand Prix at the Suzuka International Circuit (which is operated by a Honda subsidiary), the race machines of the Oracle Red Bull Racing and Scuderia AlphaTauri teams will be adorned with the Honda and HRC logos. The logos will stay on the cars until the end of the 2022 Formula 1 season. This weekend is the 18th round of this year's season. There are still four additional Grand Prix events before the end of the season: United States, Mexico, Brazil, and Abu Dhabi.

Two other stipulations were agreed to between Honda and Red Bull. One was that Sergio Perez would serve as a Honda Racing School Suzuka ambassador and participate in the Honda Racing School Driver Academy in November 2022. The second was that all four of Red Bull Racing and AlphaTauri's drivers would participate in the Honda Racing THANKS DAY 2022, also happening in November 2022.
"The HRC logo on the nose and Honda logo on the side of the race machines of both teams represent the strong ties between Honda and Red Bull Group. Through the technical support provided by HRC, Honda will fully support the challenges those machines take on to become the 'fastest in the world'. We are very pleased that these machines will be unveiled at the F1 Japanese Grand Prix, where Honda serves as the title sponsor. Please root for the two Red Bull Group teams which compete with power units loaded with Honda technologies," said Koji Watanabe, Head of the Corporate Communications Supervisory Unit, Honda Motor Co., Ltd. and President of Honda Racing Corporation.