Automotive
Published on November 3rd, 2022 | by Sounder Rajen
0
SUV Catches Fire Along Busy Subang Jaya Highway
This SUV was involved in a seven vehicle accident.
It looks like the Kesas highway is about to be a new accident hotspot as just mere days after a major accident there which involved a heavy vehicle to turn on its side, today another incident took place at around 7.30 a.m. yesterday which involved what seemed to be a 'P' Plate Subaru Forester catching fire and seven vehicles at the spot.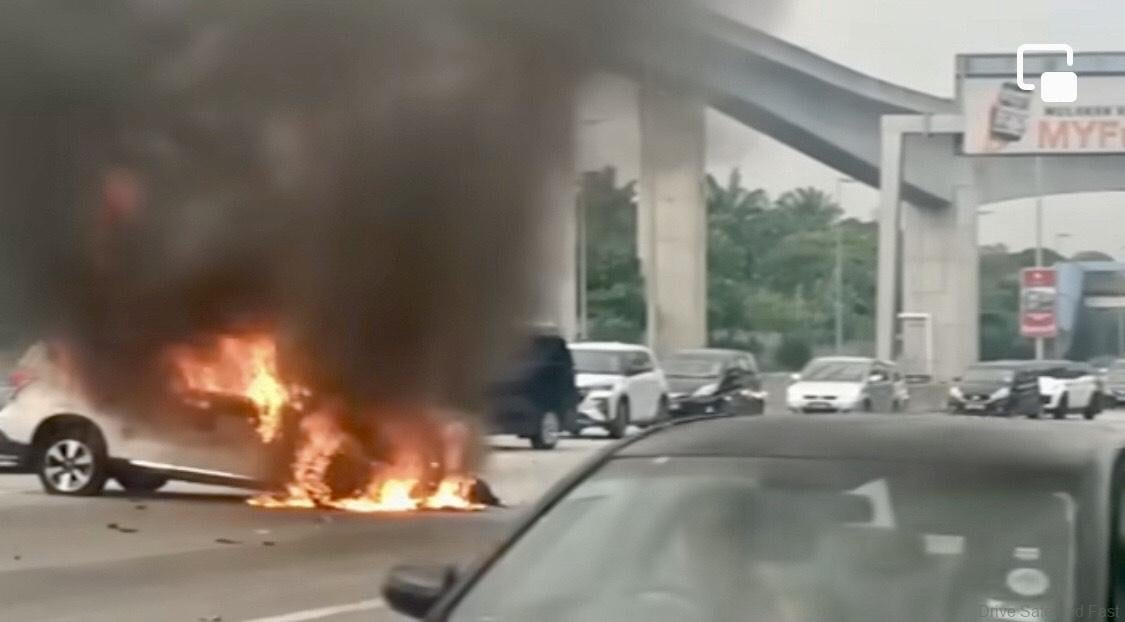 Subang Jaya OCPD ACP Wan Azlan Wan Mamat stated that the police traffic division had received a call at around 7.30 a.m. informing them of an accident along the Kesas Highway KM38 from Shah Alam towards Subang Jaya and based on the main picture we can infer that the Subaru Forester SUV is, unfortunately, completely totaled.
ACP Wan Azlan said, "Seven vehicles were involved in the accident. From initial investigations, an SUV driven by an 18-year-old was travelling on the fourth lane of the highway when he decided to switch to the third lane."
"As a result, he hit another vehicle on the third lane which was queuing up to exit the Kesas Highway towards Persiaran Kewajipan." He added.
ACP Wan Azlan also stated that the SUV spun on impact and hit five other vehicles in the process before going up in flames in the middle of the highway.
"Fortunately, no one was injured in the accident. We are investigating the cause of the accident. We are investigating the case under Section 43(1) of the Road Transport Act 1987." ACP Wan Azlan concluded.
All things considered, it is very lucky indeed that nobody was hurt or worse. So, what happened here? It is hard to say as all we know is that the young driver of the Subaru Forester simply tried to switch lanes but was unsuccessful, however we do not know if he hit the vehicle in the oncoming lane or if the other vehicle sped up and caused the accident.
Regardless, we hope this accident will serve as a reminder to all drivers to always be safe and above all, always be courteous while driving. It is the easiest way to prevent accidents, after all, and with the holiday season coming up, we need to be more alert on the roads at all times.
Either way, ACP Wan Azlan urged eye-witnesses to come forward to assist in the investigations by contacting the investigating officer at IPD Subang Jaya Inspector Abdul Nasser Bin Peping at 012-2863875, so if you saw something or know something we don't regarding this accident, please contact the inspector.
We got all this from SJ Echo and they posted about it on their Facebook linked here. Thank you SJ Echo for the information and image.