Automotive
Published on November 19th, 2022 | by Daniel Sherman Fernandez
0
Subaru Forester With EyeSight 4.0 Launched In Thailand
This updated version arrives in Malaysia very soon.
With a regional factory just outside of Bangkok city, regional brand guardian Motor Image and Subaru have just launched their updated version of the very popular and their best seller Subaru Forester SUV.
At the Thailand unveiling, Mr Glenn Tan, Deputy Chairman and Managing Director, Tan Chong International Limited remarked, "The 2022 Forester comes equipped with EyeSight 4.0, so owners of this new Forester can live larger and go on larger adventures with their families, thanks to its latest improvements to date.
Meanwhile, this SUV equipped with EyeSight 4.0, Driver Monitoring System and improved X-MODE with Hill Descent Control is built on a cutting-edge Subaru Global Platform and comes with Subaru's most sophisticated driver assist safety system to date.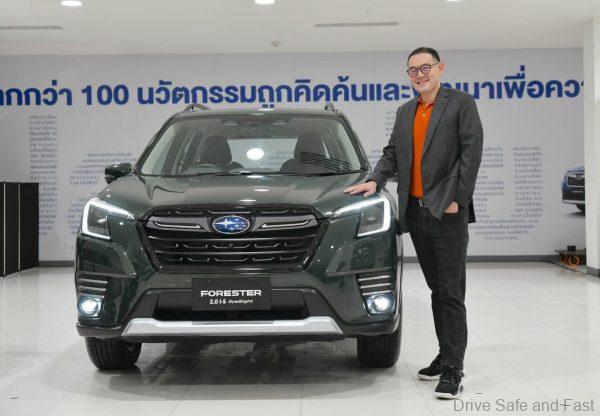 EyeSight 4.0 Driver Assist Technology
Is good to know that Subaru's award-winning preventive safety system, EyeSight, is now more intuitive than ever. Boasting innovative stereo cameras, EyeSight gets an upgrade with new features.
Interestingly, EyeSight 4.0's Pre-Collision Braking now covers even more traffic scenarios at intersections, thanks to its improved stereo cameras with coverage that has almost doubled laterally (from left to right) as well as vertically.
It is now able to help the driver look left and right, to detect obstacles and help prevent potential collisions, not only at its own lane, but at neighbouring lanes as well (e.g., vehicles travelling in the opposite direction and pedestrians crossing the road at left- or right-turn junctions).
EyeSight 4.0 now includes nine features, of which three are new, Autonomous Emergency Steering, Lane Centering Function and Lane Departure Prevention, while Pre-Collision Braking and Adaptive Cruise Control have been improved.
Autonomous Emergency Steering helps steer the Forester away from a vehicle or obstacle in front to avoid an accident (up to 80km/h).
The Adaptive Cruise Control (ACC) system now has a Lane Centering Function. This helps to steer the Forester, keeping it in the middle of the lane, whether the road is straight or slightly curved. This is in addition to the existing feature of the ACC that helps drivers in highway traffic, by keeping the new Forester at a safe distance from the vehicle in front, helping the driver to slow down or speed up automatically.
EyeSight 4.0's Lane Departure Warning includes Lane Departure Prevention. This nudges the steering wheel slightly towards the inside of the Forester's lane when it detects that the driver is about to cross the line/lane markings while travelling at 60km/h or more.
Driver Monitoring System (DMS)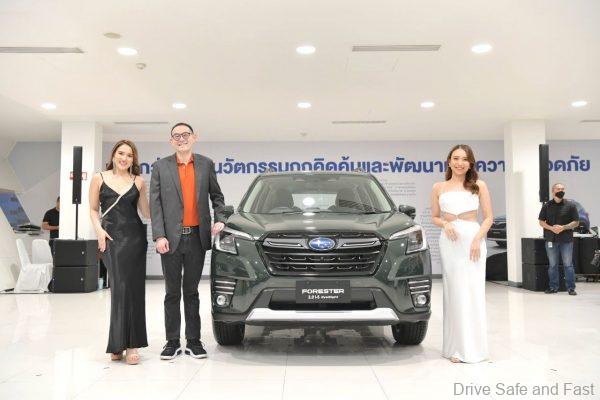 Uses an infra-red camera and facial recognition technology to monitor the driver's eyes and alerts the driver when the system detects that he/she is distracted or falling asleep.
It also remembers the unique settings of up to five drivers for their seat and door mirror positions and climate control settings. It automatically adjusts them for each upon facial recognition.
The new Forester now features DMS gesture control for the climate control system. A simple hand gesture adjusts the set temperature, making it easier and safer for the driver to do so.
Subaru Rear Vehicle Detection System (SRVD)
Radar sensors check for traffic approaching from behind the vehicle to warn the driver during lane changes and while reversing or backing up from a parking lot.
Reverse Automatic Braking (RAB)
The vehicle automatically engages the brakes when it detects the risk of a collision while reversing.
High Beam Assist (HBA)
Allows drivers to keep their high beams on all the time as the system switches automatically to low beam when the EyeSight system detects oncoming traffic.
Improved X-MODE: Intuitive Safety, Maneuverability and Convenience
Helping drivers tackle the rough and challenging roads in ASEAN nations with the touch of a button, the improved X-MODE complements Subaru's Symmetrical All-Wheel Drive system to allow Forester owners to drive more confidently, especially on uneven surfaces or challenging inclines.
Drivers can select between 'Dirt' and 'Mud' to suit the driving situation.
The improved X-MODE Auto Restore switches to 'standby' when the speed exceeds 40km/h, and subsequently comes back on when the speed drops below 35km/h.
Previously, X-MODE would deactivate at 40km/h and had to be reactivated manually if needed. This improvement keeps the driver's eyes on the road.
X-MODE's Hill Descent Control empowers drivers, helping them maintain a controlled and constant speed even on slippery down-hills, which provides greater peace of mind and allows drivers to concentrate on steering.
It now operates more smoothly when the driver decides to accelerate during a gradual descent with X-MODE activated.
There is no longer a delay between the driver's accelerator input and Hill Descent Control's auto modulation of the brakes in X-MODE when driving slowly down a slope (20km/h or less).
The Malaysian arrival of this latest version is very soon. So, stay tuned.