Automotive
Published on December 15th, 2022 | by Sounder Rajen
0
The Neta E Is The Coupe EV We've Been Waiting For
The Neta E is a pretty 456hp EV coupe from China
Neta is an all-electric Chinese automaker under the Hozon Auto brand and in China is called Nezha. They have made some seriously beautiful cars before like the Neta V and Neta S but now the brand has finally built a coupe electric vehicle (EV) and it is the first ever EV Coupe too. Say hello to the Neta E.
The Neta E is a luxurious four-seater all-electric coupe and it looks sporty and aggressive, from the front the headlights seem to mimic a certain Italian luxury brand but to me it sort of looks like a sleeker and more slim version of a Fisker Karma. Over at the back well it looks like a certain German hybrid supercar.
However, this is not such a bad thing, as I feel the car looks exceptionally good. I also like that the Neta E comes with "air vents" on the hood despite the fact that there is no engine under there. Plus the overall proportions of the car are well balanced and the oddly shaped wheels are a nice touch as well.
Moreover, the two-tone paint job we see of the Neta E in the pictures makes the car look like the boot is a lift back, but it is not. Much like the 10th generation Honda Civic, we have been bamboozled and the boot is just a regular sedan type opening boot. This paint also highlights the curves and lines of the car very well.
On top of that the letter "E" at the lower right side of the car is finished in red and this adds to the sporty look of the Neta E. The theme of red continues around the "exhaust pipes" as the outer edges are also finished in red. Again, I feel this is a nice touch for an EV as there is no exhaust pipe since there is no exhaust.
Neta will sell two versions of the Neta E, a single motor rear-wheel drive version weighing 1,820kg and making 228hp as well as a dual-motor all-wheel drive version weighing 1,950kg and making 456hp. The battery capacities are unknown but the former car will have a range of 560km while the latter car has a range of 580km.
Additionally, the Neta E measures 4,704mm in length, 1,980mm in width and 1,418mm in height and has a wheelbase of 2,770mm. As is the case with many coupes, it is a four-seater but expect it to be more of a 2+2 with the rear seats being more of a storage space. The car is expected to go on sale in China in Q1 of 2023.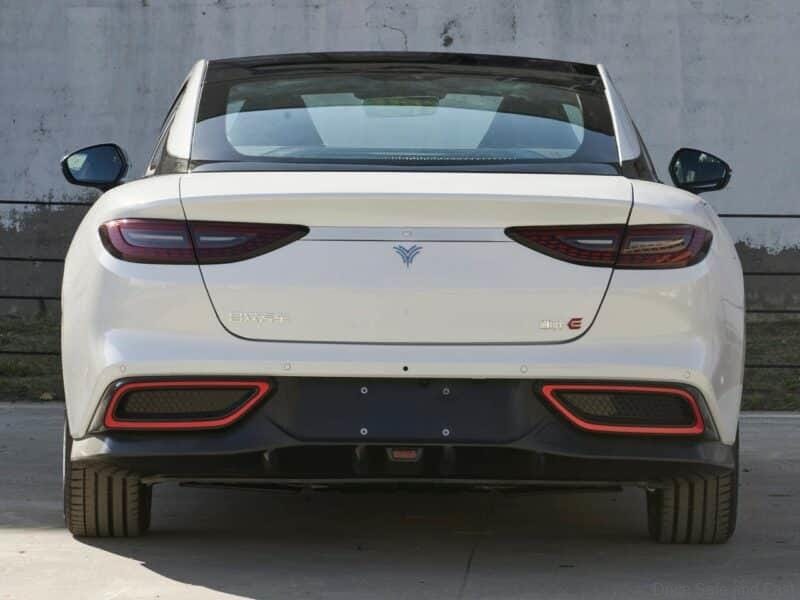 We got all this from CarNewsChina and their full article is linked here. Thank you CarNewsChina for the information and images.