Automotive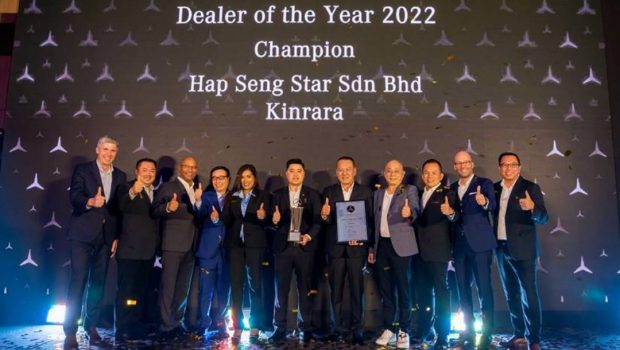 Published on March 30th, 2023 | by Sounder Rajen
0
Mercedes-Benz Malaysia Recognises Outstanding Dealer Partners
These Mercedes-Benz partners were recognised with the Dealer of the Year 2022 Awards
Mercedes-Benz is one of the most beloved and coveted brands not just in Malaysia but across the entire globe and for good reason, when it comes to comfort and luxury, nobody does it quite as well as Mercedes-Benz. Naturally, this means that with such excellent quality, the brand would recognise and award its dealers.
Mercedes-Benz Malaysia, has just celebrated its dealer network with the prestigious Dealer of The Year 2022 awards, acknowledging outstanding dealers for their operational excellence in delivering the Best Customer Experience and saw Hap Seng Star Kinrara taking home the coveted Dealer of the Year 2022 award.
Sagree Sardien, CEO and President, Mercedes-Benz Malaysia, said, "At Mercedes-Benz Malaysia, we place our customers at the heart of everything we do. We are immensely proud of our dealer partners' unwavering commitment to delivering an exceptional customer experience."
"Congratulations to all the winners of the (Mercedes-Benz) Dealer of The Year 2022 awards. As we look to the future, we remain committed to collaborating with our dealer partners to push the boundaries of excellent service and deliver an unparalleled luxury online-to-offline customer experience." She added.
The ceremony consists of seven awards, including Best in Customer Services, Best in Financial Services, Best in Business Excellence, Best in Sales, Best in Customer Satisfaction Index (CSI) 5Star Rater, Most Improved Dealer and the most coveted Dealer of the Year 2022. All awards showcase the Mercedes-Benz dealers' prowess.

The highlight of the award ceremony was the Mercedes-Benz Malaysia Dealer of the Year 2022 award, which was presented to Hap Seng Star Kinrara as the dealership excelled across all the categories of the brand and in doing so, achieved the highest overall score among dealers.
Harald Behrend, Group COO of Hap Seng Consolidated Berhad and Chief Executive of Hap Seng Automotive Division stated, "We are honoured to be named the Dealer of the Year 2022 and it is truly a testament to the commitment the team has put in to deliver the best-in-class retail experience to our valued customers. We are proud of what we have accomplished in 2022 and we will continue to put in our best effort for the years ahead."
NZ Wheels Bangsar/KL Northeast took home the Most Improved Mercedes-Benz Dealer award as well the Best in Financial Services award. Hap Seng Star Melaka was awarded Best in Sales while Cycle & Carriage N-Juru/Bukit Tengah bagged the Best in Business Excellence award.
Mercedes-Benz Malaysia has the largest network in the premium vehicle segment, with 31 authorized dealerships nationwide. The company is committed to providing excellent customer experience and delivering innovative products throughout a customer's journey.