Automotive
Published on April 28th, 2023 | by Subhash Nair
0
Here are 9 Chinese EV & NEV Brands You Haven't Heard Of
Most of these Chinese NEV and EV brands are selling cheaper and better products than Western counterparts.
Chinese cars are making a big impression on the world stage, with many new and relatively unknown (to the outside world) brands showcasing their latest models at the Shanghai Auto Show. While Malaysians may not have heard of some of these brands, they are certainly worth paying attention to bearing in mind that China accounts for the most EV sales and 'new energy vehicle' products.
AITO
One such brand is AITO, which is Huawei's attempt to enter the automotive world. The AITO M5 is built by Seres and comes in both range extender and pure EV versions.
Although their booth wasn't the most exciting, it is interesting to see a tech company like Huawei entering the automotive space.
HiPhi
HiPhi is another brand that stood out at the Shanghai Auto Show and they've only bee around for 3 years. The HiPhi Y features split doors that make it easy for people in the back to enter the vehicle without bending down, while the HiPhi Z looks like a futuristic Tronified GT-R with lots of customisable LED signage.
Both cars lacked physical door handles and instead used capacitive buttons to unlatch. Inside, it was equally impressive with a triple screen array.
Hycan
This brand is a joint venture between GAC and Nio. Many of the models are redesigned Aion models from GAC's other EV brand. We're not sure what's the positioning of Hycan in the market but we did see a few interesting EVs at their booth including a few MPV models, a tie-up with gaming peripheral company Razer and a 4-door sedan.
Neta
Neta, or 'Nezha', is an offshoot of Hozon Auto that has already established itself officially in Malaysia. Their four-door sleek hardtop Neta S and 2-door Neta GT models featured futuristic supercar styling and vibrant colors that caught the attention of local media members.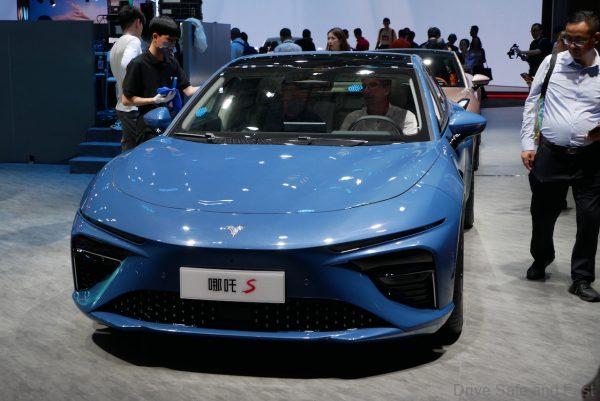 Nio
Nio is an electric vehicle brand that is trying to do things a little differently. They are already heavily invested in battery swapping as an alternative to battery charging for EVs, and their ET5 and ET7 sedans were very impressive to behold in person.
Leapmotor
Leapmotor is a relatively new brand that has a range of electric vehicles on display, including the C01 sedan and C11 crossover.
Li Auto (Li Xiang)
Li Auto is another brand that has only been around since 2015 but has already made a big impression with their range extender PHEVs like the L8 and L9, as well as their relatively new L7.
Yuanhang Auto
Yuanhang Auto is a new upmarket EV brand by the Dayun Group, and they had a wide array of models on display at the Shanghai Auto Show.
Zeekr
Finally, Zeekr is a brand launched by the Geely Group that is aimed at the upmarket electric vehicle segment. Their Zeekr 001 and Zeekr X models have already hit the streets of China and promise a range of up to 560km with up to 422hp on tap. There's also a Zeekr 009 MPV that could give the Alphard a run for its money.