Automotive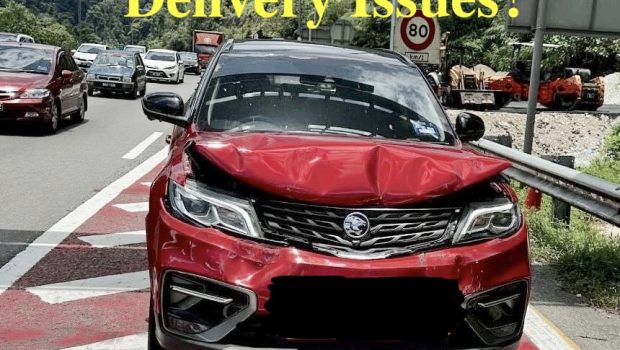 Published on June 3rd, 2023 | by Daniel Sherman Fernandez
0
UPDATE: WHY Is There Still Spare Parts Availability Issues With PROTON
Here is a Proton X70 owner that is having spare parts issue for his accident damaged X70
So why are there still spare parts issues with Proton despite many re-assurances from their technical partner Geely that all parts issues have been resolved.
UPDATE: Well, we reached out to PROTON after sales and they informed me that the insurance claim for this X70 in question was only approved in March 2023, which is 2 months plus ago and the back log of earlier vehicle repairs have delayed the repair of this particular X70. Plus, the owner had towed his accident X70 to an unauthorised Proton dealership after the accident, which increased the delay.
In the past year we keep seeing on Facebook with Proton X70 owners (pictured below) having spare parts issues that keep increasing month after month and the reasons given for the continuing delay is always Covid-19 and suppliers and vendors having to shut down their factories.
However, how come new vehicle (Proton X70 and Proton X50) production continues at a steady pace when these new Malaysian produced Proton X70's also need parts from Malaysian supplier and vendors, right?
They must be the SAME vendors that are needed to supply parts for after sales, repairs and maintenance as well.
Body panels for accident damaged X70 SUV's (like the one pictured above) and replacement parts for warranty claims and then there is even servicing and wear and tear parts like oil filters, air filters, brake pads and others that should be coming from the exact same vendors. Right?
Yes, it has been 20 plus months and with numerous lockdowns, production might have been halted in many vendor factories, however if new cars can be delivered, this means vendors are able to supply all parts to produce a NEW car, but why no parts for replacement?
It looks like Geely are not keen to look after their customers in the long term as all the effort that was put into branding and marketing for the re-launch of Proton with the arrival of the Proton X70 SUV at a hard to beat selling price and then the well equipped Proton X50 Crossover which is priced to 'knock' on the doors of brands like Honda, Toyota, Nissan, Hyundai, Kia, Mazda and even Perodua and capture their market shares.
The focus seems to be more towards dealer expansion and to sell as many units as possible to ultimately take the TOP Sales Spot in the country.
We have highlighted before that 'after sales' is important for every car brand to stay ahead in the long term.
UPDATE: Maybe it is the after sales dealer (workshop) that should be checked to see if they are delaying the repair of customers cars (X70 mentioned above) to get higher profit margins? This is the response we are getting from the industry. More checks need to be done to find out why.