Automotive
Published on July 11th, 2023 | by Sounder Rajen
0
Toyota GR Yaris Kansai Edition Sadly Written Off Yesterday
This is the version of the Toyota GR Yaris Kansai Edition coming to Malaysia
Well, this is sad news indeed. It is always sad news when we see a car crash but this one is a rare and really beautiful Toyota GR Yaris Kansai Edition that makes this car getting totaled yesterday, a whole lot worse. This is also the version of the car that will be sold in Malaysia so consider this a glimpse of an upcoming car.
So as we can see in the pictures, this very good looking and also rare in Malaysia, Toyota GR Yaris Kansai Edition vehicle that has been involved in an accident that caused the car to be flipped over and sustaining heavy damage from all sides which ended up with many body panels being dented and the airbags going off.
Moreover, the entire front end of the car was also completely destroyed with the whole crumple zone being flattened and the front windshield being cracked and pushed inwards but it didn't break. Well at least that is one way to show that the car is pretty safe in a crash situation, right? Even the roof didn't bend too much so that is another good thing.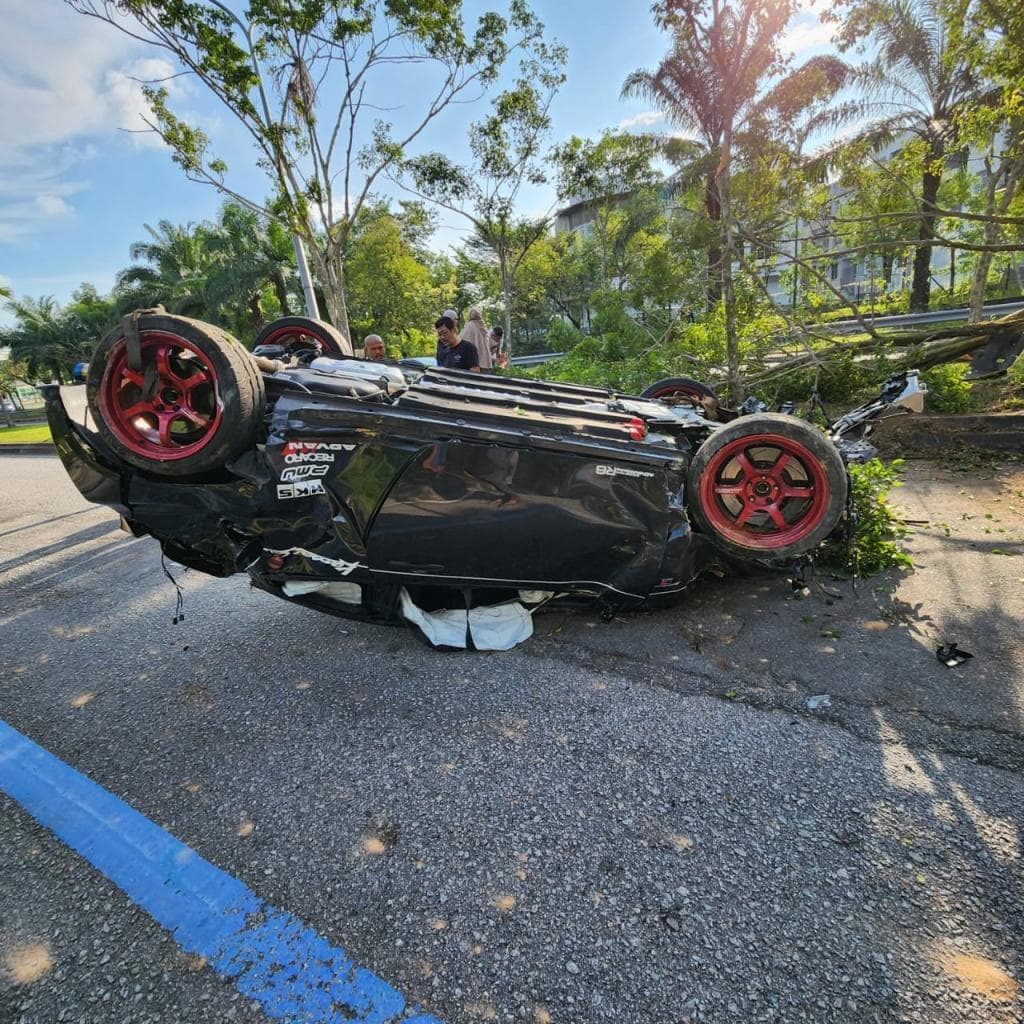 The Toyota GR Yaris Kansai Edition is aso not a very big car and it also comes with a manual transmission. The interior is cozy and sporty with a small screen in between two physical dials on the driver display as well as a small but sporty central infotainment screen as well as sporty bucket seats up front and a rather spacious looking rear cabin.
On top of that, as a small hatchback, the rear of the Toyota GR Yaris Kansai Edition was also completely ruined in this crash yesterday with part of the rear bumper sticking out but is still (for the most part) intact. The sporty red rims are also pretty much still as they were albeit scratched up which is also impressive and a testament to the car's safety.
Well, with the Toyota GR Yaris Kansai Edition coming to Malaysia and a whole slew of buyers already waiting to get their hands on one of these sporty hatchbacks, we can only remind our readers to always drive responsibly and stay safe on the road. Especially when in sports cars such as this one which can be more exhilarating to drive.