Used Cars
Published on August 14th, 2023 | by Daniel Sherman Fernandez
0
TESLA Model 3 Unreg Price Drops To RM149k In The Used Market
Private importers are dumping their Tesla Model 3 stock before the new official Model 3 is launched in Malaysia
Tesla Model 3 is the next logical step of Tesla Malaysia's "master plan" and mission to accelerate Malaysia's transition to emission free vehicle ownership and judging by what happened last month with the launch price of the Model Y from RM199k (which is a 4 year old model and will soon be replaced by a 2024 Model Y).
We are guessing that the 2018 Tesla Model 3 might arrive in Malaysia to challenge fast selling Chinese brand electric cars like the BYD Atto3 and Great Wall Ora Good Cat which are priced just below RM169,999.
Just months ago the Tesla Model 3 which was being imported from UK and also Australia were priced by PEKEMA members from RM289k to RM310k and it came with only a dealers 4 year product warranty. No TESLA factory warranty and after sales.
Right now, importers that are holding too much Tesla Model 3 stock (most of them were in UK late last year buying up any and all stock to bring into the country using their EV AP's to make a handsome profit from Malaysians who are in love with the Tesla brand) are dumping their cars from a low RM140,000 for a slightly used and (even some are new and also unregistered) year 2020 Tesla Model 3 with less than 1k mileage run in.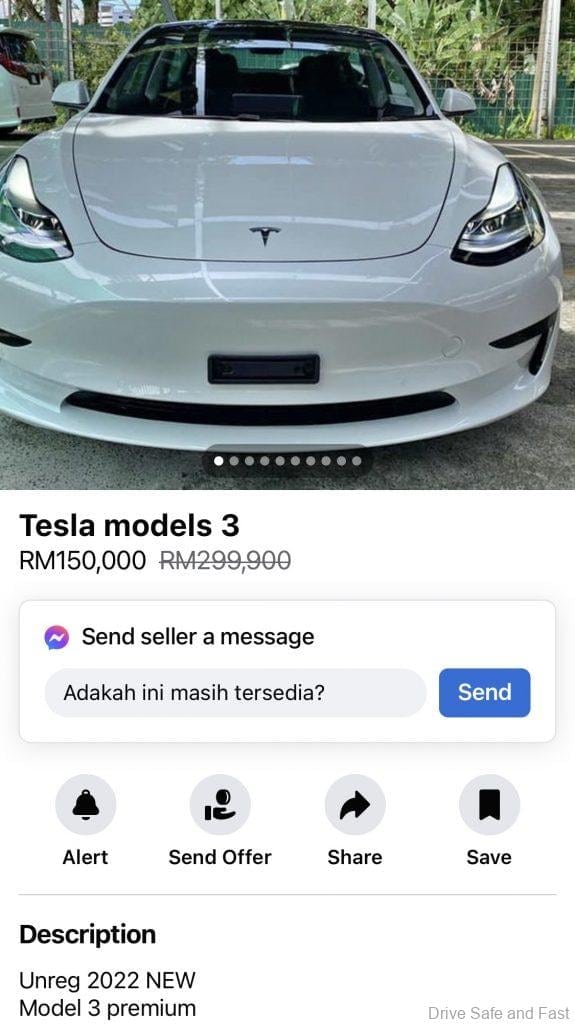 This is a RM100,000 plus loss in value in just a few months. So, for early adopters, or Malaysians who wanted to be behind the wheel of a Tesla as fast as possible, how much will YOUR used Tesla be worth in the used car market tomorrow? Better to just hold on to it and enjoy it for years to come. Right?
We can see another big drop in private import Tesla prices coming later this year, just before Christmas when current owners find out they cannot get after sales and warranty claims from Tesla Malaysia. Stay tuned for prices to reach below the Neta V compact electric car, which is RM90k.
Like the Tesla Model Y, this 6-year-old Model 3 is engineered to combine range, performance, safety and utility. Smart design maximizes interior space, to comfortably fit 5 adults and all of their luggage.
Tesla makes fast cars and the 6-year-old Model 3 is no exception. The high efficiency electric motor provides zero to 100km/h acceleration in less than six seconds.
And when equipped with electric all-wheel drive, Tesla Model 3 provides safe and dependable traction in all conditions.