Automotive
Published on August 1st, 2023 | by Sounder Rajen
0
When Will Malaysia Receive The Updated 2023 Honda CR-V Hybrid?
The updated 2023 Honda CR-V shows a new more boxy and mature style
The all-new 2023 Honda CR-V has debuted in America with a rugged and sophisticated design, along with a new, more advanced 4th-generation hybrid-electric system for a fuel-efficient, sporty and more capable driving experience. CR-V hybrid models are positioned as the top of the CR-V lineup.
Perfect for daily life or weekend escapes, the new Honda CR-V is longer and wider with premium proportions and a significantly broader stance, further advancing the new Honda design direction with a low horizontal beltline and a long, powerful front end, making it more fun to drive as well.
Moreover, the Honda CR-V is available in four trim levels, including the new hybrid-powered and more boldly styled CR-V Sport and Sport Touring as the new top of the CR-V model line. With about 335Nm of torque from the new generation two-motor hybrid system, they are the most powerful CR-Vs ever.
Inside, the new sporty and modern interior of the 2023 Honda CR-V brings fine craftsmanship, high-quality feel of materials and must-have tech features. It is also quieter and more comfortable, with new front Body Stabilizing Seats as well as class-leading safety features including a new Honda Sensing as standard.
On top of that, with clean surfacing, high-quality feel of materials and upscale touches, the all-new sporty and modern interior of the 2023 Honda CR-V builds on the brand's new design direction. As with most other new SUVs that have entered the market recently, the car also adopts a more boxy design language as well.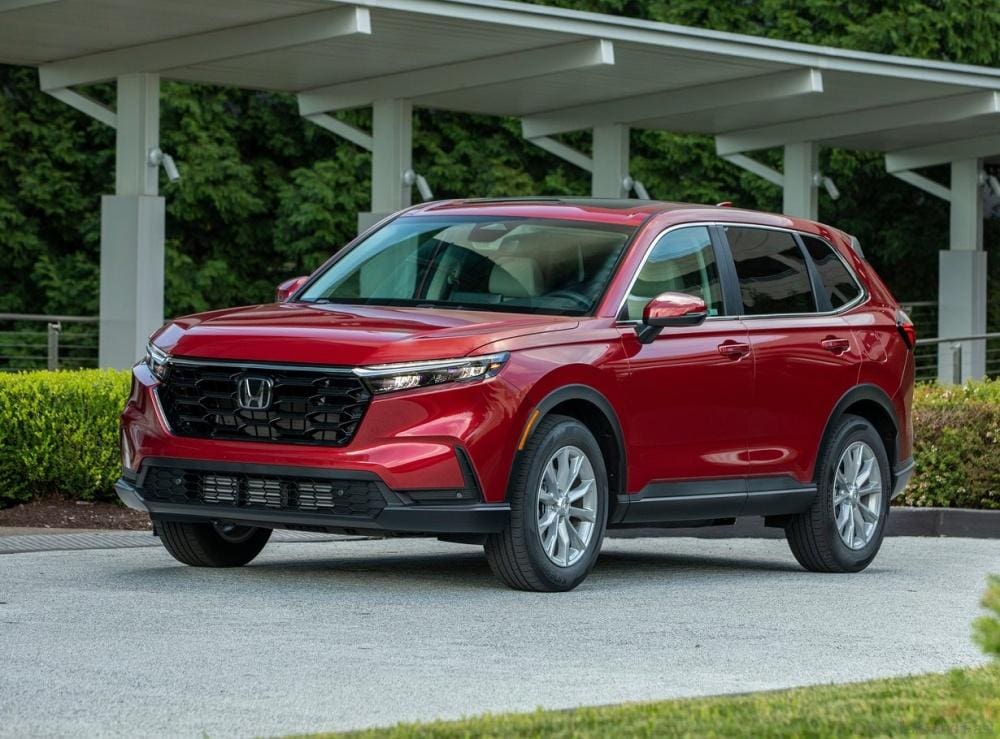 The 2023 Honda CR-V is also more comfortable and more spacious than ever, with a notably larger front-to-rear-seat couple distance and more rear seat legroom. The rear seats now feature eight angles of recline for increased comfort. Despite the hybrid system, the car still keeps Honda's "man maximum, machine minimum" philosophy.
Technology has also been smartly integrated into the new 2023 Honda CR-V's new cabin with a focus on the driver, including a digital instrument display and a notably larger standard touchscreen with Apple CarPlay and Android Auto compatibility as standard making it just as up to date as one needs it to be.
The 7-inch digital instrument panel in the 2023 Honda CR-V also features an all-digital tachometer or a digital power flow meter. The 7-inch multi-information display also features user-selectable functions such as Honda Sensing settings, vehicle information and more for safety.
So as with all Honda models, the new 2023 Honda CR-V is a jack of all trades, it is safe, technologically packed to the gills, spacious, powerful and stylish as well. This is great as the whole quote from William Shakespeare goes "a jack of all trades is a master of none, but oftentimes better than a master of one."
So what do you guys think? When will Honda Malaysia bring the updated 2023 CR-V to the country?