Automotive
Published on September 16th, 2023 | by Sounder Rajen
0
Allianz Malaysia Introduces Three More 'Insurans Rahmah' Products
Allianz Malaysia is offering these new products for private car and life insurance
Allianz Malaysia has announced three more products under the Rahmah Insurance Initiative at a press conference in Allianz Arena, Plaza Sentral, which are the "Private Car Rahmah Package" for Comprehensive and TPFT (Third Party, Fire & Theft) cover and a new life insurance product 'Allianz Kasih4All', addressing affordable insurance solutions for private cars and life insurance, respectively.
The Private Car Rahmah Package features special Rahmah benefits which includes personal accident relief of RM5,000 in the event of death or disablement, hospital allowance of RM50 per day for 60 days as a result of hospitalisation from an accident and a one-time flood relief benefit of RM3,000.
Moreover, this package is automatically offered to Allianz Private Car Third Party, Fire and Theft (TPFT) policyholders as well as Private Car Comprehensive customers with cubic capacity (cc) 1,500 and below and Sum Insured RM 30,000 and below.Allianz Malaysia CEO Sean Wang alluded to the Private Car Rahmah package combining its best-in-class insurance solutions with broader safety nets for policyholders.
"Nobody wishes for an accident or breakdown, but if it happens your worries should stop there. Our comprehensive policyholders can rely on the trusted Allianz Road Rangers to take over, whether it be on-the-spot fixes or towing your car to a reliable workshop. That professional, hassle-free way is the real Allianz experience." He added.
Allianz Malaysia also became the first insurer to offer a Rahmah Life insurance product at the press conference. Allianz Kasih4All is a yearly renewable, non-participating term plan with coverage up to 71 years old. The product comes with hassle-free enrollment.
On top of that, no health questions are asked and no medical examination is required upon enrolment. The product comes in 2 available plans with premium rates for Plan 1 and 2 starting at RM35 and RM55 for those in the age band between 16 and 40.
Sean concluded saying, "Allianz Kasih4All, is a new life insurance product which captures the essence of the Rahmah Insurance. We firmly believe that every Malaysian, regardless of their income level, deserves to lead a dignified life and have the assurance that they will leave a legacy for their loved ones."
This brings Allianz Malaysia's Rahmah Insurance basket to five products after PerlindunganKu Allianz4All and Allianz Motorcycle Plus. Allianz Malaysia reiterated its commitment to provide affordable insurance products for all.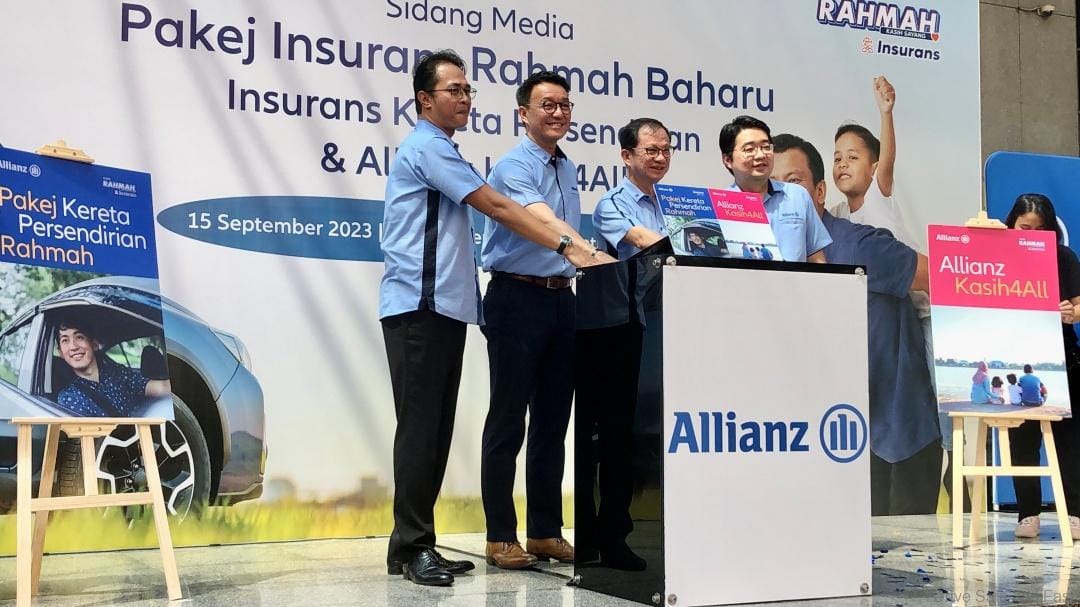 For more information on 'Private Car Rahmah Package' and 'Allianz Kasih4All', as well as other Rahmah Insurance products by Allianz Malaysia, visit the Official Allianz Malaysia website linked here.