Automotive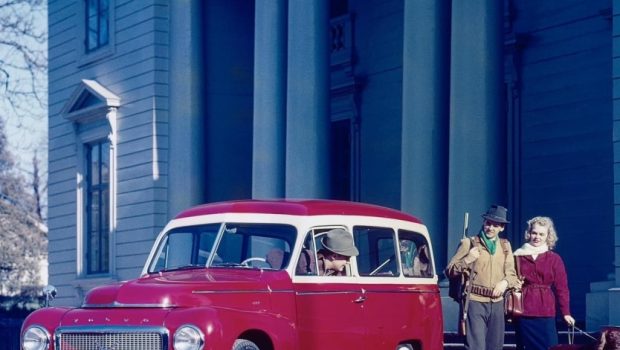 Published on September 27th, 2023 | by Sounder Rajen
0
See Why The Volvo Duett Was So Important To The Automotive World
The Volvo Duett platform revolutionised the automotive scene, here is how
The automotive world is ever changing and very diverse. One need not look too far back in time to realise this, after all, SUVs suddenly became so much of a trend within the last two decades that some brands even axed their entire sedan lineup to focus on SUVs and EVs are now a common but new thing too.
Despite this, before all the more recent revolutions we saw in the automotive world, in 1949, Swedish automaker Volvo introduced the PV445 platform as a versatile platform for crafting vehicles such as small trucks, vans, and even convertibles and this platform shaped the automotive landscape far more than many realise.
Moreover, sharing technical components and the front body with the PV444 platform, the PV445 featured a rear-wheel suspension with leaf springs designed to handle heavier loads. This makes it a versatile platform that can be used on a multitude of vehicles and makes the entire car stronger as well.
While some may look at this and think, well Volvo was practically sitting on a gold mine, but contrary to popular belief, for several years, Volvo chose not to produce any vehicles using this platform in-house and instead outsourced manufacturing to independent coachwork firms.
The turning point, however, came in 1953 when Volvo introduced their very own van and estate car, the Duett, built on the PV445 chassis. This model quickly gained popularity among small business owners and craftsmen, primarily due to its durability and impressive load-carrying capacity.
On top of that, today, the legacy of the Volvo PV445 Duett lives on as the precursor to Volvo's modern lineup of luxurious, comfortable, safe, and powerful estate vehicles, including models like the V60 Cross Country. These estate (or station wagon) vehicles remain popular in sales even today in many countries.
Volvo had initially produced 29,409 units of the Duett and it featured an inline 4 engine with a 3 speed manual transmission and featured a 2,600m wheelbase. These days, the new generation of Volvo vehicles based on the cars built on the PV445 platform, are much bigger and more powerful but still just as reliable and versatile.